Is Dailymotion safe? The answer is yes. Dailymotion is a French video hosting website owned by Vivendi. Now, it's available in 149 countries and 183 languages. In this post, I'm going to tell you everything you need to know about Dailymotion.
In today's world, people prefer to watch videos (like news, movies, TV shows, etc.) on video streaming services in replace of cable TV. Speaking of video streaming services, Dailymotion, YouTube, and Vimeo are the best streaming services for watching videos. If you are not familiar with Dailymotion (Want to make a Dailymotion video? Try MiniTool MovieMaker), keep reading and you will know the answer to what is Dailymotion and is Dailymotion safe.
What Is Dailymotion
Dailymotion is the second-largest videos sharing platform founded in 2005 and owned by Vivendi, a mass-media corporation. It has over 300 million unique monthly users and available worldwide.
Dailymotion has partnered with the world's leading content creators and publishers like Le Parisien, CBS, CNN, GQ, VICE, Universal Music Group, and many more.
The contents on Dailymotion can be categorized into five parts: Featured (content based on users' location), News, Entertainment, Music, and Sports. What's more, TV shows and movies also can be watched on this platform.
Now, let's take a look at the advantages and disadvantages of Dailymotion.
Advantages

Disadvantages

1.      Allow users to watch and upload videos.

2.      The video resolution is up to 4K Ultra HD.

3.      Support all common video formats.

4.      Offer a variety of video categories and qualifies video content.

5.      Videos can be browsed by Year (from 2005- 2020).

6.      Dailymotion Age Gate feature protects children from sensitive content.

1.      The video length you can upload is limited to 60 minutes.

2.      The maximum size per file is not exceeding 2 GB.

3.      The content is not as abundant as you imagine.

4.      No built-in video editing features.
After knowing the basic information about Dailymotion, the next part will discuss is Dailymotion free and safe for children and browsing.
Is Dailymotion Safe for Children
As children spend much time on video streaming services like Dailymotion, YouTube, and Vimeo, the question that most parents frequently asked is "Is Dailymotion safe for children".
We all know that protecting children from inappropriate content is of great importance, that's why YouTube offers a restricted mode to safeguard children. Of course, Dailymotion has no exception. It provides an Age Gate (Family Filter) feature that keeps restricted audiences from sensitive content.
So how to turn on Age Gate (Family Filter) when browsing videos on Dailymotion? Here's how:
On Desktop
Open the Dailymotion website in your web browser.
Log in to your Dailymotion account and then scroll down the main page to the bottom to find the

 

Family Filter

 feature

.
Click on it to activate the Family Filter.

On Mobile Device
Open the Dailymotion app on your phone.
Switch to the Library tab and tap on your profile in the top right corner. Then you will access to the Settings page.
On this page, find the Family Filter option and turn it on.
As to content creators, they can add an age gate to their uploaded content as well, but the age-restricted videos are not eligible for monetization.
Here's how to set up an age restriction on the uploaded content.
Visit Dailymotion and go to Partner HQ.
Navigate to Media > Video.
From the Video section, you can click the video you want to add an age gate.
In the Basic tab, check the Age-restricted content box.
Then press on Save to apply the changes.
Is Dailymotion Safe for Browsing
Another question that most people cared about is "Is Dailymotion safe for browsing or is Dailymotion safe from viruses". As one of the most popular video sharing sites, Dailymotion currently is safe from viruses and malware. But no one can make sure that this website is still safe from malware in the future. To avoid potential attacks, you can install antivirus software on your device.
How to Make a Dailymotion Video and Upload it
Now, the questions of "Is Dailymotion safe for children" "Is Dailymotion safe for browsing" are solved. The following part will teach you how to make a Dailymotion video and upload it.
How to make a Dailymotion video
MiniTool MovieMaker is a simple video editor for beginners, especially those who don't make any video before. Although MiniTool Movie is easy to use, it has all the basic editing tools that can be used in video production, such as video splitter, video merger, video trimmer, video speed changer, video reverser, audio remover, GIF maker, etc.
Aside from that, video effects, video transitions, text templates, motion effects, and color correction are offered here for enhancing video.
Below are the detailed steps on how to make a Dailymotion video.
Step 1. Download and install MiniTool MovieMaker.
Get the installer by clicking on the Free Download button and follow the guidance to install it on the computer step by step.
Step 2. Launch the program.
Open the program after the installation, and close the pop-up window to access the main interface of MiniTool MovieMaker.
Step 3. Import the video files.
Click on Import Media Files to browse and find the target video files in the File Explorer window. When you find the video files, choose them and tap on Open to import them to this software. Press and hold the "Ctrl" key to select all the imported files, and drag them to the timeline.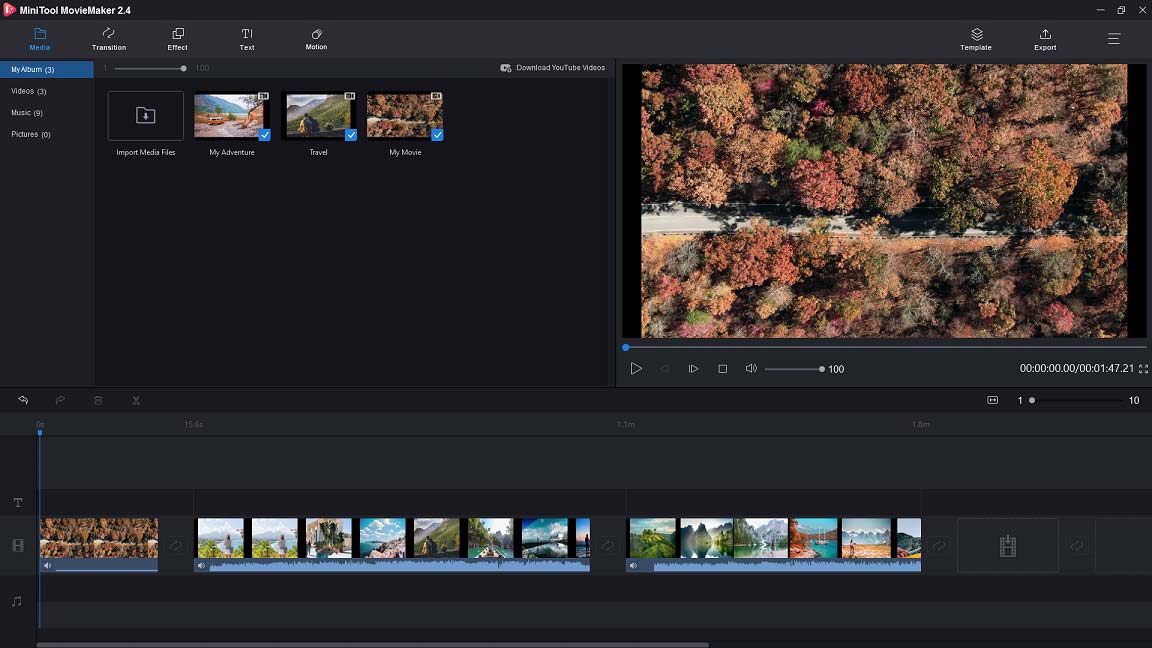 Step 4. Edit the video files.
Then, you can rearrange these videos and split, trim, reverse, speed up, and slow down them according to your needs. Also, you can apply filters & motion effects and add animated text & transitions to make your Dailymotion video more complete. For more information about how to edit videos, click here.
Plus, you can watermark your video and customize the text watermark, here's a detailed guide: How to Make a Watermark to Protect Your Works | 2020.
Step 5. Export the Dailymotion video.
Go to Export and configure the output settings. From the output settings window, you can choose a new video format, change destination folder, rename file, and change video resolution. After doing this, hit the Export button to export the Dailymotion video.
How to upload a video to Dailymotion
Except for YouTube, another best place to store and share your videos is Dailymotion. It's free, legal, and safe. Follow the steps to upload your videos to Dailymotion.
Tap on Log In to log in with your Google account when you enter the Dailymotion website.
At the top right corner of the main page, you will see your profile. Click on it and select the Settings option.
On the Settings page, click on Upload to go on.
Then, upload the video from your computer. The upload time depends on the video length.
After uploading the video, press on Edit and publish to publish the video. Or click Upload more to continue upload videos.
Check the uploaded video and tap on Edit video to enter the video title, select a category, and add some tags & description. Then save changes.

5 Best Websites like Dailymotion
If you're looking for some websites like Dailymotion, below are the 5 best Dailymotion alternatives.
5 Best Websites like Dailymotion
YouTube
Vimeo
Metacafe
Dtube
Vine
YouTube
YouTube is the world's biggest video hosting site that allows you to enjoy the latest and popular videos, movies, and TV shows from over 130 countries. Meanwhile, content creators also can earn money on YouTube through advertising revenue, channel membership, YouTube Premium Revenue, etc.
Vimeo
Vimeo is another website like Dailymotion. It lets content creators watch and upload videos. The video quality on Vimeo is up to 4K Ultra HD, which distinguishes itself from other video hosting sites.
Metacafe
Founded in 17 years ago, Metacafe mainly focuses on short-form videos of all categories like movies, sports, video games, music and TV.
Dtube
Dtube, a video sharing platform, has a similar layout to YouTube. It's blockchain-based, so the monetization method is totally different from YouTube. On Dtube, uploaders can get rewarded with steem dollars and steem power based on how popular your videos are.
Vine
Vine is a popular short-form video hosting site that lets users share six seconds long video clips. It's available for Windows, macOS, Android, iOS and other operating systems.
Conclusion
Is Dailymotion safe? Is Dailymotion legal? After reading this post, I believe you must know the answers. I hope this post is helpful to you!
If you have any questions about MiniTool MovieMaker during the video editing process, please feel free to contact us via [email protected] or leave a comment below.
Is Dailymotion Safe FAQ
Dailymotion VS YouTube, which is better?
In terms of popularity, quantities in videos, and categories, YouTube is better than Dailymotion. But Dailymotion has fewer ads than YouTube.
Is 123Movies illegal?
123Movies lets users access to a large collection of movies including copyrighted movies. Therefore, 123Movies is illegal and watching pirated movies can put you at risk.
Where to watch free movies and TV shows?
You can watch free movies and TV shows on Netflix, Hulu, YouTube, Dailymotion, Vimeo, Vudu, and many more video streaming services.
Is Dailymotion blocked in India?
No, Dailymotion was banned in India in 2012 and was unblocked in 2014.