As there are numerous iPhone video enhancer apps on the market, this post is devoted to a general overview of the 4 best iPhone video enhancers that increase your video quality. This will make it easier for you to choose the most suitable one. You can try this handy video editor MiniTool MovieMaker to polish your videos.
Whether you're creating a feature film or an Instagram story, iPhone makes it incredibly easy. If you are concerned about the quality of your videos, we have a good hack for you. You can try these iPhone video enhancer apps before you drop the low-quality video into the virtual trash can! The following is a handpicked list.
KineMaster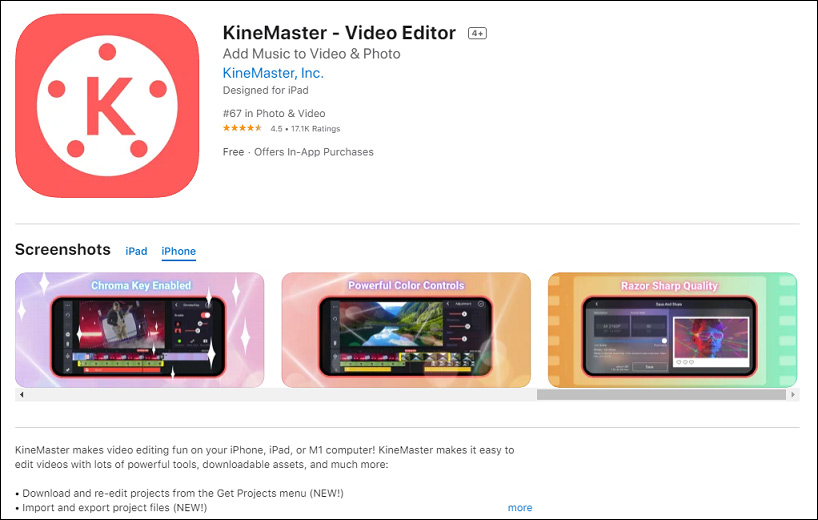 KineMaster is the first pick among the best iPhone video enhancers list. Because it is easy to use with intuitive settings and offers stunning features for enhancing and editing videos.
It allows you to create amazing visual effects by reversing, speeding up, adding slow-motion, and applying blending modes in your videos.
You can also use its color filters and color adjustments to correct and enhance videos and make your video stand out. Aside from that, it provides you with video layering, overlays, and frame-by-frame trimming.
You can save your videos in 4K 2160p at 30FPS, or share on YouTube, TikTok, Instagram, Facebook Feed, and other social platforms.
Videoshop
Videoshop is also a great and cross-platform video enhancer for iPhone users to bring a lot of fun into your video enhancing process. You can improve a video with a wide range of sound effects like animal noises, farts, explosions, and laughter. Then you can share your edited videos across social media platforms.
With its enhancing filters, animated transitions, video resizer, you can make your videos appealing. It can also help you trim video, apply slow/fast motion effects, reverse videos, and add voiceover to your videos.
InShot
Inshot is also one of the best video enhancers for iPhone users. As a video enhancer, it allows you to increase video quality in just a few easy steps. It is also a video editor as well as a video maker. Using it, you can split, merge your videos, or add filters and effects to your video easily and quickly.
Moreover, it provides speed controls, video format conversion, and audio editing features. If you are a social media junky, this video enhancer is perfect for you as it has a preset list of size ratios that cover all the leading social platforms.
Pinnacle Studio Pro
If you're looking for a powerful video editor with great enhancement features, you can give Pinnacle Studio Pro a shot. This is also among the best video enhancers on the list with basic and advanced features like enhanced color grading features and multi-layer 3D animations.
Depending on the model of your iPhone, you can use its professional 2K and 4K support on the latest devices and full 1080p output support on your iPhone.
This app also lets you enhance videos captured from any video camera. And it helps you to stabilize shaky videos.
Conclusion
These iPhone video enhancers are fabulous and powerful for increasing the quality of your video footage. Whether you need to make adjustments to videos or promote the overall quality of your videos, they can make your job much easier.