You may want to get sharable links to your Instagram profile or posts, but you're not sure about how to find Instagram URLs. In this post, we'll show you how to get Instagram links to your profile and photos and videos that are shared on Instagram.
Instagram is a popular photo and video sharing platform. Originally, it was designed for mobile devices, and then it can be used on the web. Because of this, some people think it's a little difficult to find Instagram URLs to posts. In fact, it's simple to get Instagram links.
In this post, we'll tell what an Instagram URL is and how to find Instagram links. (Try MiniTool MovieMaker to make a video for Instagram on PC.)
MiniTool MovieMakerClick to Download100%Clean & Safe
What Is My Instagram URL?
URL stands for Uniform Resource Locator, colloquially called a web address.
What is my Instagram URL, anyway? Instagram URLs and links for profiles and posts (photos and videos that are shared on Instagram). For profiles, an Instagram URL is composed of two elements, Instagram's website address and your Instagram username.
How to get the Instagram profile link of yourself or another person? Continue to read the following part.
Also read: Solved – How to Change Profile Picture on Instagram
How to Get Instagram Profile Link
This part will describe how to get the Instagram profile link on the Instagram mobile app and on the web.
Instagram app:
Open the Instagram app on your phone and log into your account.
Click the profile picture icon to open your profile.
You'll see your username on the top left of the screen. You can click the Edit profile and then copy the username.
As we mentioned before, an Instagram profile link has two components, the Instagram site URL and the username. Thus, a complete Instagram profile link will be https://www.instagram.com/username.
If you want to get another user's Instagram profile link, first you type the desired username to search from your Instagram. When this profile opens, click the three dots icon at the top right, and click the Copy Profile URL to get the sharable profile link of another person.
Related article: [Solved] How to See Who Viewed Your Instagram Post
On the web:
1. Go to Instagram, click the circle with your profile picture, and then click the Profile.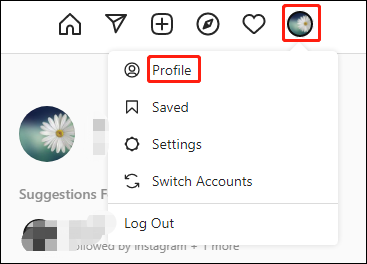 2. Then your Instagram profile link appears in the address bar of the browser. Alternatively, you can directly click your profile picture with your username to open the profile page.
If you want to get another person's Instagram profile link, you can search for the username or just click a profile picture. When the profile page opens, the profile link is in the address bar.
How to Get Instagram Post Link
How do you find your Instagram URL of the videos and photos you shared on Instagram? It's very easy.
To get an Instagram URL to a post on your Instagram app, you should find this post, then click the three horizontal dots on iPhone or click the three vertical dots on Android, and tap the Link option.
To get a link to a post from a web browser, open the Instagram web app, then find and click the desired post, you can copy the link in the address bar, or you can click the three dots icon then click the Copy Link.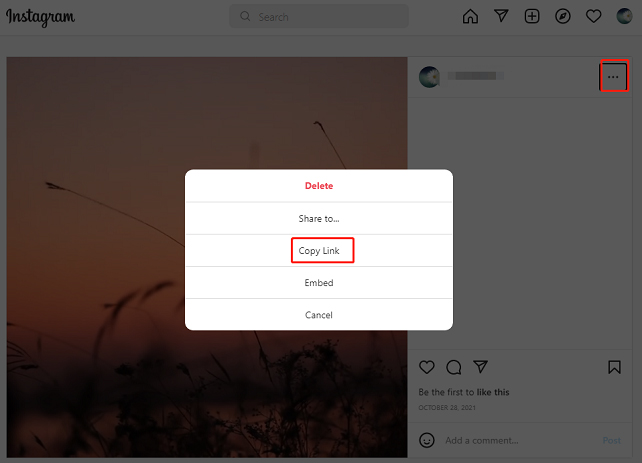 Also read: How Long Can a Reel Be on Instagram & Best Time to Post a Reel
Conclusion
That's all about Instagram URL and how to get Instagram links to profile and posts. By the way, if you want to change your profile link, you just need to change your username. And if you want to delete your Instagram account link, you should delete the Instagram account.