Image vectorizers allow you to design and manipulate computer images using geometric and mathematical commands. These vectorized images can be scaled without losing quality. What is the best image vectorizer? This post handpicks the 4 best options for you.
We also have a great and free video editor for you - MiniTool MovieMaker if you are also looking for a video editor to polish your video clips.
Sometimes you just want to convert a particular image into a vector image, and this is where the image vectorizers come in handy. You can use these vector graphics to create high-definition illustrations for the web, games, and other multimedia.
Inkscape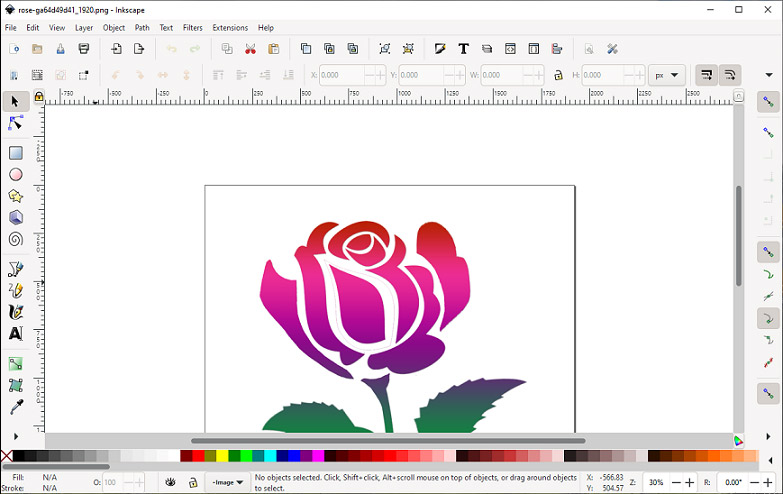 Platforms: Windows/macOS/ Linux
Inkscape is an open-source and free image vectorizer software that comes with an amazing set of features. It features image vectorizing, photo or image and text editing, and support for most graphic formats like SVG, PNG, WMF, PDF, and more.
It supports different types of vector creation. You can create vector objects, perform all sorts of manipulations on them (fill, stroke, render, transform, group, use layers), add text, create vector images from bitmaps, etc. You can manipulate the objects in your picture with moving, scaling, and rotating features.
The advanced node paths options are also available. You can move nodes and Bezier handles, convert shapes and text to paths for advanced editing, path simplification, bitmap tracing, and more.
Related post: 5 Best Picks of Online SVG Animators
Vextractor
Platform: Windows
Vextractor is one of the best image vectorizer software that gives the possibility to convert raster images like drawings or maps, photo logos, and illustrations to vector format.
With a simple and easy-to-use interface, you can convert images to vectors in just a few minutes. It offers other features and tools including scaling, scrolling, color selection, TWAIN support for importing images, automatic recognition of lines and arcs, color conversion and black-and-white images recognition, a built-in vector editor for editing vectorization results, and more.
After vectorizing, this program saves the converted images to DXF, WMF, EMF, EPS, AI, or SVG vector formats, all of which can be imported to popular vector graphics design software like Corel Draw, AutoCAD and Illustrator, etc.
Adobe Illustrator
Platforms: Windows/macOS
Developed by Adobe, Adobe Illustrator is also one of the best image vectorizer software that is definitely worth a shot. If you are a professional graphic designer, you can get all the industry-standard sets of digital design tools there.
With it, you will access all necessary solutions to design including vectorizing images, advanced typography (effects, styles, and more), freeform gradients, and more. It also allows you to create customized fonts by redesigning already existing fonts or implementing them from other designs and sketches.
For a better user experience, Adobe illustrator has advanced pen options that emulate the feeling of drawing with a real, physical pencil. If you have subscribed to other Adobe products, you may find the seamless integration with Creative Cloud Suite apps.
CorelDRAW
Platform: Windows
CorelDRAW is another great image vectorizer software. It is a comprehensive suite of professional graphic design tools and gives you everything you need to craft design projects from vector illustration and photo editing to typography tools.
Compatible with more than 100 graphics file formats, you can import and export a variety of assets and tweak them to perfection. You can vectorize any image, create exquisite artwork from scratch, and make clear vector illustrations. It also lets you create curves and lines with shaping and drawing tools. After that, you can fine-tune your drawings with blend modes, contour, fill, and more.
With the advanced editing features, you can adjust every detail of your object. An extensive library of clipart images, high-resolution photos, multiple font faces, templates, as well as a fountain, vector, and bitmap fills are all accessible, you can integrate them into your designs for free and generate original artwork easily.
Conclusion
To sum up, this post shares the 4 best image vectorizers for different platforms. With these tools, you can not only vectorize images but access more advanced features.