If you copy photos from an iPhone or iPad to a PC or desktop, chances are that you will see a series of strange HEIC files. As iPhone and iPad take photos in the HEIC image format by default. Want to view them on your PC? Keep on reading to find the best HEIC photo viewer!
HEIC (High Efficiency Image File Format), is an image format designed to compress images and therefore save space on iOS devices. This means that it retains a high-quality image display while taking up less storage space with modern compression technology.
This kind of format cannot be viewed directly on Windows PC due to compatibility issues. If you want to access the image on a PC, you may need a HEIC photo viewer for Windows. The next part will share with you some of the best HEIC file photo viewers.
Try the amazing movie maker – MiniTool MovieMaker to make short videos from your photos!
What Is the Best HEIC Photo Viewer?
Apowersoft Photo Viewer
Apowersoft Photo Viewer is one of the best HEIC photo viewers for Windows that supports the direct viewing of HEIC format. It does not require any further conversion activities for viewing. This program is free to use and provides the possibility to open other major compatible image formats, including JPG, PNG, BMP, GIF, etc.
When you run this program, you can find that the interface is intuitive, making it recommendable for everyone to use. While viewing HEIC files, you have several viewing options like in a slideshow. It also enables you to edit the HEIC photo by rotating, zooming in/out, and inserting figures and text.
iMazing HEIC Converter

iMazing HEIC Converter is a free solution that allows you to view and convert HEIC files to JPG and PNG formats. The program offers an easy-to-use platform, so you will find it smooth to navigate the process of converting and viewing.
To use this tool, you can download it from the Microsoft Store and install the program. Then drag and drop all the HEIC images into the converter. You can also preserve the EXIF metadata if you don't want to remove it.
If you want to change the EXIF metadata of your photos, check out Top 4 EXIF Editors That Help You Change the Photo Information.
HEIF Image Extensions
If you are still wondering about other ways to open the HEIC photo, you can try this solution in Windows 10's Photos App. Microsoft has an official option to let you open HEIC photos on your PC with extensions.
The two extensions you need to download are called HEIF Image Extensions and HEVC Video Extensions. You can install both from the Microsoft Store. The HEIF extension is free, but the HEVC extension costs $0.99/£0.79. When both tools are installed, you can double-click your HEIC files and they should open.
How to Get Your iPhone to Produce a Compatible File Format?
If you want to make your iPhone or iPad produce photo in other compatible image formats instead of HEIC, you can tweak the settings. On the iPhone or iPad, there's an option to change what format your photos are saved in. It will resolve all of the incompatibility issues you are facing.
The following is how to do that:
1. Open the Settings app on your iPhone and scroll down until you see the Camera. Tap it and then select Formats (which is right at the top).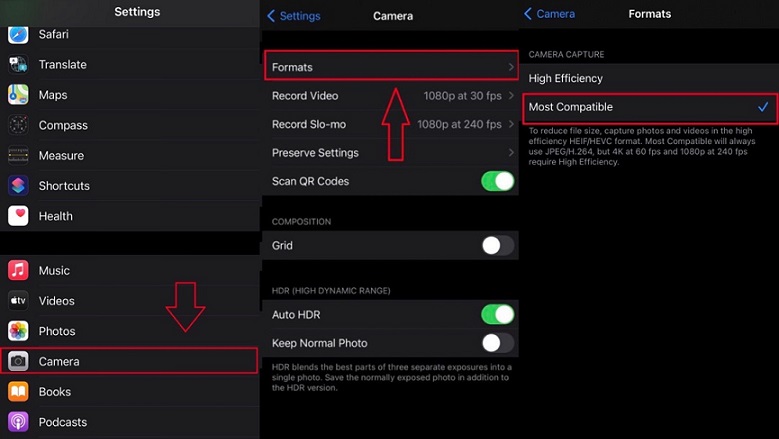 2. Change the settings from High Efficiency to Most Compatible:
From now on, your iOS device will use JPEG format for all your camera photos.
You may also like How to Transfer Google Photos to Your iPhone or iCloud? [4 Ways].
Conclusion
This post introduced the HEIC photo viewers and how you can change the setting on your iPhone to save photos in the other format. Now, you can try the solutions to view your HEIC photos.