With CAD viewer software, designers can make annotations, navigate layers and components, and measure distances, surfaces, and angles. If you just need a free CAD viewer, keep on reading. In this post, we will share some of the best free CAD viewer software with you.
Go through this list of free CAD viewer software, they offer features that help you load DXF and DWG files, open and view CAD files, convert DWG files into supported formats, view programs for AutoCAD, and open and view STEP files, etc.
By the way, you can try MiniTool MovieMaker to edit videos in various formats and make videos from images.
MiniTool MovieMakerClick to Download100%Clean & Safe
Autodesk DWG TrueView (Windows)
As an official free CAD viewer by Autodesk, DWG TrueView is also a file converter that ensures interoperability between different releases of AutoCAD s and various DWG versions. Autodesk claims that DWG TrueView can assure full functionality over the entire line of AutoCAD versions.
Design Review is an add-on to DWG TrueView that makes it more feature-rich. Apart from viewing files, you can also measure lengths, angles, and areas. More importantly, this free CAD viewer allows you to add comments, information, and ideas for design changes to technical drawings.
eDrawings Viewer (Windows/Mac/Android/iOS)
eDrawings Viewer is a handy and free CAD viewer software for Windows, Mac, or mobile phones. With the help of this freeware, you can view designs or drawings made by any CAD tool. If you have historical 2D design drawings created in retired CAD systems, it will help you view and measure these old designs for either design reuse, servicing, or replacement.
You can view the most popular native 3D (SOLIDWORKS) and 2D (DWG/DFX) formats in this single viewer. Interrogate the models using the measure tool as well as move and section commands to view model internals. Once opened, your files can be saved as eDrawings files for sharing.
Also read: 5 Best Picks of Online SVG Animators
Autodesk A360 (Android/iOS)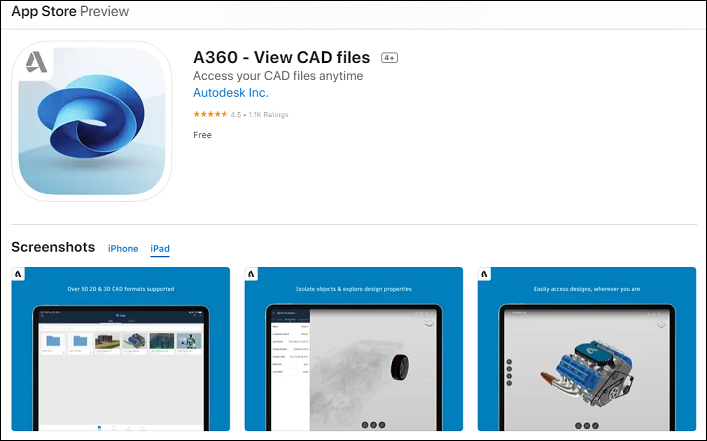 Autodesk A360 is also a free AutoCAD viewer that is designed for architects, engineers, and designers to view, comment, and markup 2D & 3D designs. You can view over 50 different CAD file formats including AutoCAD, DWF, Inventor, Revit (RVT), Fusion 360 (F3D), and more.
With this tool, you can upload and view design files from email attachments, Dropbox, Google Drive, OneDrive, iCloud, etc. It also supports navigating large-scale models, isolating and viewing object properties, and measuring the distance, angle, or area between points in your drawing. With the collaboration feature, you can review and markup your designs and comment directly on your designs and keep track of changes.
You may be interested in  5 Popular STEP File Viewers for 3D Design
Onshape Free (Web-based)
Onshape Free is more than just a free CAD viewer. It's free and open-source and includes features fit for an enterprise-level CAD program. This tool is designed for professional or non-professional designers who want to master version and collaboration features and pursue projects without the hassles found in old CAD systems.
One interesting feature of it is the collaborative features. It gives everyone in a team instant cloud access to the same CAD workspace and the same CAD data. It also has the ability to manage a master design without saving copies or keeping track of various versions. This viewer is browser-based and works on almost every system.
Conclusion
After reading this post, you have got the 4 best CAD viewers to help you open and view CAD files. If you have any other useful tools, you can share with us in the comments section.