Nowadays, emojis and GIF emojis have become an indispensable part of entertainment in our daily lives. Although a lot of software comes with emojis, a dedicated emoji app can provide you with more comprehensive emojis. The following four emoji apps for Android not only bring you convenience but also have many other functions related to emojis.
Let's take a look at the features of these emoji apps for Android.
If you want to make a GIF meme, MiniTool MovieMaker is highly recommended.
MiniTool MovieMakerClick to Download100%Clean & Safe
Emoji Keyboard – Cute Emoticons, GIF, Stickers
Emoji Keyboard – Cute Emoticons, GIF, Stickers is a free emoji keyboard app that allows you to type more accurately and quickly while sending various interesting emojis and text emojis.
It provides you with more than 3,000 emojis and more than 150 languages. You can send the latest and most popular emojis and GIFs on any social apps. It supports gesture inputting, smooth typing, voice inputting, intelligent text detection, and automatic correction.
Customizing your keyboard is allowed. On the one hand, you can use your own photos or the background it provides to customize your keyboard theme. On the other hand, you can also change the theme color and customize the font style, size and color. In addition, customizing the keyboard typing sound and adjusting the keyboard size to suit your typing operations are also allowed.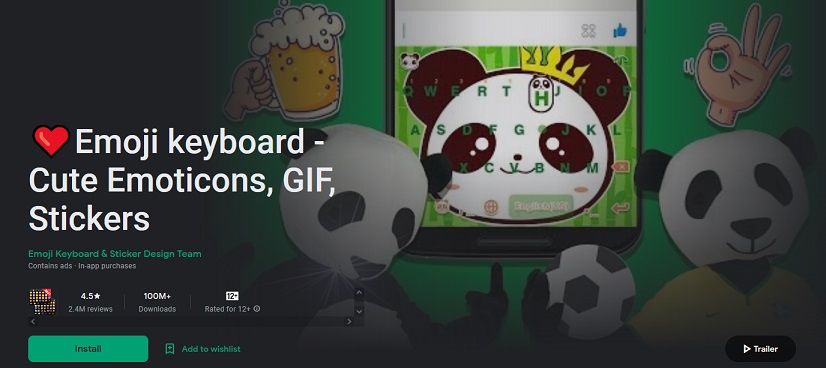 Big Emoji, large emojis, stickers for WhatsApp
Big Emoji, large emojis, stickers for WhatsApp has more than 5,000 emojis and is compatible with all chat apps, including WhatsApp emojis, Facebook emojis, Messenger emojis, Snapchat emojis, Telegram emojis, etc.
It's very easy to use, you only need to select one or more emojis you want, and choose your chat apps to send to others. It also supplies you with many different background colors, you can customize your own background color by just sliding your fingers.
What's more convenient is that it categorizes all emojis according to certain standards, which greatly saves your search time and unnecessary troubles, allowing you to accurately find the emojis you want.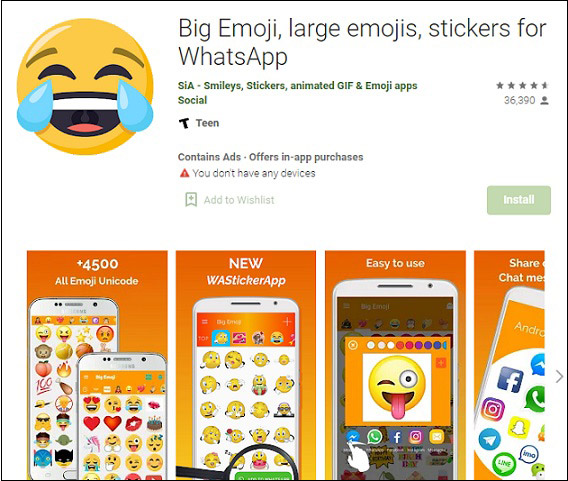 WhatSmiley: stickers, emoji&GIF WAStickerApps
WhatSmiley: stickers, emoji&GIF WAStickerApps is the best emoji app for Android with more than 1,000 creative emojis, GIFs and stickers. Its functions are almost similar to Big Emoji, large emojis, stickers for WhatsApp, and it is not an emoji keyboard.
You can send the emojis you want to share in the chat apps with just a few simple steps. It covers a wide range of emojis, including WhatsApp, Messenger, Facebook, Viber, Imo, Snapchat, Telegram, etc.
You only need to select the corresponding category to get a large number of emojis that match it, such as birthday, Christmas, Thanksgiving, Halloween and so on.
Microsoft SwiftKey Keyboard
Microsoft SwiftKey Keyboard is the best keyboard app for Android with emoji. It supports the customized keyboard and more than 400 languages. You can also enable five languages at once.
Its most excellent part lies in its artificial intelligence. Not only can it quickly and automatically check and correct what you type, but it can also predict the emoji you want to type based on your typing style and habits.
There is no doubt that basic functions such as sliding inputting, clicking inputting, and voice inputting are also allowed.
Conclusion
Some of these emoji apps for Android have their own emoji library, and some are used as keyboard apps. You can choose what you like to try.