Now more and more people like to share GIFs on major social media platforms and when chatting with others. GIFs bring a lot of fun to our lives. Moreover, there are many GIF keyboards that allow us to send GIFs instantly without having to spend time searching.
Here are five GIF keyboards that provide you with a lot of interesting GIFs.
If you want to export your video as a GIF, MiniTool MovieMaker is highly recommended.
GIF Keyboard by Tenor
GIF Keyboard by Tenor is a keyboard similar to a search engine. It has a powerful GIF database, and you can search millions of GIFs and videos to find the one you want most. You can either enter keywords to search or search by emoji.
You can send GIFs to others directly through the keyboard without opening other apps. If you want to find all kinds of GIFs, you can browse by category, such as latest events, hot topics, etc.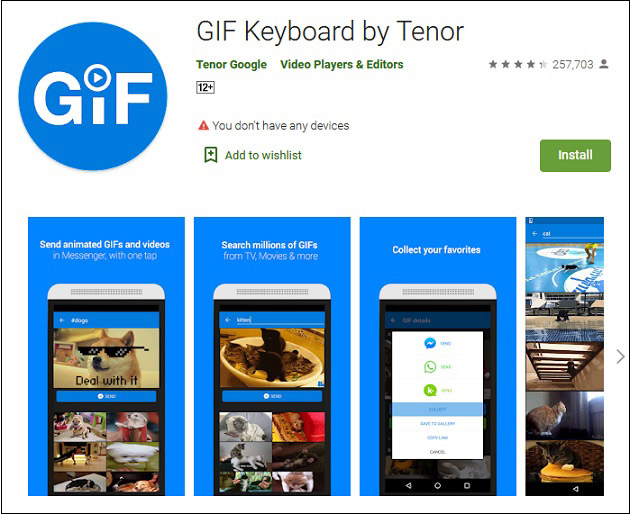 Gboard
Gboard is a GIF keyboard for android that integrates the advantages of fast speed, high reliability, gesture control, Google translate and artificial intelligence assistance.
It supports sliding typing, voice input, handwriting, emoticons and GIFs searching and so on. More user-friendly is that it supports multilingual typing, that is, there is no need to manually switch languages, automatically correct and provide suggestions from any language you enter.
You only need to click the G on the keyboard to bring up the GIF option. You can enter keywords to search for the GIF images you need. In addition, you can also make your own GIFs and use Gboard's Minis feature to create your own Bitmoji-like avatars.
Fleksy Keyboard
Fleksy Keyboard is a popular and powerful all-in-one GIF keyboard. It supports sliding inputting, voices inputting, text inputting, 4 keyboard sounds, custom spell checking, personalized fonts, key sounds, privacy protection and more.
You can access and share any emojis from this keyboard. You can type your own emojis, and it also recommends matching emojis for you.
Moreover, it also supports a custom keyboard to set your unique style. On the one hand, it provides you with more than 100 exquisite themes handmade by popular artists. On the other hand, you can create your own themes with your own images. Six keyboard sizes from large keys to small keys are also supplied.
Emoji Keyboard Cute Emoticons
Emoji Keyboard Cute Emoticons's emotion dictionary gives you more than three thousand emoticons, including text faces, symbolic emoticons, food, sports, fantasy characters, and more.
You can send funny GIFs including photo GIFs, emotion GIFs, animal GIFs and holiday GIFs directly from the Emoji Keyboard Cute Emoticons to text messages, emails and any social apps.
It supports custom keyboard, such as adjusting and splitting the keyboard layout as needed, customizing key sounds, using pictures as the keyboard background and choosing different colors, fonts and wallpapers.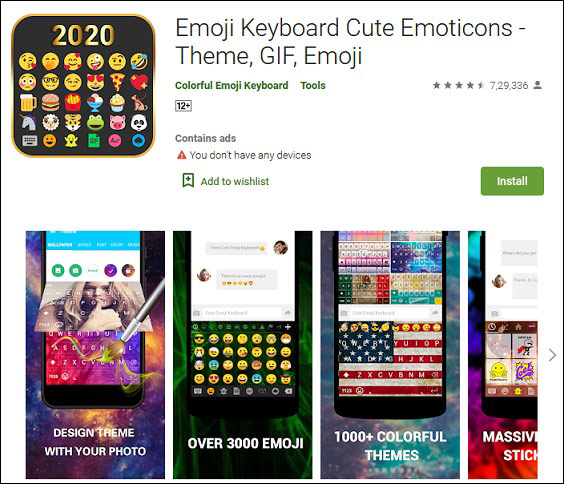 Facemoji Emoji Keyboard
Facemoji Emoji Keyboard is a free, multi-functional keyboard with super-rich content.
You can DIY the keyboard, such as custom buttons, fonts, colors, click effects, click sounds, etc. You can also share more than 1,500 themes with your friends or family.
More importantly, it provides a sliding keyboard to help you type quickly and an intelligent auto-correction function to automatically fix all typos for you. It also supports more than 100 languages and has a built-in translator. You only need to slide the space bar to easily switch languages.
Conclusion
I believe you are attracted by the above GIF keyboards. If you are interested in these GIF keyboards, download them and use them.