DDS is a graphic file format developed by Microsoft, and the full name is DirectDraw Surface. As the name suggests, DDS editors can open and edit DDS images. In some of the DDS editors listed below, you can even edit DDS images in batches.
These DDS editors have many basic functions, including resizing, cropping, rotating, watermarking, color adjustment, etc. Read the following content for specific understanding.
If you want to turn DDS images into a slideshow, try MiniTool MovieMaker.
GIMP
GIMP is a free, cross-platform and open-source DDS file editor for Windows, macOS and Linux.
It not only has a lot of rich image editing functions but it also has advanced image enhancement tools. It provides you with a lot of advanced painting tools, including retouching tools and recovery tools. Graphic design elements, multi-language support and first-class color management function are also included in GIMP.
In addition to editing DDS images, you can edit images in PNG, JPG, BMP, GIF, ICO, TIFF and other formats. At the same time, you can also save DDS to PNG and other different formats as needed. It also supports the creation of animations and GIFs with multiple DDS images.

Chasys Draw IES
Chasys Draw IES is an all-in-one app that allows you to create and edit DDS images, videos and animations.
You can use the many drawing tools and color palettes supplied by Chasys Draw IES to change, enhance and add effects to the imported DDS images. It also supports the creation of multiple layers and free-style layering, allowing you to freely move other elements and edit images anywhere around the workspace.
Its operation interface is very organized and simple. The tools needed to perform the task are on the left side of the window, and the layer and palettes are on the right side of the window. You can easily and quickly find the tools you need for DDS images, videos and animations editing.
Paint.NET
Paint.NET is a DDS editor with an intuitive and innovative interface. It uses a tabbed document interface to display real-time thumbnails of DDS images instead of text descriptions, which means you can navigate the target image faster and easier.
It supports layers, automatic updates, special effects, and unlimited undo. Moreover, it has a variety of useful and powerful tools, including simple tools for drawing shapes, curve tools for drawing splines, magic wands for selecting areas of similar colors, clones for copying or erasing image parts, text editor, zoom tool, and recolor tool.
XnConvert
XnConvert is a free and powerful image converter that can batch edit and convert DDS images.
It supports more than 20 languages, is compatible with hundreds of formats and 70 export formats, and can also be used on Windows, macOS and Linux operating systems.
You can use it to perform basic editing on DDS images, including adjusting size, color, brightness, saturation and contrast, cropping, adding filters, effects, text, mask, and watermark, rotating, transforming, and compressing.
It supports editing and conversion of image formats include JPG, PNG, JPEG, GIF, BMP, TIFF, WEBP, PSD, PDF, DNG, CR2, etc. If you want to edit and convert DDS images in batches, just use its hot folder function.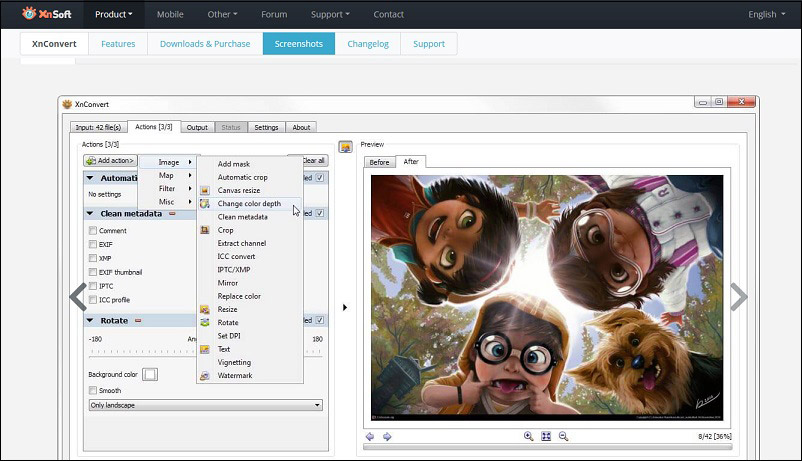 Conclusion
There is no doubt that the above DDS editors can almost meet all your DDS image editing needs. If you happen to need them, download and use them as soon as possible.