Conversations with Friends TV show is set to released on this month. Do you know where to watch the Conversations with Friends TV show? How about Conversations with Friends TV show release date? Who are Conversations with Friends series cast? Keep on reading to find the answers.
You can try the amazing short movie maker – MiniTool MovieMaker to remake videos without watermark.
After two years Hulu's Normal People premiered, which evoked critical acclaim and fan fervor in April 2020 before reaping several Emmy and Golden Globe nominations, there is another 12-episode series based on Rooney's debut novel, Conversations with Friends, coming to Hulu this month.
Where to Watch Conversations with Friends?
Conversations With Friends, developed by Element Pictures, is scheduled to be premiered on Hulu in the United States, BBC Three, and aired on BBC One in the United Kingdom on Sunday, May 15, 2022. It will then premiere on RTÉ (Irish television and radio broadcaster) in Ireland on Wednesday, May 18.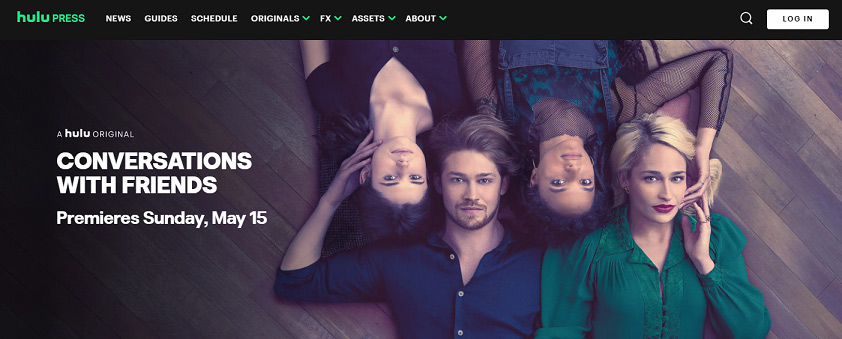 If you want to watch the Conversations with Friends TV show trailer, the show debuted its official trailer. BBC3 has revealed the official trailer, Hulu also debuted the teaser for the series on February 8, 2022.
Read Top 6 Best Free Streaming Services You Need to Know to find free streaming services.
What Is the Conversations with Friends TV Show Based on?
Rooney's first book, Conversations, follows 21-year-old Frances (the narrator), a Dublin-based college student who is navigating a series of intimate relationships: with her best friend Bobbi, with an older married couple actor Nick with enigmatic wife Melissa.
In the series, Frances is described as observant, cerebral, and sharp, while Bobbi is self-assured, outspoken, and compelling. They broke up but they're still inseparable, performing poetry together around Dublin. They meet Melissa at one of their shows and start spending more time with her and her husband Nick, a handsome but reserved actor.
Their friendship with the older couple turns into flirtations, which leads to an intense secret affair that later tests the bond between Bobbi and Frances.
Much like Normal People, Conversations with Friends is all about the complicated nature of modern relationships - their messiness, their ambiguity, and the many forms of love and dependency.
Also read: Where to Watch Skam TV Show Online? The Complete Guide
Who are Conversations with Friends TV Show Series Cast?
This tv show is keeping its cast relatively small. Here we will introduce the 4 main characters in the series.
Alison Oliver as Frances. Previously she's had roles in Fame Dogs, Woggie, and Home Brewed.
Sasha Lane as Bobbi Connolly. She played Star in American Honey and has also had roles in Utopia, Loki, and The Miseducation of Cameron Post.
Jemima Kirke as Melissa Conway. You may recognize her as headteacher Hope Haddon in Sex Education. She's also been in Girls, Maniac and Untogether.
Joe Alwyn as Nick Conway. He starred in The Favourite, alongside Olivia Colman, Emma Stone, and Rachel Weisz. He also played Bob Cratchit in the TV miniseries A Christmas Carol and has appeared in Billy Lyn's Long Halftime Walk and Mary Queen of Scots.
Who Are Behind the Camera?
As for the people behind the camera, several of the directors, producers, and writers from that project are returning to adapt Conversations with Friends. Oscar-nominated director Lenny Abrahamson (Room) will return to helm several episodes, as well as writer Alice Birch, executive producer Ed Guiney, and Rooney herself as executive producer.
You may also like Where to Watch Euphoria Teen Drama Series? [Full Guide].
More About Conversations with Friends Author Sally Rooney
Conversations With Friends is the debut novel by Irish writer Sally Rooney. She also wrote Normal People, which was a huge success when it was adapted for television by Hulu and the BBC in 2020. Sally's third novel is Beautiful World, Where Are You which was published last year. She's also written short fiction and poetry.
Conclusion
In this post, we introduced where to watch the Conversations with friends TV show, the release date, and more. If you are also waiting for its release like us, welcome to share your ideas about this series in the comments zone.