Where can I watch Skam Norway and remakes? In this post, I'll offer you 7 best websites to watch Skam online for free and introduces 10 best teen dramas like Skam to binge-watch.
Skam is a popular Norwegian teen drama that focuses on the daily life of teenagers at high school in Norway. Skam was a wildly popular teen drama and adapted by seven different countries including France, Belgium, Germany, Italy, United States, Spain, and the Netherlands.
So where to watch Skam and remakes? Where to watch Skam with English subtitles? The following are 7 websites to watch Skam online. (To combine Skam videos without watermarks, you can try MiniTool MovieMaker.)
#1. NRK TV

NRK TV is a free streaming service provided by the Norwegian government-owned radio and television broadcasting company. It is well known for its extensive collection of Norwegian TV shows and films. But all NRK shows are only available in Norway, without English subtitles. If you want to watch Skam on the NRK TV website, you can use a VPN and change your location to Norway.
#2. Tumblr
Tumblr is a good place to watch Skam Norway online with English subtitles. All four seasons are in HD quality and available to download. Visit the website: https://skamenglishsubs.tumblr.com. Then choose the season you want to watch. Or click on DOWNLOAD to download all seasons with English subtitles.
#3. Dailymotion
Another website to watch Skam with English subtitles is Dailymotion. Here you can find Skam Norway and its remakes. Open the Dailymotion website, and search for "Skam" "Skam og" or "Skam fr". Then tap on Playlists and you can watch the full episodes of Skam.
#4. 123Movies
123Movies is a free movie site with thousands of TV shows and films. It allows you to stream and download Skam and 7 remakes with English subs. When watching videos on the 123Movies website, you can control the playback speed and turn off the captions.
#5. Vimeo
Vimeo is a video-sharing website where you can upload and browse videos. Go to the Vimeo website and search for "Skam". In the left panel, choose the Long option under the Duration to filter the search results. Click on the episode you want to watch. Different from the above-mentioned websites, Vimeo lets you change the video quality.
#6. Facebook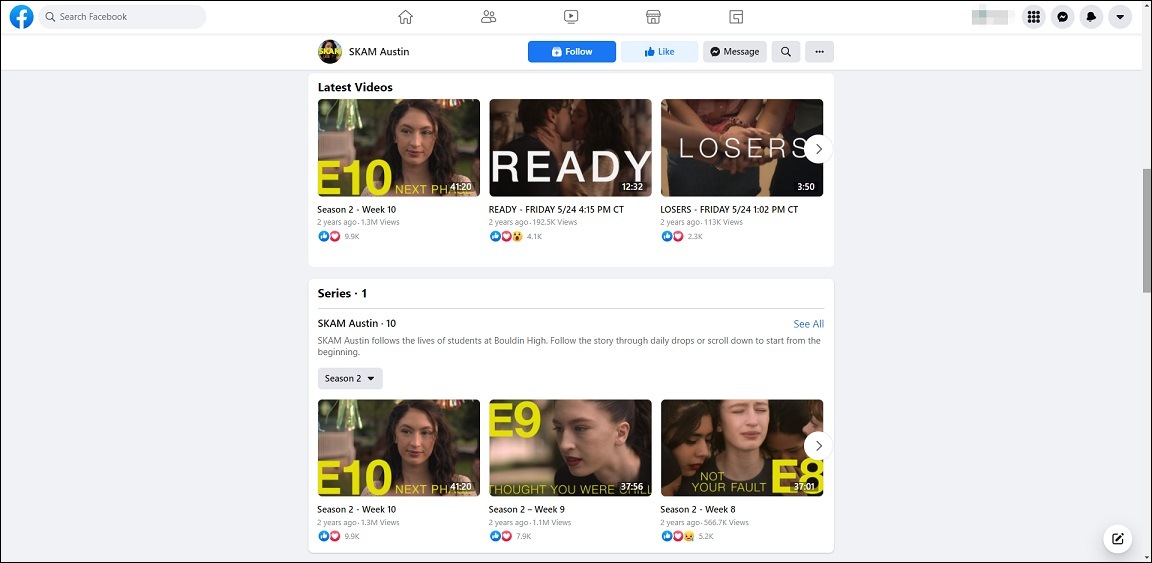 If you are looking for a platform to watch the U.S. remake of Norwegian Skam, just go to Facebook. All two seasons of Skam Austin are available on Facebook Watch. You can watch Skam Austin for free in HD quality, with no ads.
#7. France TV
To watch Skam France, you can also go to the France TV website. This website hosts many French series, movies, and documentaries. It's a free website but requires you to sign up. If you don't want to create a France Tv account, don't worry, it has an official YouTube channel called francetv slash where you can find Skam France.
Top 10 TV Shows Like Skam
Here's a list of 10 TV shows similar to Skam.
Lovleg
Blank
Unge lovende
Nr.47
Young Royals
Elite
SLiDE
Skins
Degrassi
Please Like Me
Conclusion
How many versions of Skam have you watched? Which Skam remake is the best? Share your thoughts with us!