Blog vs vlog? This is an interesting question for every content creator. If you are on the fence about whether to choose blog or vlog, you need to figure out the differences between vlogging and blogging. To help you out, this post will share the details.(If you want to make a terrific vlog, try MiniTool MovieMaker to beautify it!)
What Is a Blog
To make it simple, a blog is just like an online diary or journal. Typically, it is also run by large sites to release articles, build a brand, grow traffic, and share information with their followers.
The ideal usage for a blog is to share thoughts and material that the followers would fancy. For instance, a photographer may feature great images in her or his blog and share photography materials.
Also read: Top 8 Video Editors without Watermark for PC (2021)
What Is a Vlog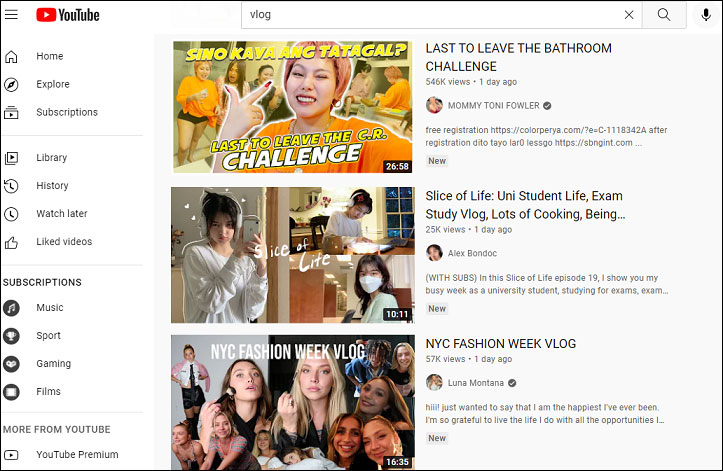 A vlog, (also video log) is short for a video blog that features video content. Akin to blogs, many vlogs zero in a niche audience and share communal interests and needs.
If you want to create a vlog, the cameras, microphones, and other types of equipment will be needed. Before publishing it online, the video must be edited.
Also read: Top 5 Best Vlog Editing Software in 2021 [ Free & Paid]
Blog vs Vlog
After the above discussion, let's make it clearer and compare and contrast blog vs vlog.
The first difference: content.
The presentation and form of your content are what make a key difference between them.
The blog aims to write content like text, pictures, and many more. If you excel at writing, you might be more capable of blogging. While the vlog is used for posting videos. If you enjoy talking to people and feel comfortable in front of the shoot, vlogging may be optional for you.
Then, let's dive deeper into the comparison between blog and vlog.
The second difference: history.
Blog as the genre of content was initiated around the 2000s and even earlier. The blog was created nearly in the same period with an Internet connection. When it comes to blog vs vlog, the vlog is a rather new concept, the blog is like an old-school one.
The vlog was born around the 2010s, and it became very popular and fashionable among people just a few years ago.
Then, the third difference: expense.
Needless to say, it won't cost much money to write and post a blog. By contrast, the vlog may be expensive because the video-capable smartphone or camera, microphone, tripods, lighting device, internet connection, and video editing software are all needed.
The fourth difference: payouts.
In both blogs and vlogs, you can add affiliate links to your posts or videos to make money. Generally, income from blogs or vlogs depends on the traffic. Vlog has more potential to earn more money because it has an entertainment element.
In other words, vlogging is a better way to earn money given that you already have remarkable ideas and can convert them into video format.
Also read: Solved - How to Make a Lyric Video [The Ultimate Guide]
Conclusion
Based on the above parts, blog vs vlog difference, the definition, and characteristics of them are all discussed. Now, you must know something about them. Both platforms offer a great opportunity to share your content and get new audiences. Can't wait to create your shining content? Just do it now!