What is the best radio app? Check out the following 7 best radio apps for listening to the radio with your smartphones! If you want to add your favorite music to a video, try MiniTool MovieMaker, a free and simple-to-use video editor.
#1. TuneIn Radio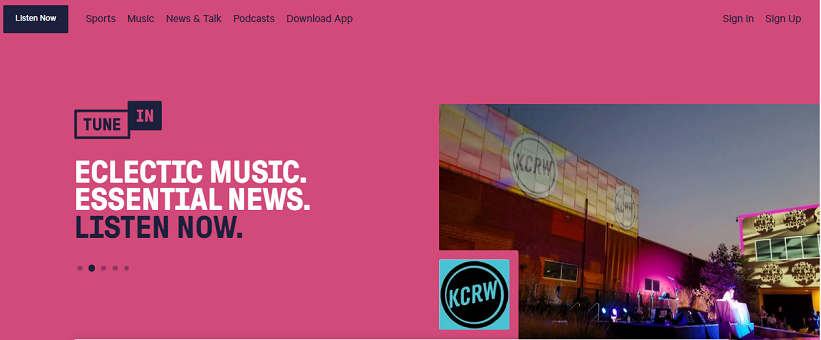 If you have already visited the TuneIn website to enjoy music or podcast, you might feel familiar with TuneIn Radio, a mobile app for users to listen to live news, sports, music, podcasts, and radio.
With this app, you can stream news from many sources like CNN, BBC, FOX News Radio, listen to sports talk stations like live NFL, enjoy music from exclusive channels like Today's Hits, stream your favorite podcast, and stream more than 100,000 broadcast radio stations.
#2. myTuner Radio App
myTuner Radio App is also one of the best radio apps for Android and iPhone. It allows you to listen to 50,000+ radio stations, stream more than 1 million podcasts, and enjoy sports, news, music, and more. And this radio app also works on the web, desktop, smart TVs, and more.
#3. Simple Radio
Developed by Streema, Simple Radio is another best radio app to listen to live AM FM radio and music. With over 50,000 stations, you can discover any news, enjoy different music, listen to live sports and talk shows.
This radio app has a clean user interface, and it's available on multiple platforms.
#4. iHeart
iHeart is also one of the best free radio apps to discover music, radio, and podcasts. It enables you to stream thousands of AM and FM radio stations from local and global sources. Like other radio apps, iHeart also lets you stream music, news, talk shows, and hear many sports radio stations like ESPN Radio.
With iHeart, you can also listen on the tablet, Wear OS, Chromecast, and more.
#5. radio.net
If you need the best internet radio app for enjoying radio and podcast, radio.net is also a great choice. With over 30,000 national and international radio stations in clear categories, you can discover your favorite show with ease. And you can also save favorites and set radio alarm and sleep timer.
With radio.net, you can explore more than 600,000 podcasts that are classified into news, comedy, music, health, and sport. And you can download podcasts to enjoy offline.
#6. Audials Play
Audials Play is also one of the best free radio apps. It has 36,000 U.S. stations that are classified by states and genres. You can explore more than 100,000 radio stations and 260,000 podcasts. More importantly, this app allows you to record a whole program or a single song based on your needs.
#7. XiiaLive
As for the best internet radio app, XiiaLive is also a good option. To help you explore more content, it has 50,000 live radio stations around the world. And you can easily search, manage, tag, and save your favorite radio.
Also read: 4 AI Music Generators You Should Know to Make Music and Songs
#8. AccuRadio
What is the best radio app for music? AccuRadio is recommended here. This app offers hundreds of music channels in 50+ genres, thus you can explore any type of song. AccuRadio lets you save your favorite music channels and listening history, rate songs, share the channel or song you love. And it's always 100% free.
Conclusion
With the 8 best radio apps, you can listen to music, news, podcasts, sports, talk shows, and more. What is the best radio app for you? Would you like to share other radio apps with us? Just leave them in the comments area.