If you want to compose music, the music notation software is an important tool for you. Let's jump into this post to find the best music notation software that works for you!
If you need a free video editor to add your music works to videos, MiniTool MovieMaker is worth a try.
Notion 6 (Windows / Mac / iOS)
Developed by PreSonus, Notion 6 is one of the best music notation software that comes almost with everything you need to create simple and complex arrangements for a variety of instruments. It allows you to input notes either by using a MIDI keyboard or by placing notes directly onto the digital staves.
In the newest version, you can even use a tablet and smart pen to write your score. It supports recognizing handwriting to digitize your written notes. This is a helpful feature to switch old-fashioned writing to digital composing. It also has an impressive instrument sample library, which includes orchestral, guitar, bass, drum samples, etc.
MuseScore (Windows / Mac)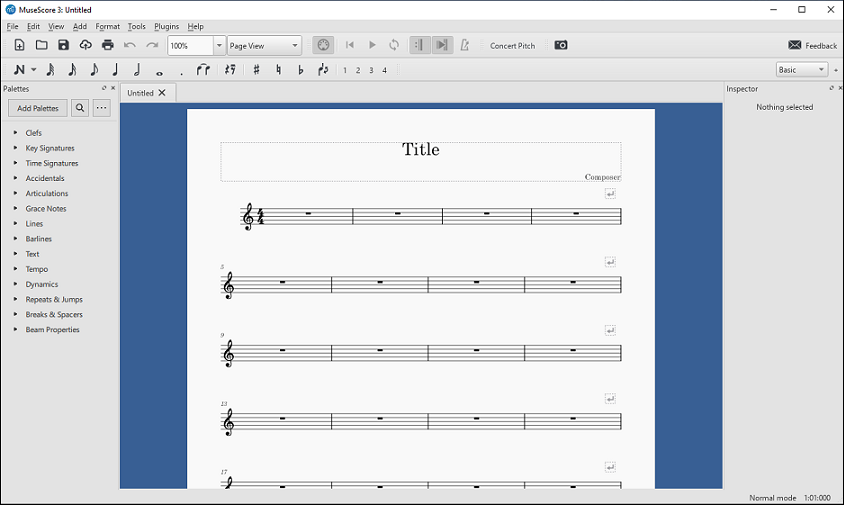 MuseScore is one of the best free music notation software for Windows and Mac operating systems. Even though it is free, it includes many useful features and tools. With a clean and easy-to-navigate interface, you can create musical scores for piano and guitar tablature and percussion sheet music easily.
It supports importing MusicXML and standard MIDI files from other notation software. When your score is complete, you can export it as a graphic file, MusicXML file, or audio file.
Sibelius (Windows / Mac)
Sibelius is also one of the best music notation software for PC. If you are new to music notation software, Sibelius may be the first one you can start with. It comes with 40 templates that can help get you started.
You can input notes with your computer mouse, digital instruments, or by connecting a MIDI keyboard to the USB port on your computer. It will automatically add the correct rests and note appearances, so you can work through a melody quickly without worrying about editing the score as you go.
You may also like 7 Best Free MIDI Editors to Edit MIDI Files | Ultimate Guide
Quick Score Elite (Windows / Mac)
Quick Score Elite is another best music notation software for PC. It comes with many useful tools for music incorporating notation, composition, arranging, MIDI and audio sequencing, and even real-time recording. You can also edit the audio, just like the way you would in the audio editing software.
On its initiative interface, you can choose the instrument name in the track sheet. After you select the instrument, it will automatically set the clef, program, channel, and critical transportation fields. There is also a dedicated button to change the playback rate, by which you can control the tempo of the playback.
Musink (Windows)
Last but not the least, MusInk is also one of the best free music notation software for Windows. With it, you can notate, compose MIDI files, scores, snippets, and more. You can also export your sheet music for the Web without worrying about page layouts.
When you compose, it will automatically arrange your music on the page, place titles, and number the pages. In just a few seconds, you can transform your composition from a formal printable PDF to a web image.
Conclusion
This post lists the 5 best music notation software you can use to notate your music. Just pick one of them to start the music composing journey. Hope you enjoy it!