Music arranger software is commonly used in music production. It is a great tool for music creators to promote music production workflows. If you are just looking for the best music arranger software, this post offers 4 options for you.
Music arranger software is an essential tool in music production today. It is designed to fine-tune your music creation and elevate your working workflow. This post covers the 4 best music arranger applications that will help you save a lot of time. Read on!
You can also add your music to videos using this free video editing software – MiniTool MovieMaker.
MiniTool MovieMakerClick to Download100%Clean & Safe
Soft Arranger (Windows, macOS)
Soft Arranger ranks highly on the list of the best music arranger software. With a large user base, it is a renowned music arranger software that supports both Windows and macOS computers.
It provides a simple yet powerful user interface, which enables you to arrange your musical flow easily and deliver perfect live music performance on stage to your audience. You can also use this tool during rehearsal or practice before recording.
You can also modify a song's chorus, slow down or speed up a tempo, play songs in different chord combinations and modify various styles as you like. It also features a MIDI editor, 16 MIDI channels, a simple style setup, preset freestyles, and more.
ChordPulse (Windows)
ChordPulse is also a great and popular music arranger software in the market for Windows. With it, you can arrange, practice, compose, learn or teach music on a single program.
As a simple and responsive music arranger application, it lets you save your instrumental backing tracks as standard MIDI files for further processing in MIDI sequencer software or MIDI file editor.
It is also an automatic accompaniment generator and songwriting tool. With sundry music styles, you can get many music ideas and much inspiration from them. You will enjoy more than 100 music styles like rock, blues, country, bluegrass, pop, jazz, Latin, and more.
Band-in-a-Box (Windows)
Band-in-a-box is also one of the best music arranger software for Windows. It is an easy-to-use tool that lets you choose your own chord progression, key, and tempo. You can also adjust the audio recordings by real session musicians to fit the key signature, chords, and tempo.
In the new version, you can enjoy many new editable utility tracks for audio or MIDI. You can also enjoy audio playback, recording, mixing, and rendering on it. It also has many customizable display options including the embedded window, track selection to display, automatic show or hides during playback, and more.
If you are looking for a MIDI player, you can check this post Top 5 Best MIDI Players You Should Try.
Bandora (Windows)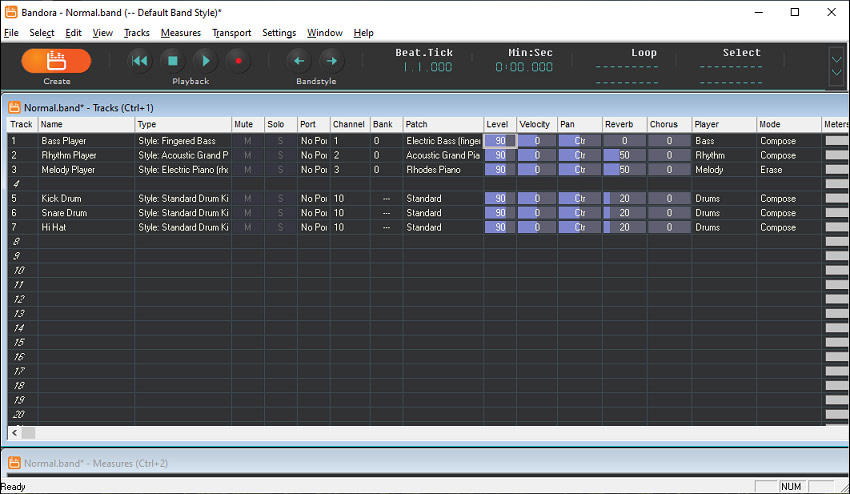 Bandora is another amazing music arranger software that lets you create band arrangements and playbacks for your songs in just a few seconds.
It enables you to compose creative accompaniments and choose from more than 550 band styles and 20 genres, add your intros to create your own song. It also offers many different musical styles to personalize your creation.
It supports importing and exporting in MIDI format to collaborate with other music applications. You can import melody lines, chord sequences, or entire songs to it and process them as you like. It lets you export the result via MIDI to open, edit and play it with other music or notation programs.
If you want to convert your MIDI files to MP3 format, you can see this post Top 5 Best MIDI to MP3 Converters.
Conclusion
In a nutshell, the 4 best music arranger software will elevate your music production workflows. If you just need one, you can pick your favorite one as your preference.