Movie trailers are part of movie promotion, and making movie trailers is also an art because it is not easy to tell the story of the entire movie in just a few minutes. Let's review the 5 best movie trailers of all time. If you want to make a trailer for your favorite movie, try MiniTool MovieMaker.
A trailer is a commercial advertisement for the film that will be exhibited in the cinema in the future. A great movie trailer can arouse the interest of the audience and attract them to the cinema to enjoy the complete story.
Top 5 Best Movie Trailers
1. The Shining
When it comes to the best movie trailers, The Shining must be on the list. There is a simple fixed image that shows the iconic elevator gradually filled with blood. At the moment you watch this trailer, you will clearly know it is a horror movie.
2. Inception
Christopher Nolan loves to keep secrets, so his trailers always play things close to the vest. Inceptions theatrical trailer is an absolute masterwork of cinematic promotion. And it made a significant impact on trailer-making for years afterward.
3. Star Wars: The Force Awakens
The trailer for Star Wars: The Force Awakens is one of the most-watched trailers of all time, which includes the most gorgeous spot in the entire film - one of the best ships in science fiction history is torn to pieces.
4. Interstellar
This trailer is amazing because it only shows some messy graphics, archival material, and a few original shots. When you go to a movie, you think you know what will happen, but actually, there are many things that shock you.
5. Mission Impossible: Fallout
The trailer of Mission Impossible: Fallout begins with a series of movements more than scenes. When watching the trailer, you can feel your nerves tense. It's such a tactile trailer experience that it's kind of difficult for the movie to live up to.
Also read: Top 18 Best Putlocker Alternatives
Sites to Watch Movie Trailers
Watching the trailer gives you a glimpse at what a movie is about, and then you can decide whether to go to the cinema to watch it. Here are some great sites where you'll find everything from the latest movie trailers for upcoming movies to old trailers.
# iTunes Movie Trailers
Do you know Apple hosts a ton of movie trailers on its website? On the Apple Trailers page, you'll find trailers for upcoming movies and newly released movies. The site is free from ads and all videos on it are of high-quality, making it one of the best places to view movie trailers.
# Trailer Addict
Trailer Addict is another destination for watching movie trailers. It hosts movie trailers for upcoming, newly-released, and older movies. And every trailer page explains the movie, shows screenshots from the trailer, lists the release date, allows for comments, etc.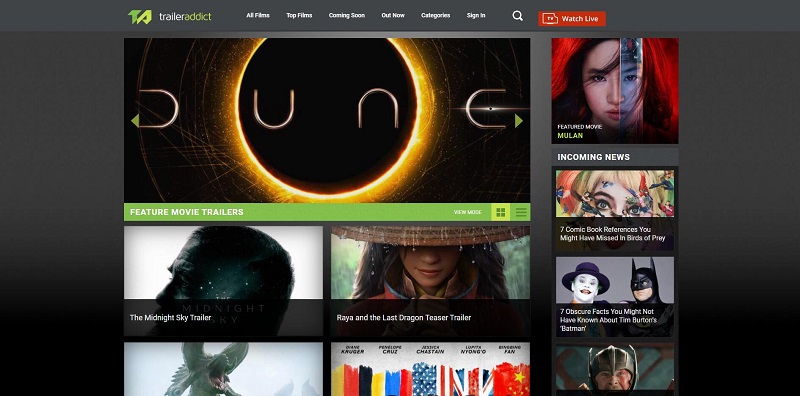 # IMDb
IMDb is a must-visit site for anyone looking for movie trailers. The trailer section of IMDb lets you view trailers of the most popular movies and locate all the recently added trailers for movies that were just released and others that are coming out soon.
# ComingSoon.net
ComingSoon.net is one of the most popular entertainment sites that offers a separate section for movie trailers. Apart from the movie trailer, you'll also find the official movie posters, behind-the-scenes footage, staff interviews, and other information as well.
Best Movie Trailer Maker - MiniTool MovieMaker
Making an eye-catching movie trailer is difficult as you only have a limited amount of time to tell the story. Don't worry, it would be much easier as long as you have a professional movie trailer maker.
MiniTool MovieMaker is a 100% free video editor without watermarks that offers various video templates to help you easily create Hollywood-style trailers. With this freeware, you can even create animated GIFs, photo slideshows, birthday videos, etc.
Bottom Line
The above has detailed the top 5 best movie trailers of all time. Why not try making an awesome movie trailer with MiniTool MovieMaker? If you have any questions or suggestions about it, please let us know via [email protected] or share them in the comments section below.