If you love music, you can't know Amazon Music or Pandora. As two major music streaming platforms, they provide users with good music service. But if you're asked that Amazon Music vs Pandora, what's your answer? What are the differences? Don't worry, this post will present the differences between them to help you find the answer.
Almost everyone desires to find a satisfying music streaming service with a sleek interface, high-quality audio, and massive free music clips. To find the most suitable one, they have tried a lot of platforms. Undoubtedly, Amazon Music and Pandora Music are the two services they never miss.
To make you understand the differences, this post's going to compare them with the following 4 aspects: supported platforms, music library, audio quality, and subscription plans. Moreover, if you want to trim or cut your favorite music to set as a notification tone, or add it to your video, MiniTool MovieMaker, a professional and easy-to-use video editor, is a special recommendation to you.
Amazon Music VS Pandora
The following is detailed information of Pandora vs Amazon Music.
Supported Platforms
Amazon Music, operated by Amazon, is a music streaming platform and an online music store. It's compatible with macOS, iOS, Windows, Android, FireOS, Alexa devices, and some automobiles and smart TVs. Besides, it's accessible from Amazon.com web player with HTML DRM extensions. And it's available in more than 30 countries.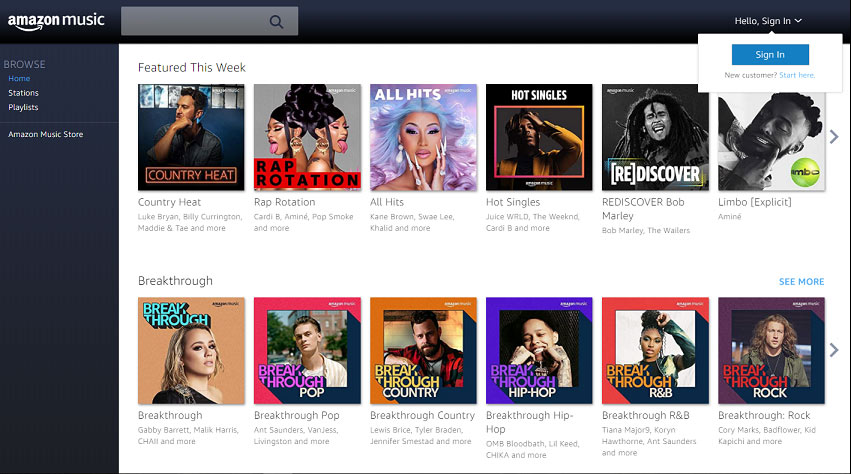 Pandora is an American music streaming and music recommendation radio service. It can work on any operating system, including Android, iOS, PC, Laptop, select car stereo system, smart speakers, and more. Compared to Amazon Music, Pandora Music has been limited to users in the U.S.
Music Library
Amazon Music boasts more than 50 million songs and albums, and 200+ playlists that can be streamed to computers and mobile devices. And it supports offline playback. Besides, it offers a large selection of new artists and catalogs of popular acts and massive comments from some singers. And it can recommend songs or playlists based on individual music tastes.
Pandora Music has access to the same 40 million songs as Apple Music and Spotify, various podcasts and lyrics. Pandora Stories can give users insightful comments. And music discovery is one of the main features of Pandora, so it can give the best recommendations according to your listening habits. Furthermore, it can display the at5tist tour and ticket information.
Audio Quality
Amazon Music has a high and lossless audio quality because Amazon Music HD uses lossless FLAC files, and these files can preserve audio quality. It supports 50 million songs in High Definition (16bit/44.1kHz), and millions of songs in Ultra High Definition (24(bit)/44(kHz), 24/48, 24/96, 24/192). Amazon Music HD costs $14.99 per month or $12.99 per month with an Amazon Prime membership.
As for Pandora Music, it plays music at 64 kilobits per second in the AAC+ format for free members, but it can offer a higher quality of 128 kbps for televisions and other non-mobile devices. Paid users can enjoy good quality, and choose from 3 audio qualities: Low (32Kbps AAC+), Standard (64Kbps AAC+), and High (192Kbps MP3).
Also read: Top 8 Best Audio Enhancers to Improve Audio Quality
Subscription Plans
Amazon Music provides the following subscription plans: Individual plan costs $9.99 per month (ads-free) plus a 60-day free trial. The family plan costs $14.99 per month plus a 30-day free trial. The student plan costs $4.99 per month. What's more, Prime members can join Amazon Music for $7.99/month for a monthly subscription or $79/year for an annual subscription.
Pandora offers 4 plans: Free Pandora accompanies ad-supported radio service. Pandora Plus is ad-free and costs $4.99/month or $54.89/year. Pandora Premium is $9.99/month or $109.89/year. Pandora Premium Family is $14.99 monthly or $164.89 annually.
Bottom Line
After reading this post, you've known the main differences between Amazon Music and Pandora Music. So, what's your answer to Amazon Music vs Pandora, which one is better? Please share your opinions in the below comments area.