Google Play Music and Spotify allow users to enjoy their favorite music. When you're asked Google Play Music vs Spotify, which music service is better? To answer this question, you must know the major differences between them. So, this post will show you the comparison of Spotify vs Google Play Music.
When it comes to music services, it's hard to ignore Spotify and Google Play Music. Both can enable users to listen, share, and download songs, music clips, and podcasts. For most people, it's not easy to choose the right one. To help you out, this post's going to share the differences between them. And if you desire to add music to gif or videos, MiniTool MovieMaker is recommended to you.
To help you figure out the distinctions between Spotify vs Google Play Music, this post will compare them from the following items: compatibility, pricing and library uploads, sound quality, social sharing, and Offline Playback of Music.
Compatibility
Google Play Music is a web-based podcast and music streaming service as well as an online music provider. It can work on many devices, including Android, iPhone, iPad, Google Home, Chromecast, Android TV, Google smartwatch, and computer. But Google Play Music limits 10 devices for authorizations, you can download as much as music for offline listening.
Spotify is a music streaming and media services provider. It is available for Android, iOS, Mac, Windows, game consoles, and smartwatches. And it's limited to 5 devices.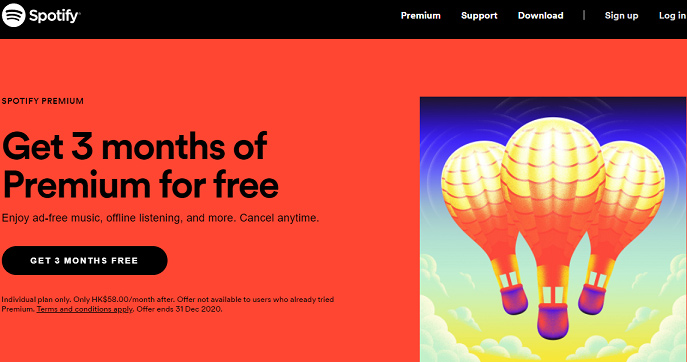 Pricing and Library Uploads
Both Google Play Music and Spotify provide users a free download and share many free features. The free service of Google Music can store and stream for up to 50,000 songs, discover and subscribe to podcasts, recommend songs based on your taste, etc.
However, if you want ad-free and uninterrupted listening or more accessible songs, you can subscribe to it. It gives 3 options: personal subscription $9.99/month, family subscription $14.99/month, and free with YouTube Premium. And it has a 30-day free trial.
Similarly, Spotify renders users many free features, including 10,000 songs, making and sharing your playlists, etc. As for the subscription plans, you can choose from $9.99/month (single), $14.99/month (family), and $4.99/month (student, including Hulu and Showtime). Besides, it offers a 3-month free trial.
Sound Quality
Google Play Music comes with good sound quality and stability.  It supports audio quality up to 320 kbps on both subscribed and uploaded music. In contrast, the sound quality of Spotify isn't as satisfying as Google Play Music. Spotify supports audio streaming at 160 kbps by default, but with a premium subscription, you can turn on an option to stream at 320 kbps. It doesn't support WAV files or uncompressed audio.
Social Sharing
They are both good music downloader apps, but in terms of social sharing, they are different. Spotify enjoys fantastic sharing options. You can share music on any social media service, like Facebook, Twitter, Instagram, etc., or directly send your music to other Spotify users. On the contrary, Google Play Music locks support for social sharing.
Offline Playback of Music
Google Play Music supports offline playback of music. It offers an unlimited range of playlists to download and play offline. Besides, it comes free with YouTube Premium, so you're accessible to more music clips. And if you're a Spotify user who wants to listen to music offline, you must purchase its premium plan.
Bottom Line  
Overall, Google Play Music shares a higher sound quality than Spotify. But it's more sharable than Google Play Music. Now, if you're asked to decide on Google Play Music vs Spotify, what's your opinion? And if you want to share other features of them, just leave your comments below.