Adobe Audition is a powerful and professional audio editing software. Except for Adobe Audition, there are many other audio editing software. You can choose the one that suits you best. This post from MiniTool MovieMaker gives you 5 Adobe Audition alternatives.
What Is Adobe Audition
Adobe Audition is a professional audio editing software. It is a complete multi-channel audio studio that offers a flexible workflow. And it has many features:
Record, mix, edit, and apply effects to audio clips with super fast speed.
Support multiple languages, such as French, German, Japanese, Italian, Spanish, Portuguese, and Korean.
Use more than 45 digital signal processing effects and mix up to 128channels.
Many export formats, and can export different segments.
Suitable for podcasters, videographers, influencers, and content creators.
support instrument VST (VSTi) plugins.
Has a professional-looking interface.
Top 5 Alternatives to Adobe Audition
It is known that there is no perfect software. Adobe Audition may not suitable for musicians, because it lacks MIDI support and it is only available with an expensive subscription monthly. If you can't accept it, you can find some alternatives to replace it. I will give you 5 alternatives for you to choose from.
1. Audacity
Audacity is a simple, free, and open-source audio editor for Windows, Mac, and Linux. You can modify your audio according to your unique needs because of its free and open-source platform. There's a huge number of plug-ins to improve its capabilities and add autotune effects.
For another, Audacity does not support instrument VST (VSTi) plugins and does not have an appealing interface. And it lacks advanced features as Audacity is not a complete DAW.
Features:
Free and open-source
Solid recording and editing
Accessible to beginners
Large library of plug-ins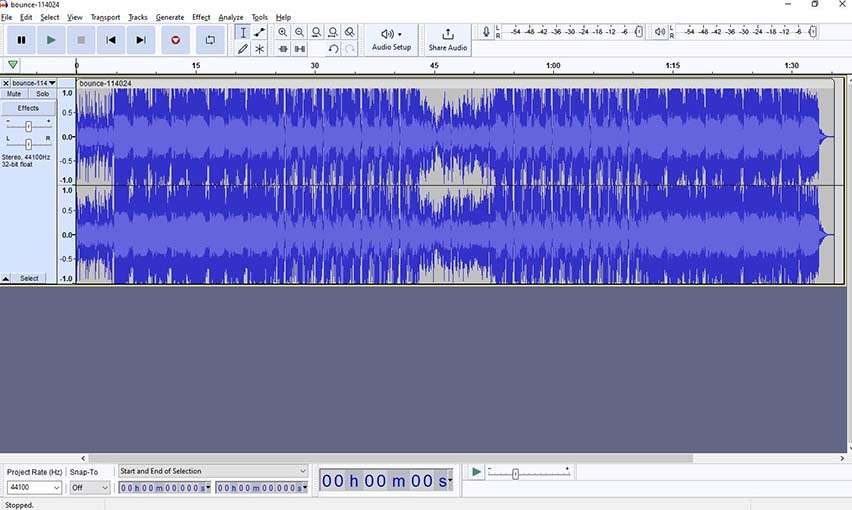 2. WavePad
WavePad is a full-featured, free, and professional audio editor for Windows and Mac. With its help, users can not only record audio tracks, but also cut, trim, paste, delete, and add silence to an audio. In addition, it has a user-friendly and intuitive interface and provides advanced editing tools.
Features:
Supports popular audio formats, including MP3, WAV, VOX, GSM, WMA, AU, AIF, FLAC, OGG, AAC, M4A, MID, AMR, and many more
Advanced editing tools
Has a sound library
Search and bookmark audio for precise editing
3. Avid Pro Tools
Avid Pro Tools is the digital audio workstation software that you're most likely to find in the professional production of audio editing. Its main interface has two windows: Edit and Mix. It has vast virtual tools.
However, the interface is complicated for beginners and is combined with the high price of $299 a year, and $29.99 a month. Despite its price, you can use the free version of the product now called First, which only can handle simple projects.
Features:
Professional and standard audio editing software
The clearest audio editing process
Cloud collaboration features
The basic version is available for free
4. Reaper
Reaper is a digital audio workstation and MIDI software for Windows, macOS, and Linux. Unlike much other software for audio editing, you can customize your menus, and toolbars, as well as can change the look and color of the interface. Reaper is commonly used with its plentiful audio production effects.
Features:
Available to thousands of plug-ins
Multi-channel audio recording
Adjustable interface
5. Ocenaudio
Ocenaudio is an easy-to-use, fast, and functional audio editor. It is an ideal Adobe Audition alternative for people who need to edit audio files without complicated operations. Ocenaudio has a simple interface and a powerful library. It's designed to simplify and standardize the process of creating audio editing across platforms.
Features:
User-friendly interface
Supports VST Plugins
Wide range of filters
Absolutely free
What's the Best Alternative to Adobe Audition
When it comes to choosing an alternative to Adobe Audition, it should be based on your needs. You should take the price, special function, personal experience, and limitations into consideration. In terms of the top 5 alternatives we mentioned above, Audacity is the best Adobe Audition alternative.
First of all, it's a free alternative to Adobe Audition. Besides, it's powerful and open-source! Audacity could be used to convert tapes and records, edit audio files, change the speed or tone of a recording, and much more.
what's the best video sound editor- MiniTool MovieMaker
MiniTool MovieMaker is an easy-to-use and free video sound editor. It is mainly planned to edit video, and you can add transitions between two parts, filter effects, animate elements, motion effects, and texts to your videos.
MiniTool MovieMakerClick to Download100%Clean & Safe
Of course, you can also edit the sound in the video. Once you have imported media files with music, you can set up fade-in and fade-out effects of the audio, adjust its volume, and mute audio.
Conclusion
After reading this article, I believe you have known the top 5 alternatives to Adobe Audition. You can try these Adobe Audition alternatives to edit your audio. Go and try it.