If you are looking for the best free graphic design tools for your PC browser or smartphone, Canva and Adobe Express are both good choices. In the sphere of creativity, illustrators, graphic designers, and other professionals often use these two applications.
What's more, you can use Adobe Express and Canva for personal projects like social media design without spending money on basic features. With regards to Adobe Express VS. Canva, let's see what free services and useful features they offer.
Adobe Express vs Canva: Interface and Ease of Use
Adobe Express is similar to Illustrator and Photoshop and is more suitable for intermediate and advanced designers. The interface is slightly more complicated, but it includes a broader set of tools. However, if you're familiar with the Adobe Creative Cloud applications, you'll be able to navigate the software with ease.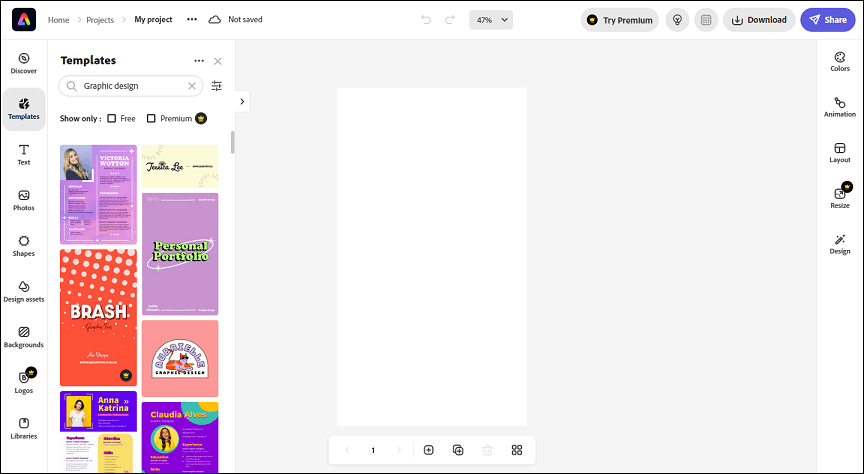 When it comes to user-friendliness, Canva tends to be easier to use. The clean and intuitive web interface features a drag-and-drop layout for easy and fast creation of designs. The tool's interface is also user-friendly for beginners.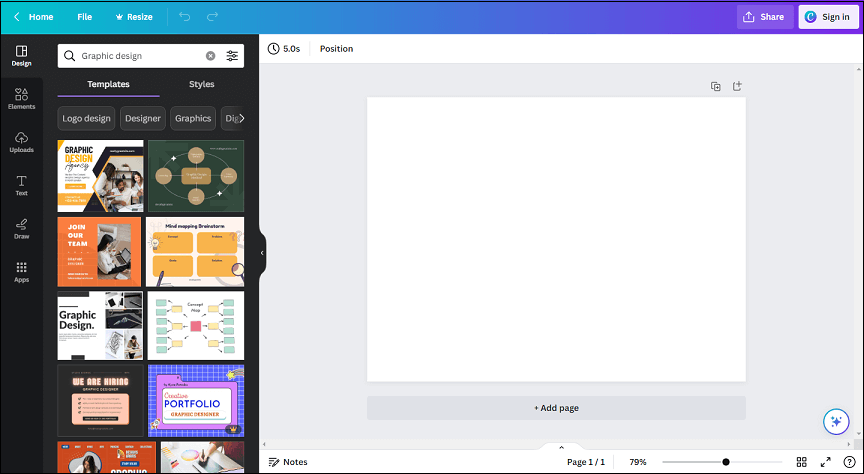 If you're new to Canva, you might like its interface and layout. Nevertheless, skilled designers will have no trouble using Adobe Express. As a result, Canva wins out on ease of use alone.
Adobe Express vs Canva: Templates
Canva provides a huge library of templates for a variety of uses, like brochures, presentations, social media posts, and a lot more. As of now, there are over 250,000 free templates available. If you want to customize a free template with just a few clicks, read this post for help: Get Lovely New Free Canva Templates – Short Clicks Only.
When talking about templates for Canva vs Adobe Express, the number of the latter is less than that of the former. Still, Adobe Express makes up for this with a powerful collection of design tools.
Again, Canva wins because of the large number of templates available. However, keep in mind that the quality of the templates provided by Adobe Express is not bad at all.
Adobe Express vs Canva: Filters and Effects
Canva covers a ton of useful filters and effects such as pixelate, blur, paint effects, and so on. And, it allows you to change the brightness, contrast, and saturation of the images.
Adobe Express also includes filters and effects. However, in comparison to Canva, the options are limited. The software lets you manually modify image brightness, contrast, and other aspects, as well as the amount of blur.
Canva leads this category since it provides more for free. Adobe Express provides excellent filters and effects as well, but you have to adjust them manually to achieve anything unique.
Adobe Express vs Canva: Video Editing
Canva contains a dedicated video section where you can use templates to create videos. It allows you to add text and design elements to your videos. When you're finished, you can export your videos in a variety of formats.
Adobe Express has a powerful video section too. There are some useful tools including trim, crop, resize and merge. Apart from the editing tools, you can also use its free but limited number of templates to make videos.
Canva is perfect for generating videos from scratch or using its extensive template library. Its tools are more geared toward this purpose. On the other hand, Adobe Express enables you to create videos as well as edit them.
Canva vs. Adobe Express for editing and creation tools, and the winner is Adobe Express. But if you would like to create a video, Canva's free templates will be more useful to you.
By the way, MiniTool MovieMaker is one of the great alternatives to Adobe Express and Canva for video editing. Not only does it have a smooth and intuitive user interface, but it also allows you to add transitions, texts, effects, motions, and animation elements to your videos. Furthermore, it provides advanced editing tools like split, trim, crop, flip, rotate, reverse, etc. Give it a shot now!
MiniTool MovieMakerClick to Download100%Clean & Safe
Adobe Express vs Canva: Stock Photos
Photos are undoubtedly one of the most important aspects of graphic design. Adobe Express and Canva both offer lots of stock photos for free, thus you don't need to pay or leave the website or application to find photos.
Canva delivers over one million free pictures and graphics. In comparison, Adobe Express gives you access to a large number of Adobe Stock photos. Both of these platforms' stock photos are distinct, and while this is a more subjective concern, we'd call it a tie.
Final Words
From the Adobe Express vs Canva comparison provided above, including interface and ease of use, templates, filters and effects, video editing, and stock photos, you can make your own choice based on your need for free elements and graphic design skills.