Want to zoom pictures on the desktop with a few clicks? Is there any image zooming software? Luckily, this post will introduce 5 image enlargers to you. With them, you can increase the size of images with ease. And if you want to zoom in on video for free, try MiniTool MovieMaker.
If you're looking for the software to zoom pictures, you've come to the right place. Here're 5 image zooming applications.
How to Zoom Pictures?
Adobe Photoshop
inPixio Photo Maximizer
A Sharper Scaling
AI Image Enlarger
Irfan View 
Reshade Image Enlarger
1. Adobe Photoshop
The first recommended tool to zoom pictures is Adobe Photoshop. This software allows you to use the Zoom tool or the View menu commands to zoom out or zoom in pictures. When you use the zoom tool, each click will zoom the picture or reduce it to the next preset percentage. And it enables you to set the Zoom tool preference and set the zoom preset amount.
As a powerful image editor, Photoshop's equipped with many other features. It let you crop images, draw on the image, add text to the photo, remove objects within a picture, blur image background, and more.
2. inPixio Photo Maximizer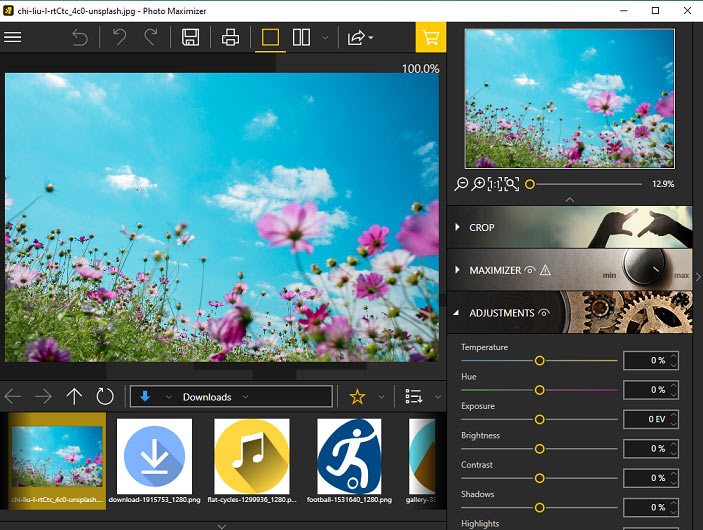 inPixio Photo Maximizer enables you to zoom in on a specific part of the image or zoom in small photos, and it can preserve the quality and definition of the original images. To get high-resolution shots, it lets you zoom in and focus on small objects in the image without blurriness or pixelation. With this image enlarger, you can magnify an entire image and preserve clarity and sharpness.
What's more, this software enables you to crop the image with a custom width-to-height ratio, flip or rotate images, apply film grain effect to the photo for an artistic look, adjust the temperature, hue, exposure, and more.
3. A Sharper Scaling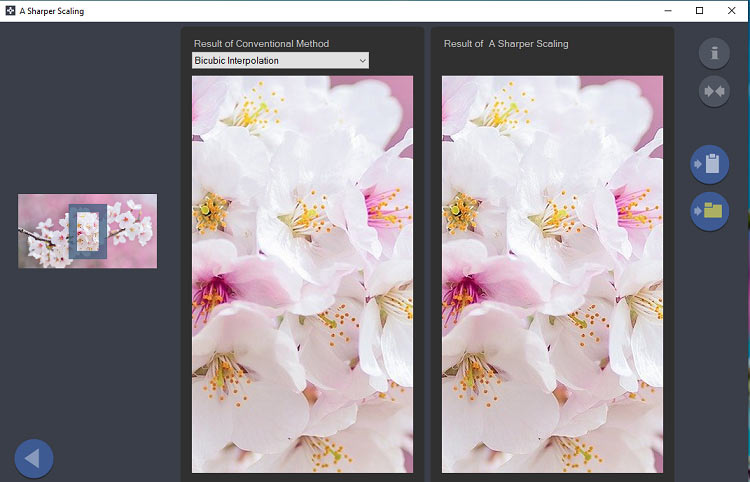 It's another picture zooming software that can zoom images without quality loss. With A Sharper Scaling, you can set the target size and scaling factor (50% to 400%). This application supports JPEG, TIFF, PNG, and BMP formats for input, and the output formats include JPEG, TIFF, and PNG.
Moreover, it supports bulking processing. Just upload a source folder, set the scaling factor, choose the output folder and format, then click the Run to zoom a bulk of images at once.
Also read: 8 Best Bulk Image Downloaders You Should Know
4. AI Image Enlarger
AI Image Enlarger is an online image enlarger that allows you to zoom pictures and increase image resolution without losing quality. With it, you can magnify images by up to 800%. It's also an image sharpener that can sharpen blurry pictures while maintaining quality.
5. Irfan View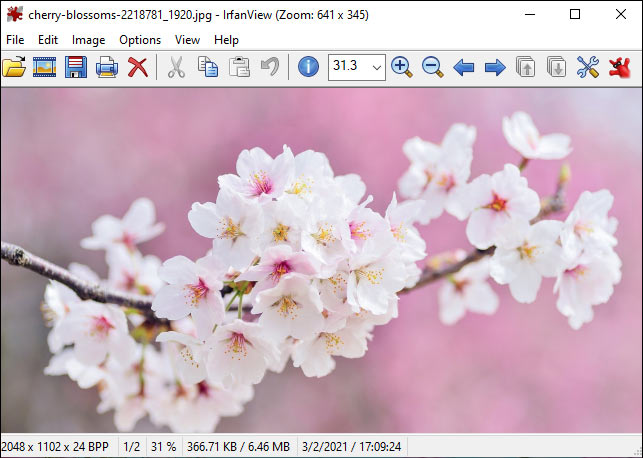 When you want to zoom in pictures or zoom out pictures, you can try Irfan View. This free software allows you to zoom pictures with any scaling factor and can fit images to window height or width. And it enables you to crop and rotate images, add watermarks to the photo, apply effects, and it also supports batch conversion.
6. Reshade Image Enlarger
Reshade Image Enlarger is also a free image zooming program that allows you to magnify images to ultra-high resolution. Based on the advanced single-image photo enlargement algorithms, it can produce crisp-clear pictures after resizing. Meanwhile, this software lets you make picture resizes without the jagged edges, blur, or loss of sharpness.
Besides, it can refocus blurry pictures, reduce photo defects, and more. With this image enlarger, you can resize and enhance pictures for high-resolution posters, super-size graphics for web design, printing, etc.
Conclusion
This post has rounded up 6 applications to zoom pictures. Now choose one and try to zoom in or zoom out your images.