YouTube is an incredible marketing channel to promote, entertain, and educate audiences, receiving over 5 billion daily video views. Like any other type of content, YouTube videos need to be optimized. Here are 5 powerful YouTube video optimization tips to help you optimize a YouTube video.
Useful Tip: If you want to make movies by yourself, you can try MiniTool MovieMaker.
As the second largest search engine in the world after Google, YouTube is a video sharing service where you can enjoy the videos and music you love, upload original content, and share it all with friends, family, and the world. Like any other platform and medium, if you want someone to find your content quickly, you need to optimize video. However, how to optimize YouTube videos for SEO?
In this post, I am going to show 5 useful and easy YouTube video optimization tips to increase YouTube traffic.
Create Good YouTube Video
Before we get into how to optimize video to earn money on YouTube, let us see what kind of videos we need to optimize.  
Do not optimize a bad YouTube video. Even people watch it, they will stop watching as soon as they started, affecting the overall performance of your channel in the long run.
It is recommended to create and upload good videos before trying the YouTube video optimization tips. Here, if you don't know how to create a good video, you can try using MiniTool MovieMaker, a free, simple and powerful video editing software.
A great YouTube video should have a great sound. Almost all people have little patience for poor sound.
A great YouTube video should have a clear and helpful message that can hook your viewers within the first 15 seconds. It is recommended to use the Dean's PPP (Preview – Proof – Preview) method of YouTube video optimization.
Preview: Immediately tell your audience what your video is all about and what the viewer gains from watching it.
Proof: Tell your audience you know what you're talking about with examples, anecdotes, and
Preview: Reiterate what the video is about, and add a specific detail that the viewer will learn.
A great video should have outstanding visuals, helping add variety between frames and make for more engagement.
Hi, to optimize YouTube video, you have to upload great video content at first. Click to Tweet
After uploading good YouTube video, it is time to optimize video for SEO. However, how do you optimize a YouTube video? How to rank YouTube videos? Now, if you don't know how to optimize YouTube videos for SEO, you can try the following 5 YouTube video optimization tips.
Fix 1. YouTube Video Title
YouTube title plays an important role in your video's performance for the following reasons:
Click-Through-Rate: People will watch the title as well as the thumbnail to decide whether or not to watch your videos when they search for videos. Thus, title should be compelling, clear and concise.
Video SEO: YouTube video title summarizes what your entire video is about. Therefore, YouTube and other search engines take the keywords that you use in your title very seriously.
Besides, the title had better closely match what the viewer is searching for. According to a survey conducted by Backlinko, we find a clear correlation between keyword-rich titles and rankings for that keyword in YouTube search, as shown in the following picture.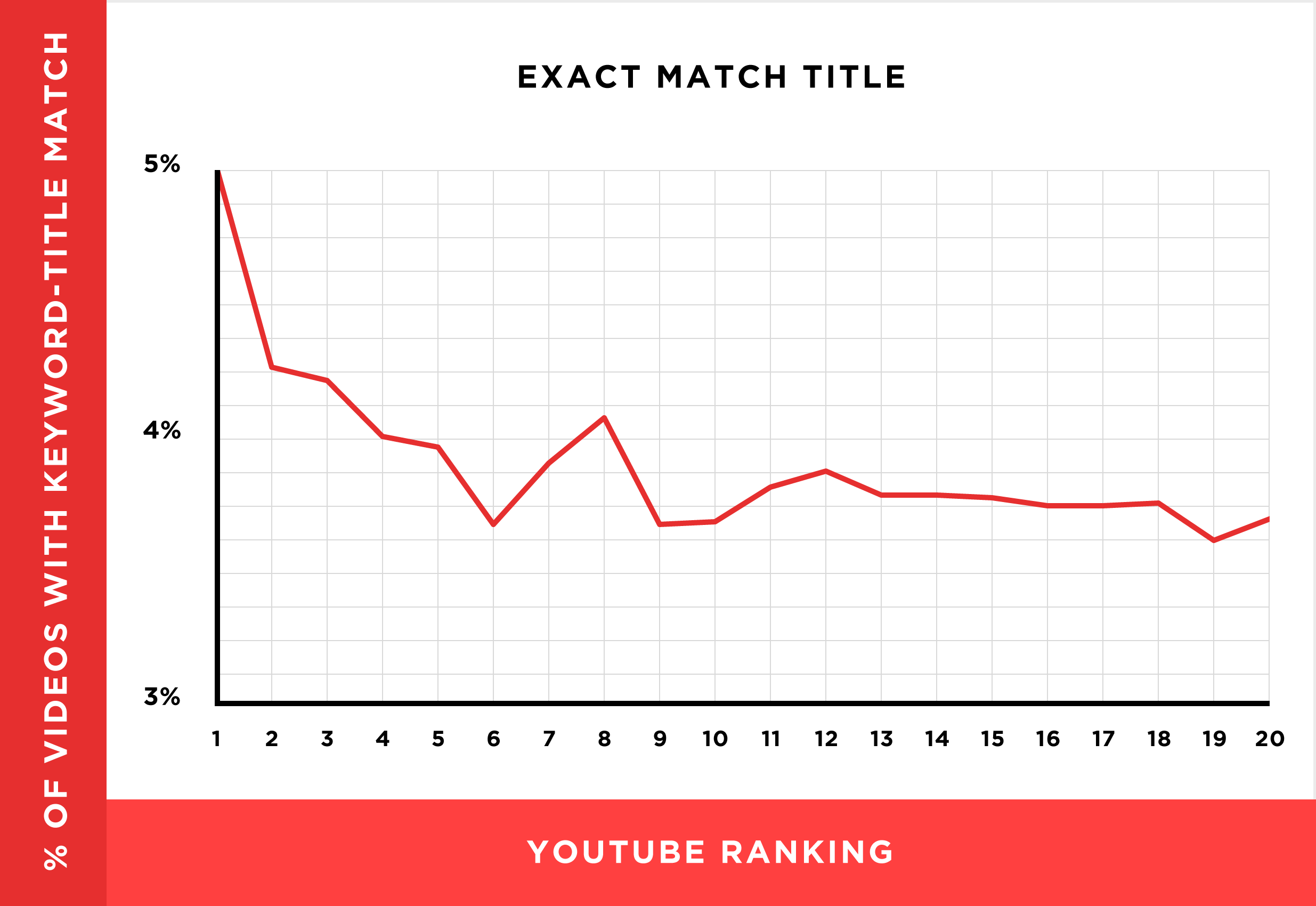 See! Identifying keywords and including them in title is one of the best ways to optimize your videos to rank YouTube videos. For example, the target keyword for this video is "i/o device error", so I put it in the title: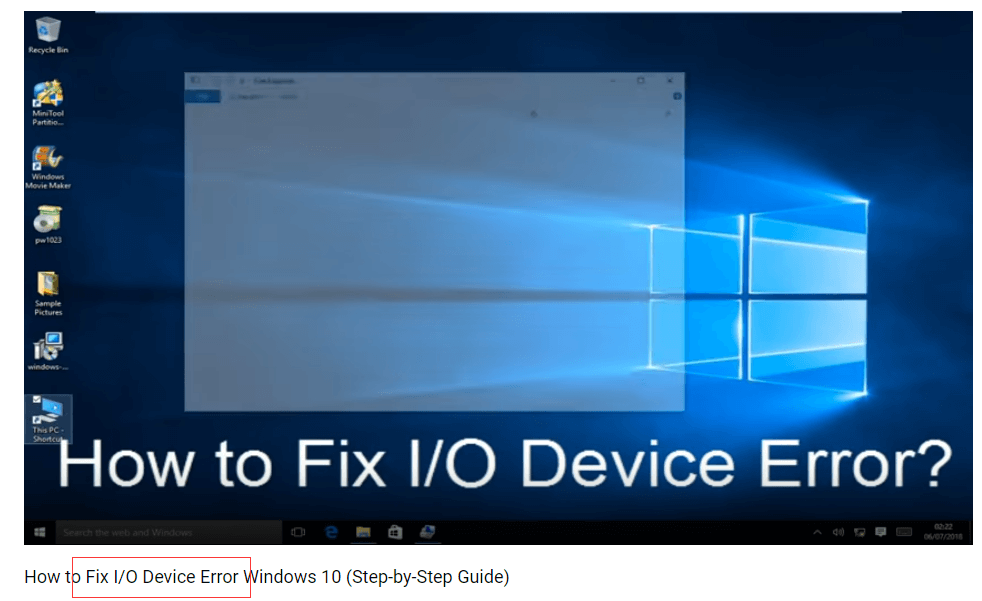 Research Keywords for YouTube Title
Reading here, I guess you might be wondering: "how do you know what keywords to use?" In fact, several tools can help you. Here are 3 tools I use for searching keywords.
YouTube and Google Search can help you get keyword suggestions. You only need to type a keyword that relates to your channel in the YouTube or Google search bar, and then you can check out the autofill drop-down results.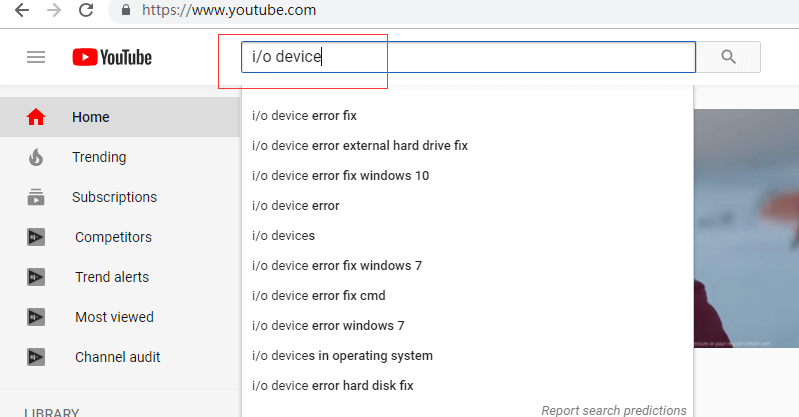 Google Keyword Planner, the gold standard for keyword research, can help you search for new keywords. This tool not only provides the number of searches for a particular keyword but also lists the competition. You can use this tool to look for keywords with high search volumes and low competition.
Optimize YouTube Video Title
After finding relevant keywords, it is time to put them in your video titles and then optimize it. Here are some recommendations:
Include high traffic keywords at the start of the YouTube title.
Keep titles under 70 characters.
YouTube title should be intriguing and compelling.
Use catchy words like how-to, tutorial, DIY, case study, X ways, etc.
Check competitors' similar videos to avoid using the same title.
Review YouTube titles from time to time and update with new keywords.
Title is the most important piece of information in your entire content. It is recommended to spend as much time you spend creating the video on devising your headline. Video with an eye-popping headline will drive more traffic, viewers and subscribers.
Fix 2. YouTube Video Description
You can type up to 5,000 characters for the video description, but you have to remember that your viewer most likely came here to watch a video not to read a story. In other words, YouTube only displays the first two or three lines of text. Thus, viewers have to click "show more" to see the full description.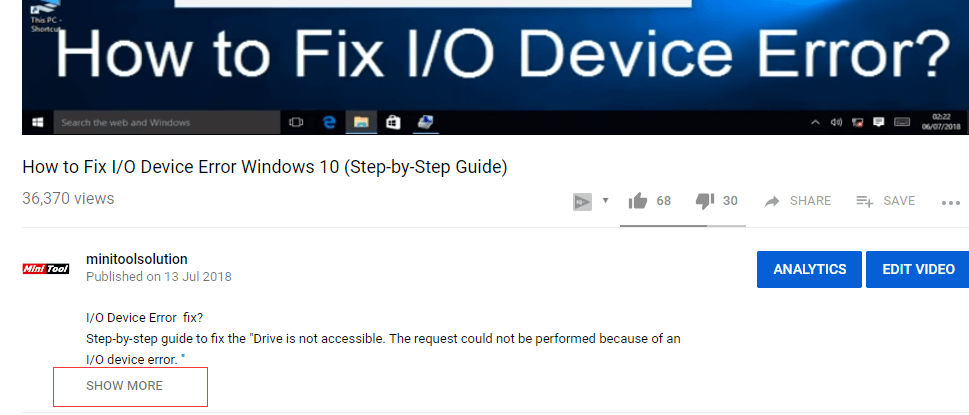 Within these first few lines, you need to take full use of the first 150 characters. Here are some recommendations:
Add keyword in the first 25 words of your description. It is a good way to tell the viewer what they really need to know, helping them connect with what they are reading.
Include a call to action (CTA) to direct viewers on what to do next such as liking, subscribing, learning more, etc.
Include URL (the homepage of your website, or a landing page specifically designed for that video) in the description.
Add your primary keyword 2 – 4 times throughout the description.
Fix 3. YouTube Video Tags
What Are YouTube Tags?
Video tags, also known as YouTube tags, are words and phrases used to give YouTube context about a video. Video tags not only let viewers know what your video is about but also make YouTube itself understand the content and context of your video.
Backlinko's research found a small but significant relationship between tags and YouTube rankings: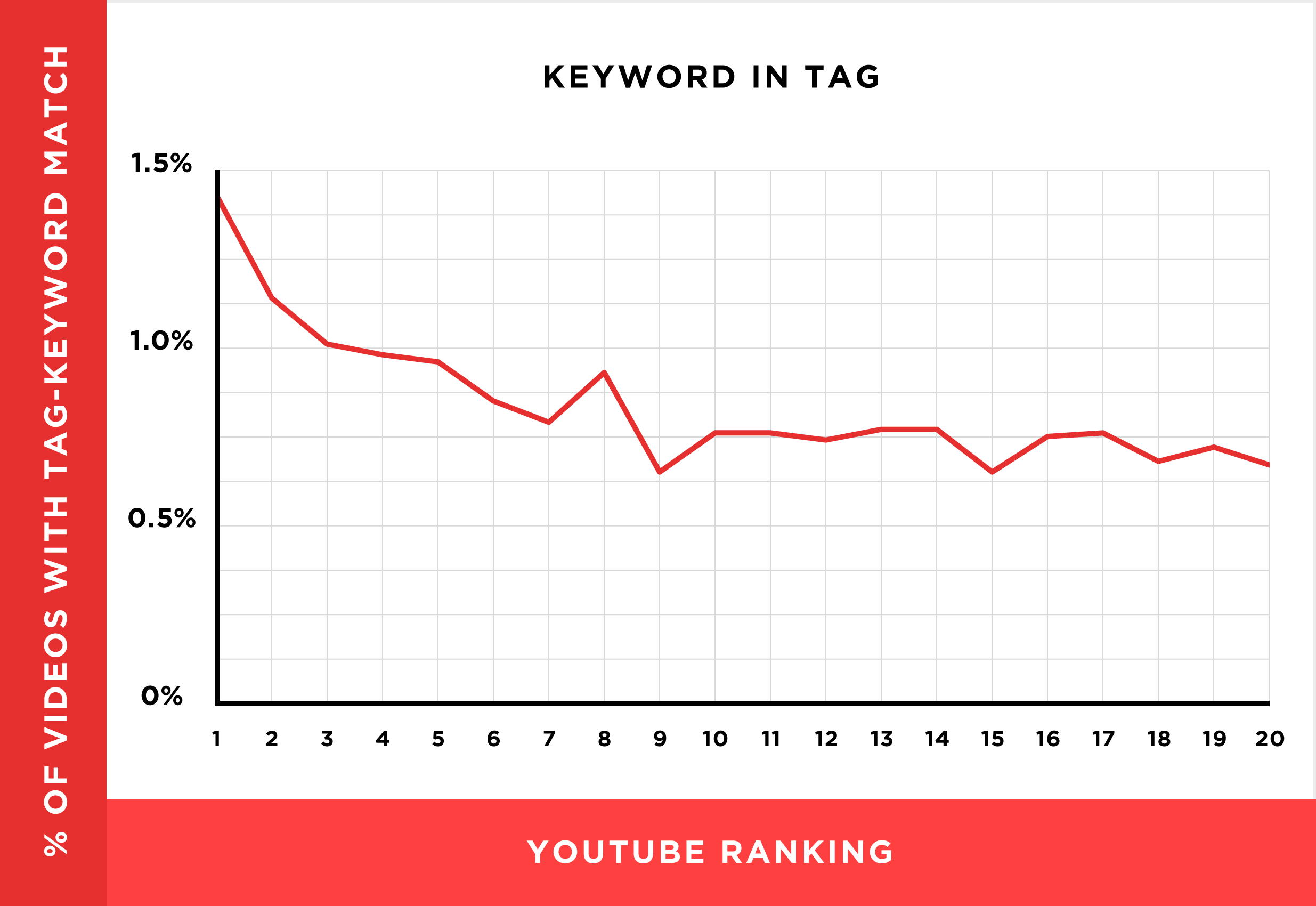 Now, it's time to optimize tags to rank YouTube videos.
Optimize YouTube Video Tags
Here are three main types of tags that you should add:
Primary keyword = first tag
YouTube pay attention to the first few tags, especially the very first tag. For instance, my target keyword is "I/O device error", I type "fix I/O device error" as the first tag.
LSI keywords = second tag
LSI keywords are variations on the primary keyword, and these words help search engines understand our content better. However, how to get the most profitable semantically related keywords for all your SEO & paid marketing need? You can use LSIGraph to find more LSI keywords.

Generate Other Tags with Tools
If you still don't know what tags you need, you can try getting tags by using some tools like TubeBuddyand vidIQ.
For instance, TubeBuddy is a free browser extension that integrates directly into YouTube to help you run your channel with ease. It suggests tags for you within the YouTube video editor. Simply put, you get a list of keyword suggestions inside of your browser, as follows: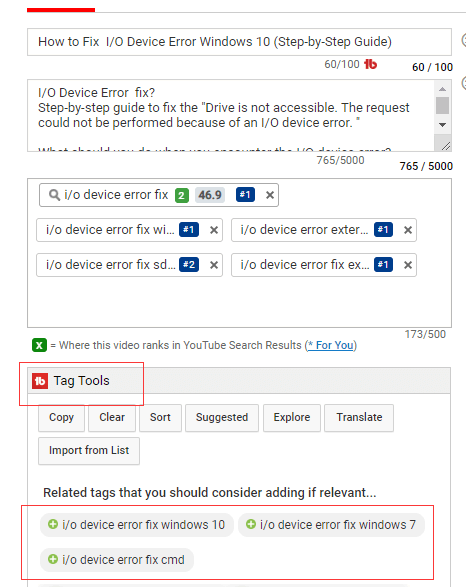 At this time, you can click on any of the suggested tags and they'll automatically get added.
Fix 4: YouTube Video Thumbnails
YouTube is one of the most useful tools for content marketing. If you want to get more views on your YouTube videos, you can try using better thumbnail images. "A picture is worth a thousand words" goes the popular saying.
Thumbnails help viewers decide whether or not to watch your videos. Well designed thumbnails seize the attention of viewers and encourage to watch through your videos. If you want to increase YouTube traffic, it is very necessary to optimize YouTube video thumbnails.
Once a video is uploaded, YouTube will automatically generate default thumbnail images. However, to be honest, these images are neither very appealing nor truly representative of your video. Therefore, when it comes to YouTube video optimization, you had better adding a custom thumbnail to get more viewers.
Google recommend your custom thumbnails:
Image file must be under the 2MB limit.
It must be in .JPG, .GIF, .BMP, or .PNG image formats.
Try to use a 16:9 aspect ratio because this ratio is often used in YouTube players and previews. Any black bars look untidy and unprofessional. (Here, you might be interested in this post: Tutorial: How to Remove Black Bars – Windows MovieMaker.)
Images should be1280 x 720 pixels, with a minimum width of 640 pixels. YouTube video will be played on screens of varying sizes. A high-resolution image will retain quality across all of them.
Image should be bright as well as high-contrast. Make sure foreground stands out from background. This kind of sharper image can easily catch the eye of viewers.
After seeing how to optimize YouTube Video Thumbnails, let's see what you shouldn't do.
Do not type too much text. Some text can improve your video's performance. If your thumbnails contain too much text, users cannot read it because the text is too small. This will reduce the number of clicks you get.
Do not choose an image that is misleading. For instance, if your video content is about food and your thumbnail is a computer, then users will lose interest in your video.
Fix 5. Cards and End Screens
Last but not least, we are talking about the last YouTube video optimization tips. Add cards and end screens on the end of video to drive engagement with your channel for YouTube research. Both cards and end screens can help to promote other videos, encourage viewers to subscribe, and more.
You can add 4 different YouTube cards to add interactivity to your videos:
Video or playlist card: promote a video or playlist.
Channel card: promote another channel.
Poll card: encourage viewers to participate in a poll.
Link card: link to another approved website.
Here, for instance, I add a poll card in the following video.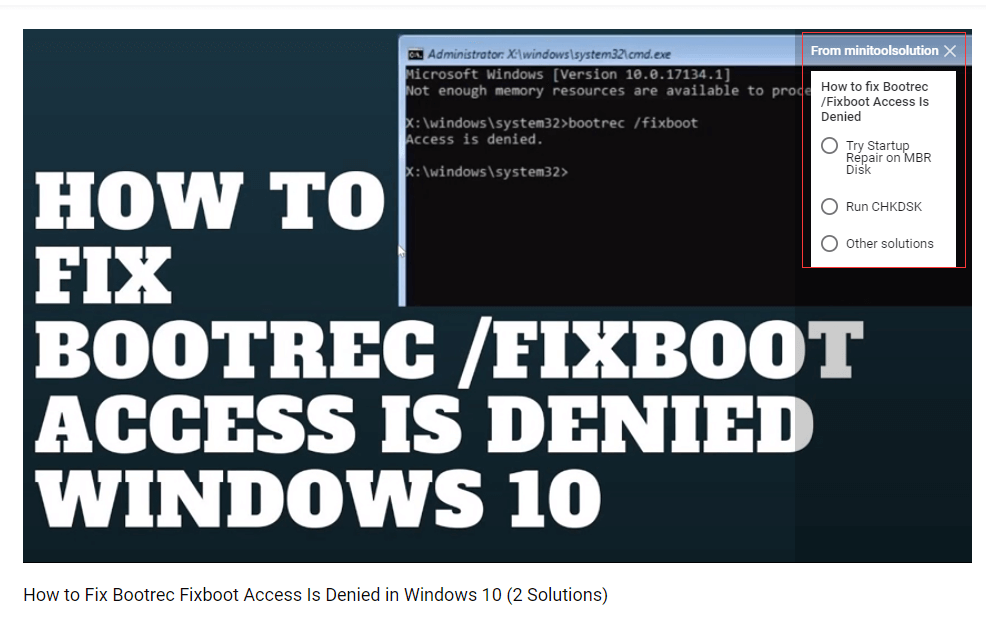 According to YouTube, end screens can be added to the last 5 to 20 seconds of a video. And, you can add up to 4 elements to promote other videos, encourage viewers to subscribe, and more. Try this YouTube video optimization tip to get more views.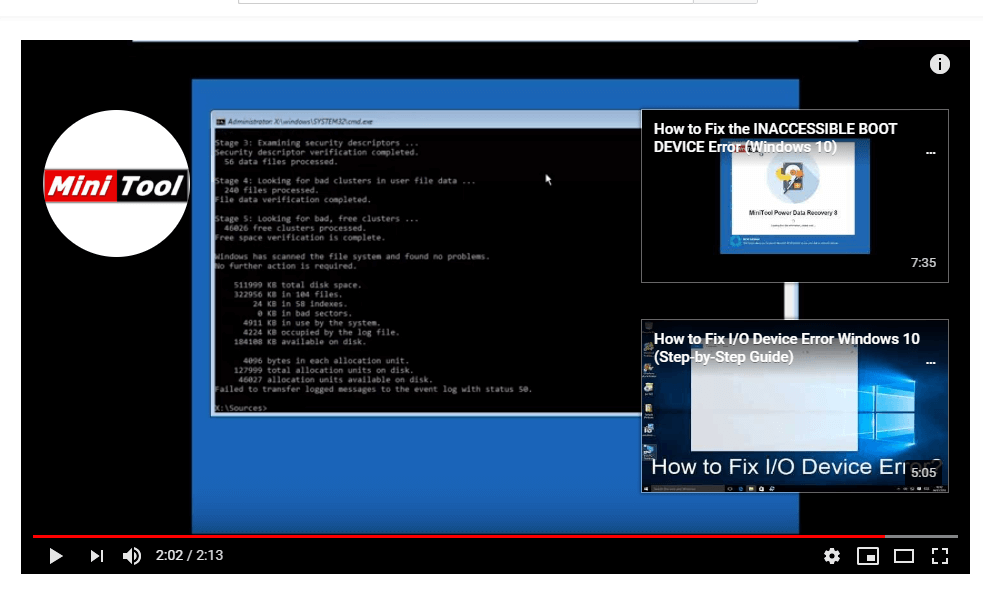 Want to optimize YouTube video? Here, I share 5 powerful YouTube video optimization tips with all of you. Click to Tweet
Here's What to Do Next…
After learning the 5 YouTube video optimization tips, it is your turn to optimize your videos to rank YouTube videos.
If you have any other good suggestions about YouTube video optimization, please share them with us by leaving comments in the following comment zone. Thanks in advance.