What is EDM music? Where to find EDM songs? In this post, I will give a brief introduction to EDM and offer you some websites to listen to EDM songs. If you want to upload your EDM music to YouTube, you can use MiniTool MovieMaker to turn music into video.
What Is EDM Music?
EDM is short for electronic dance music. EDM is not a genre. It's a style of music that uses sounds created from computers. Electronic dance music also known as dance music played in nightclubs, raves, and festivals.
EDM contains many subgenres such as disco, house, techno, trance, trap, acid house, Balearic house, electro house, deep house, tropical house, future house, progressive house, bass, electronica, dubstep, hardcore, hardstyle, drum, and bass, etc.
5 Best Places to Find EDM Songs
Where to find EDM songs? Here are the 5 best electronic dance music websites for you.
#1. EDMTunes
Website: https://www.edmtunes.com/
EDMTunes is a website that provides the latest news in electronic music, curated tracks, insider artist updates, live event coverage, etc. Here you can find the newest and best electronic dance music.
Related article: 8 Best Places to Get Free Intro Music
#2. YourEDM
Website: https://www.youredm.com/
YourEDM is another great place to learn about electronic dance music. It delivers the hot news about EDM artists and music festivals. You can also read interviews about artists, watch electronic dance music videos, listen to and download free EDM songs.
#3. Mixing DJ
Website: https://mixing.dj/
Mixing DJ is one of the best electronic dance music websites. It has the recent recorded live sets. You can enjoy the live set recordings online or download them to your computer.
This website has a search bar that you can use to search the EDM song or artist you're interested in.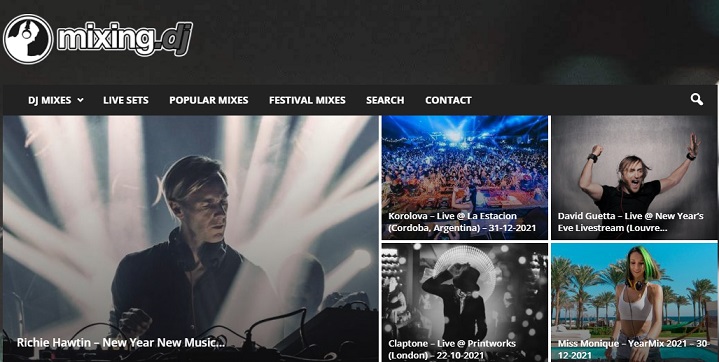 #4. Daily Beat
Website: https://daily-beat.com/
Like EDMTunes, Daily Beat is designed to provide music news, editorial, interviews, and music festivals. This website is safe to browse with no ads.
Also read: Top 8 Websites to Download Lossless Music
#5. EDM.com
Website: https://edm.com/
As its name suggests, EDM.com is an electronic dance music platform aimed to offer readers relevant news about EDM. Besides, this website also publishes reviews, editorials, interviews, and events.
How to Upload Your EDM Music to YouTube
If you are an EDM artist and want to upload your song to YouTube, use MiniTool MovieMaker to convert audio to video.
MiniTool MovieMaker is a free video editor, video converter, and GIF maker. You can use it to turn music into a video with pictures without a watermark.
Here's how to convert your EDM music into a video.
Step 1. Download and install MiniTool MovieMaker. Open this software and close the popup window to get the main UI.
Step 2. Click Import Media Files to add the EDM song. Then import serval pictures that you want to use in the video.
Step 3. Add these pictures to the timeline. Choose a picture and drag the Duration slider to the far right. Click Apply to all.
The maximum length of a picture is 30 seconds, make sure that the photo duration is longer than the audio track.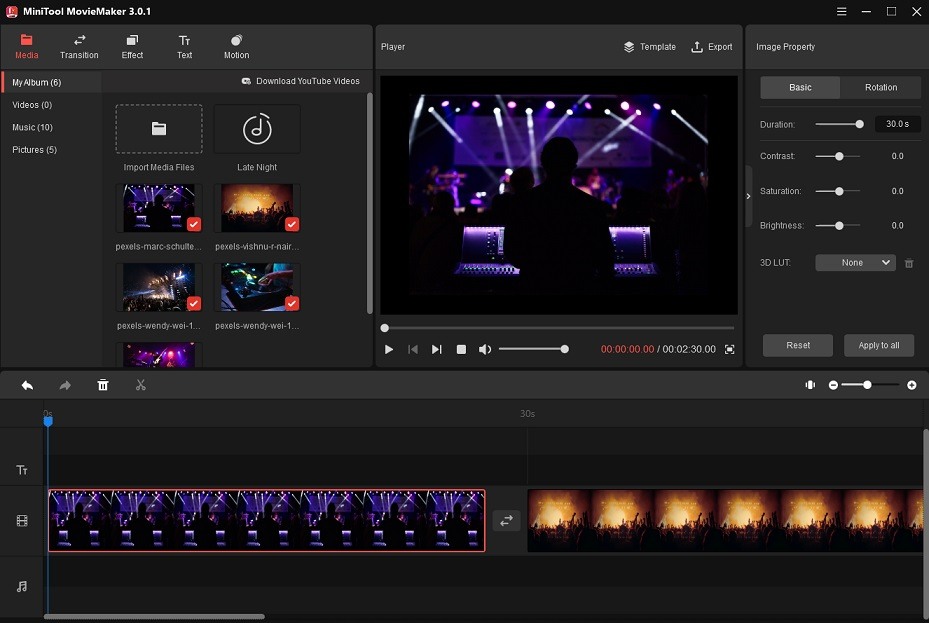 Step 4. Drag the EDM song to the timeline.
Step 5. Click Export and adjust the output settings. Once done, export the video and upload it to YouTube.
Conclusion
What's your favorite EDM song and artist? Tell us in the comments section!