Want to turn photos into paintings? How to turn picture into painting on a computer or phone? To help you transform photos into paintings with ease, this post will introduce 6 picture to painting converters to you. Need to create a beautiful photo slideshow? Try MiniTool MovieMaker.
If you want to turn photos into paintings, you need the picture to painting converter software to help you out. And this post will explore 6 applications that enable you to turn picture into painting on Windows, Mac, Android, iPhone, and online.
How to Turn Photos into Paintings?
Adobe Photoshop
Corel PaintShop Pro
Befunky
Dreamscope
Prisma Photo Editor
Brushstrok‪e
Turn Photos into Paintings on Windows and Mac
Adobe Photoshop (Windows and Mac)
Adobe Photoshop is a popular and professional photo editor that allows you to create pictures from scratch and edit them as you like. And this software also comes as a good option to turn photos into paintings. To make a photo look like a painting, it can create hand-painted effects with the artistic effects from the Filter Gallery. And click here to get the tutorial on how to turn picture into painting with Photoshop.
Corel PaintShop Pro (Windows)
Corel PaintShop Pro is also a piece of powerful image editing software. It offers essential tools to let you resize and crop pictures, restore old photos, etc., and it's also equipped with many adjustment tools, selection tools, correction tools, and it supports RAW, HDR, and 360 degrees camera files.
This application provides a variety of painting styles. When you open Corel PaintShop Pro, go to Effects > Plugins, then you can browse and preview your preferred style. And here's the video tutorial on how to transform photos into paintings with Corel PaintShop Pro.  
Turn Photos into Paintings Online
Befunky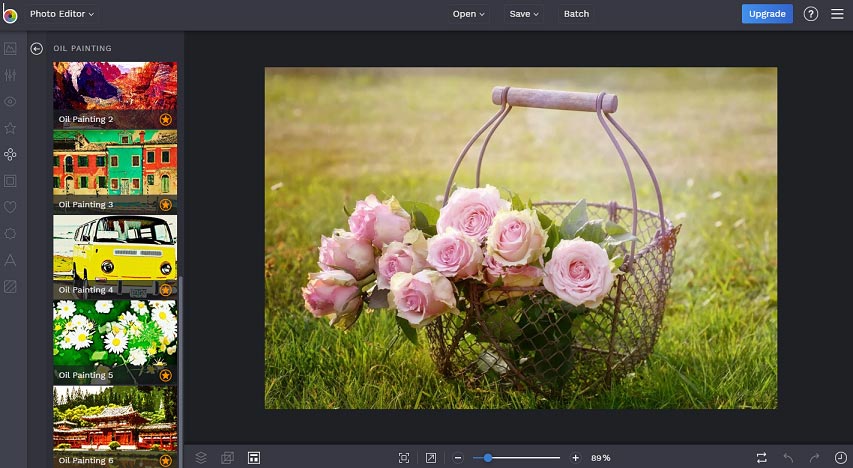 Befunkyis an online photo editor and graphics designer that enables you to crop and resize photos, remove background, create collages, batch edit photos, and more. With the feature Turn Photos to Art, you can turn photos into paintings, cartoons, sketches, watercolors, and more. How to turn a photo into a painting using Bekunky? After uploading a photo to it, select the Artsy > Oil Painting, then choose and apply the style you like to the picture.
Also read: Solved – How to Turn Photo into Sketch Free
Dreamscope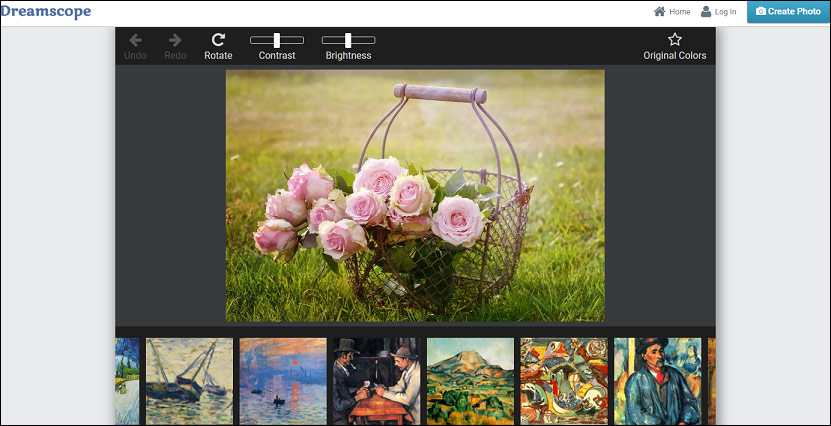 Dreamscope is also designed to turn photos into paintings. It offers a wide range of painting filters for you to choose from. And it's very simple to use. When you open this site, just click Create Photo, then upload your image, next select a painting filter, and apply it. Besides, you're allowed to rotate the image and adjust the contrast and brightness.
Turn Photos into Paintings on Android and iOS
Prisma Photo Editor (Android and iPhone)
Prism is a good picture to painting converter on Android and iPhone. This photo editor lets you turn photos into paintings with its amazing effects. It features more than 300 art styles in its art filter library, and you can easily find your favorite style. To enhance the results, Prisma enables you to change the exposure, sharpness, contrast, brightness, and more.
Brushstrok‪e (iPhone)
Brushstrok‪e is also a great choice to turn photos into paintings on iPhone. This application can load pictures from your Camera Roll and other cameras, and automatically transform them into paintings with one of the unique styles. And you can sign your paintings and share them on Instagram, Twitter, and Facebook.
Conclusion
This post shares 6 apps that allow you to turn photos into paintings. If you're searching this kind of tool, just choose one from them and try to make your photos like a painting.