Do you want to watch TikTok videos on your computer? How to use TikTok on PC? In this post, I will offer you serval ways to browse TikTok on your computer with or without emulators. (To make a TikTok video on your PC, try MiniTool MovieMaker.)
To browse TikTok on PC, you can use the TikTok website, download and install TikTok app on your Windows 11 or use an emulator. Now, let's see how to use TikTok with the above three ways on your computer.
How to Use TikTok on PC with Web Browser
TikTok is not only available for Android and iOS but also available for web browsers. If you want to browse TikTok content on your PC without an emulator, take the following steps to learn how to use TikTok on PC using a web browser.
Step 1. Open your web browser and visit the TikTok website.
Step 2. After accessing TikTok, you can watch TikTok's recommended videos without logging in. If you want to follow creators, view comments, and upload videos from the computer, you need to sign in to your TikTok account. Click on Login to continue.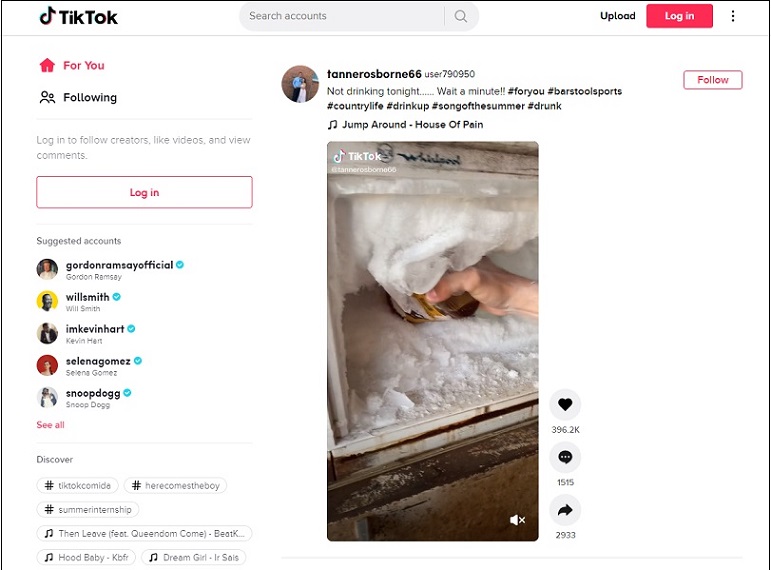 Step 3. Now, you can view your notifications, upload videos, and watch live videos online.
Here's how to Upload videos to TikTok on your PC:
Click the Upload video button.
On the Upload video page, drag and drop the video that you want to upload to TikTok (The video format must be MP4 or WebM; The video resolution should be 720 x 1280 or higher; The video length should be up to 180 seconds).
Then enter a caption and select a cover for the uploaded video.
When you are done, click on Post to upload the video to TikTok.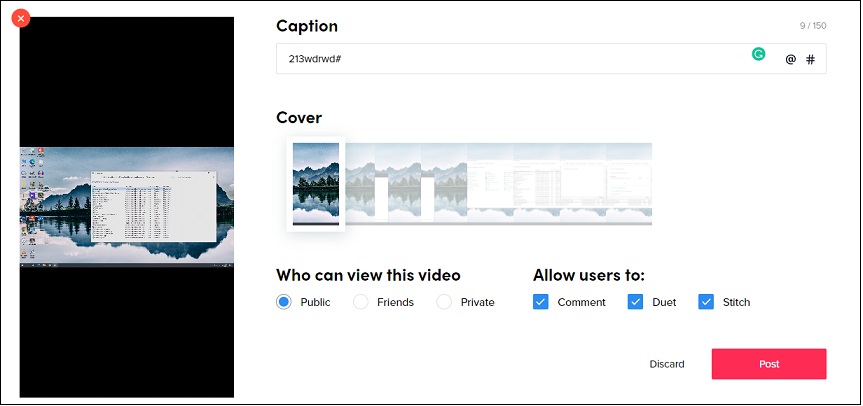 Related article: How to reverse a video on TikTok
How to Use TikTok on Windows 11
For Windows 10 users, they can get the TikTok for PC app from its official website. For Windows 11 users, they can directly download and install TikTok from Microsoft Store.
Here's how:
Step 1. Click the search icon and enter "Microsoft Store". Then open the app.
Step 2. Search for TikTok in Microsoft Store and click the Get button to download and install the TikTok app on your PC.
Step 3. After installing the app, you can log into your account and browse TikTok videos on Windows 11.
Also read: Windows 11 Release Date: Expected Public Release in Late 2021
How to Use TikTok on PC with Emulator
The last method to use TikTok on PC is by using an Android emulator. With the emulator, you can access the mobile version of TikTok from your computer. Here recommend BlueStacks to you. It's available for both Windows and macOS.
Here's how to use TikTok on PC with BlueStacks.
Step 1. Download and install BlueStacks on your computer.
Step 2. On the home screen, go to the Game center tab. Under the Recommended for you, tap on Google Play Store.
Step 3. Sign in to your Google account and search for TikTok. Click on Install.
Step 4. After installing the TikTok app, sign in to TikTok and start using TikTok on your computer.
Conclusion
Now, try the above-mentioned ways to use TikTok on your PC with or without an emulator!