TikTok is a video-sharing platform that allows users to make short-form videos. To catch viewers' eyes, people often add reverse or slow-motion effects to their videos. In this post, you will know how to reverse a video on TikTok in just a few steps.
Many users want to reverse a TikTok video to add some fun. So how to put a video in reverse on TikTok? Let's follow the step-by-step guide below! (Want to make a video on Windows? Try MiniTool MovieMaker.)
How to Reverse a Video on TikTok
Follow these steps to learn how to reverse a video on TikTok.
Step 1. Open the TikTok app on your phone.
Step 2. Tap on the plus icon. Then press and hold the record button to record a video or click on Upload to add a video from your phone.
Step 3. After recording or uploading a video, click the red checkmark to go on.
Step 4. Tap on Effects at the bottom of your screen.
Step 5. Tap on Time in the lower-right corner of the screen and you'll see three Time effect options: Reverse, Flash, Slow Motion. Click Reverse to use the effect in your TikTok video. Click Save when you're done.
Step 6. Lastly, fill out the information about the video and post it.
How to Reverse Someone Else's TikTok Video
Wondering how to reverse other people's TikTok? The simplest way is to download the TikTok and apply the reverse effect to the video on TikTok. But you can't upload other people's videos without their permission. Thus, I suggest you use a video reverser. Here are two video reversers for you!
Reverse a TikTok Video with MiniTool MovieMaker
MiniTool MovieMaker is a Windows video editor. It features all the needed video editing tools and offers you a variety of effects and transitions to choose from. With it, you can reverse a TikTok video effortlessly.
Here's how to reverse a TikTok video.
Step 1. Download and install MiniTool MovieMaker.
Step 2. Launch MiniTool MovieMaker after installing it on your computer.
Step 3. Click Import Media Files to add the TikTok video you want to reverse and add it to the timeline.
Step 4. Click the speed controller icon and select Reverse to apply the reverse effect.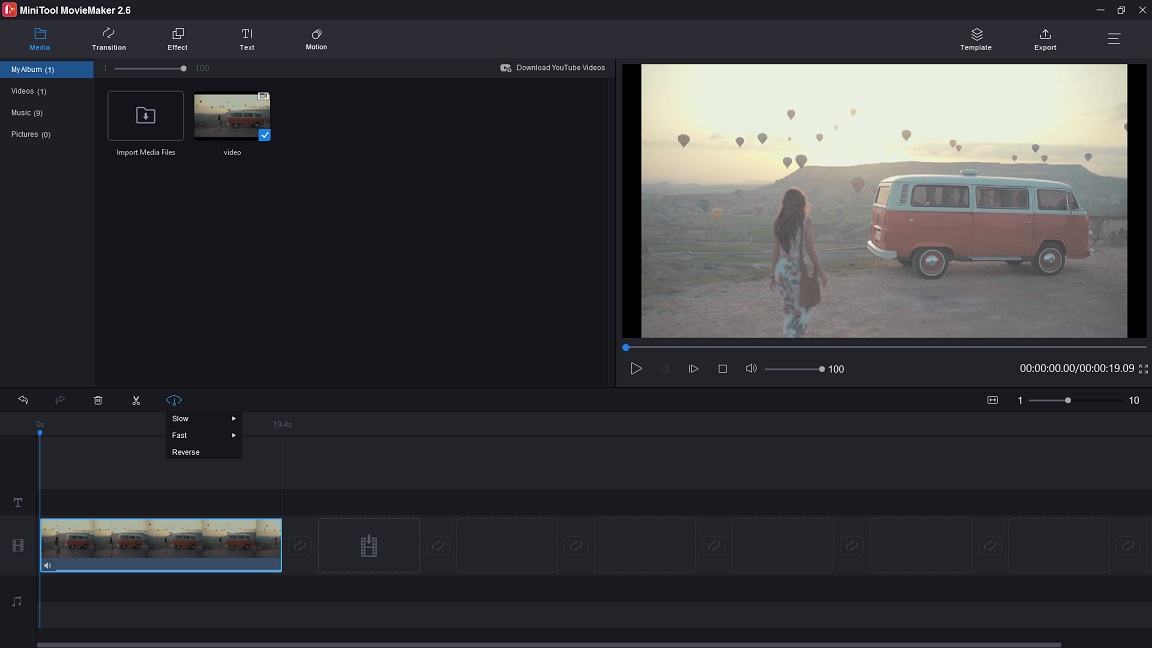 Step 5. Tap on the playback button to preview the reversed video. After that, click on Export.
Step 6. On the Export window, adjust the output settings and hit the Export button.
Reverse a TikTok Video with Kapwing
Kapwing is an online video reverser that can help you put a TikTok video in reverse without installing extra software.
Here's how:
Step 1. Sign in to Kapwing.
Step 2. Click on Tools in the menu bar and choose Reverse Video.
Step 3. Click Upload to upload the target video.
Step 4. Then you can change the reverse speed and mute the video if needed.
Step 5. Tap on CREATE to reverse the TikTok video.
Step 6. Download the reversed video when the process is done.
Conclusion
This post not only shows how to reverse a video on TikTok but also teaches you how to put other people's TikTok video in reverse. Now, try the above methods to make your TikTok video more interesting!