Want to make yourself look like an anime character? You can use Snapchat anime filter. In this post, you will learn how to get anime filter on Snapchat and the 5 best anime filter apps to turn pictures into anime drawings.
How to Get Anime Filter on Snapchat
The Snapchat anime filter can transform your videos and pictures into anime in real-time. How to get anime filter on Snapchat? Here's a step-by-step guide.
Step 1. Download and install the Snapchat app.
Step 2. Open Snapchat and sign in to your account. If you don't have a Snapchat account, click Sign Up to create a Snapchat account.
Step 3. Click the Explore button at the bottom right of your screen and enter "Anime Style" in the search bar.
Step 4. In the results, you will see a few anime filters available, and choose the Anime Style option.
Step 5. After loading this anime filter, take a selfie or record a video.
Step 6. Once done, you can save this snap to camera roll and share it with your friends.
Want to make a GIF meme from your snap? Try MiniTool MovieMaker!
TikTok and Instagram don't have anime filters. If you want to use anime filter on TikTok and Instagram, follow these steps:
Step 1. Launch the Snapchat app on your phone.
Step 2. Tap the anime filter and take a photo or record a video.
Step 3. Export the snap to your camera roll.
Step 4. Open the TikTok or Instagram app and upload the snap.
Also read: 5 Best Selfie Filter Apps to Take Awesome Selfies [iOS & Android]
5 Best Apps to Turn Picture into Anime Drawing
Can I get the anime filter without using Snapchat? There are some apps that support anime filter. In this part, I'll introduce 5 anime filter apps to turn picture into anime drawing.
ToonApp
ToonApp cartoon maker offers astounding AI filters and awesome photo editing tools. It turns your photo into anime drawing and cartoon yourself with digital art filters. This app also offers dripping effects, brush effects, portrait mode, toon backgrounds, layouts, and more.
Wand a cartoon photo editor? See this post: The Best 7 Cartoon Photo Editors You Can Try
MomentCam
With MomentCam, you can make your photos funny cartoons, and Emoticons. This anime filter app provides hundreds of backgrounds and lets you personalize your background using the MojiWorld feature.
ToonMe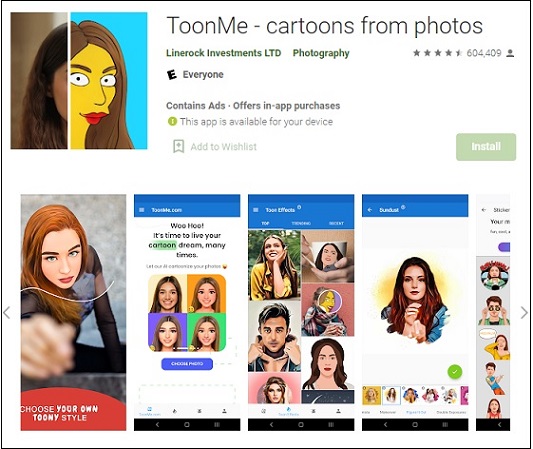 Another app that can turn your picture into anime drawing is ToonMe. It offers you lots of simple layouts, sophisticated designs, and cool vector portrait templates to choose from. ToonMe can make your portrait cartoon or vector style easily.
TwinFACE
This anime face filter app can turn you into an anime character. Just upload your picture and TwinFACE will turn the picture into anime drawing automatically. It's completely free but it's simple and less functional.
Waifu
Waifu is an online photo to anime website based on AI-tech. It can convert your selfie into an anime drawing. It's easy to use. Just go to the Selfie 2 Waifu website and upload your photo. Then you will get your anime drawing.
Conclusion
This post not only offers you the way to get Snapchat anime filter but also provides 5 anime filter apps for you.