Most of you now take photos in the original file format, but you may find it difficult to open or preview raw photos on your computer. Therefore, having a great raw photo viewer is very important for you. When choosing these raw photo viewers, the most important thing is to see if they support your raw file format.
For your convenience, I compiled a list of the best raw photo viewers.
If you want to make a video with your raw photos, MiniTool MovieMaker is highly recommended to you.
Raw Viewer
Raw Viewer is a free and user-friendly raw image viewer for Windows and macOS operating systems. It supports viewing almost all available camera raw formats.
The formats it currently supports are Nikon RAW Format, Canon RAW Format, Fuji RAW Format, Sony Digital Camera Image and Adobe Digital Negative.
In addition, it has some other functions, including zooming in/out photos, rotating images and converting raw images to popular image formats: JPG, PNG, GIF, BMP and TIFF.

WidsMob Viewer Pro
WidsMob Viewer Pro is a folder-based media viewer and camera companion supporting Windows and macOS operating systems. Using it, you can view a single image, multiple images, or folder-based images in various viewing modes with incredibly fast and simple operations.
WidsMob Viewer Pro not only supports browsing various picture formats but also supports browsing popular video file formats. For photos, it supports JPEG, JPG, PNG, TIFF, BMP and 50 other RAW formats. As for the video formats, it supports MP4, M4V, MOV, FLV, MKV, SWF and TS.
WidsMob Viewer Pro allows you to browse files with extremely fast speed and an excellent experience. You only need to import a photo or video into it, you can view all the files in the same folder. Its hardware acceleration algorithm allows you to enjoy photos and videos at 5 times the speed.
In addition to viewing multimedia files, you can also manage and edit files in it. You can put photos on the desktop, add to favorites, batch resize and convert, adjust different parameters or apply preset effects, and share files to Instagram and other websites.
You can also use it to create simple slideshows. When you want to preview photos automatically, you can use the slideshow mode to view all the photos in the current folder. At the same time, you can also use the favorites mode to make a slideshow.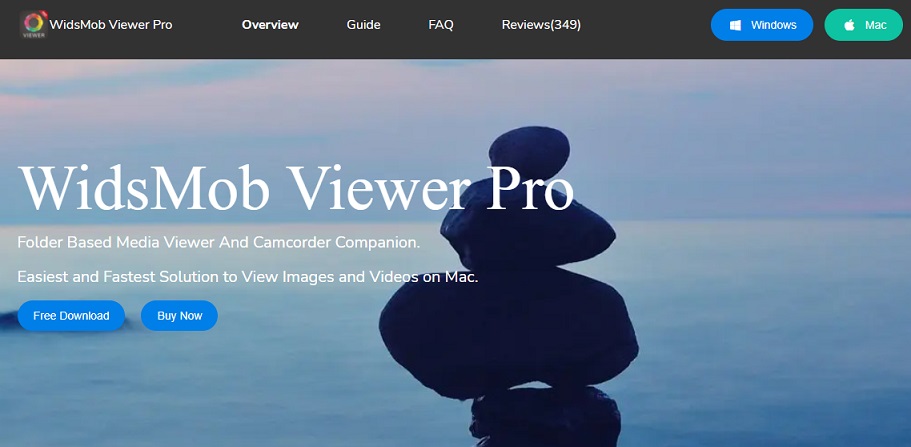 IrfanView
IrfanView is a free Windows raw photo viewer which can be used to view, edit and convert image files and play video or audio files.
IrfanView provides you with powerful photo editing tools, including color correction by processing the red, green and yellow channels, conversion to grayscale, white balance, brightness, contrast and resizing.
IrfanView supports a large number of formats, including video formats, audio formats, image formats and raw file formats. It supports more than 15 raw formats, including CRW, CR2, EEF, NEF, MRW, ORF, RAF, DCR, SRF, ARW, RW2, DNG, PEF, X3F, NRW, etc.
Moreover, you can save the raw files in different formats, such as JPEG, BMP, GIF, PNG, TIFF, WMF, ICO, IMG, PCD, JNG, ANI, CUR, AWD, B3D, CAM, PCX, TGA, PSD, EPS, CUR and other photo formats.
Conclusion
The three best raw photo viewers listed above are easy to access and use. If you just need a raw photo viewer, download and use one of them now.