PNG is a raster graphics file format that supports lossless data compression. DXF is a CAD data file format used to realize data interoperability between AutoCAD and other programs. The following tools can not only convert PNG to DXF but also convert other raster images such as JPG, BMP, TIFF, TGA, etc. to DXF.
If you want to save your videos in MP4, AVI, MOV, WMV, GIF, and other formats, MiniTool MovieMaker is a great choice.
MiniTool MovieMakerClick to Download100%Clean & Safe
RasterVect Software
RasterVect Software is a professional and powerful PNG to DXF converter.
Its main function is to quickly convert non-editable paper images into accurate vector files for editing in any CAD program. In other words, it is a direct substitute for traditional tracking and digitization because it is fast and efficient to a certain extent.
The most outstanding part of RasterVect Software is that it can convert files in batches, that is, you can convert multiple PNG images to DXF files at once. Before converting PNG images to DXF, you can also edit them, including flipping, rotation, cropping, adding effects, image filters, and drawing.
After you complete the file conversion, it can save it as a vector format such as DXF, EMF, WMF, EPS or AI so that it can be read by any CAD program that supports these formats.
WinTopo
WinTopo is an app that provides you with high-quality PNG to DXF conversion.
In addition to PNG, it supports the conversion of JPG, GIF, BMP, and TIFF to DXF format. And it also supports some other formats besides DXF to convert PNG and other images, such as WMF, EMF, ARC, SHP, etc.
It also adds basic options for editing images, like rotating, cropping, resizing, adjusting brightness, contrast, gamma and other parameters, converting images to grayscale, etc.
If you want more vector tools, image processing functions, and batch processing of a large number of drawings, you can download WinTopo Pro.

Convertio
Convertio is an online omnipotent converter that supports all devices and platforms. Its tools include audio converter, video converter, image converter, document converter, archive converter, presentation converter, font converter, and ebook converter.
It supports tens of thousands of different conversions between more than 300 different file formats. Moreover, you only need to perform a few simple operations, and it can complete all conversions within a few minutes.
It also supplies you with a lot of advanced custom settings, such as when you use a video converter, you can rotate, flip, choose the quality, adjust the aspect ratio, codec and other settings.
It doesn't take up any capacity of your computer because all its conversions are performed in the cloud. You also don't need to worry about your privacy being leaked, it provides you with a good security guarantee and will immediately delete your uploaded files and converted files.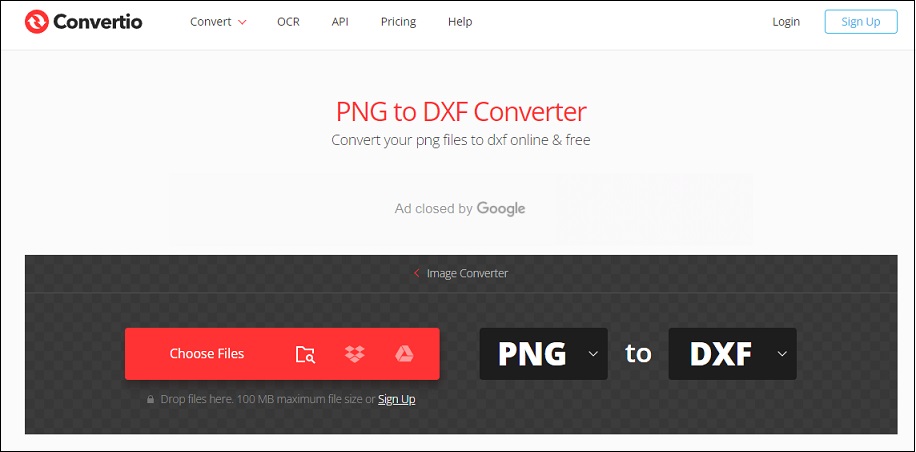 Zamzar
Zamzar is a multifunctional online converter. Its operation interface is quite intuitive and the function partitions are also quite clear. Its various converters are almost identical to those of Convertio.
It supports more than 1,200 file formats and can complete all the conversion commands you issue within 10 minutes.
Its outstanding performance has won the support of millions of users. When you have a file that cannot be converted, you only need to send an email to the official, and there will be a full-time engineer to solve the problem for you.
Conclusion
To sum up, these are fully functional and user-friendly tools that can be used for PNG to DXF conversion and more tasks.