If you're looking for several websites to watch Pinoy movies online, you've come to the right place. This post will introduce 6 websites where you can watch Filipino movies online. (How to edit the downloaded videos? MiniTool MovieMaker is recommended here.)
What's your favorite Filipino movie? Do you love Filipino movies? Where to watch Pinoy movies online? Now, look through the following 6 websites to explore more, Filipino movies.
#1. iWantnTFC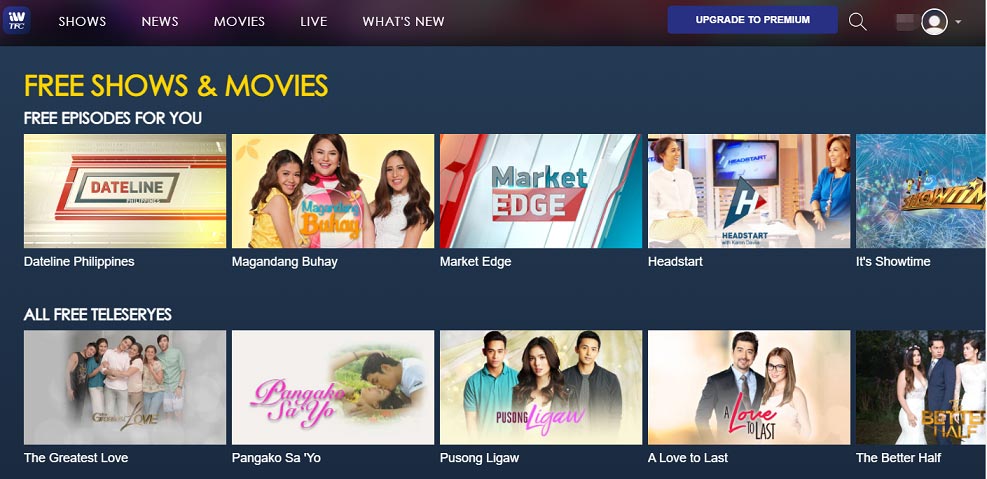 iWantTFC is a Philippine top content platform where you can watch hundreds of Piony movies, TV shows, and news. Also, it offers live video streaming from various sources. And this service is available worldwide. After you log in with a free account, you can access up to 500 free movies and watch them in SD quality.
If you want to access the full movie library, including iWantTFC Originals, and watch then in HD quality without ads, you should subscribe to the iWantTFC Premium. And this platform also offers some latest Piony movies for rent. Also, it has mobile apps for Android and iPhone.
Also read: Solved - Where to Buy Digital Movies? Here're 6 Places for You!
#2. Netflix
As an over-the-top content platform, Netflix offers different types of movies and TV shows from many countries and regions. Also, it is a good place to watch Filipino movies online, including some popular Pinoy movies on Netflix, new releases, romantic comedies, and more. It offers 3 plans: Basic $8.99/month, Standard $13.99/month, and Premium $17.99/month.
#3. Vivamax
Vivamax is another must-try site to watch Filipino movies online. It has all the top Filipino blockbuster movies and hit television series of different categories. And it also offers much Original Pinoy entertainment. Besides, this site provides a huge library of Korean movies and movies from other Asian countries and regions.
As for the Filipino series, this site shares many series of travel, lifestyle, reality, music, comedy, etc. This site offers several subscription plans, starting from max2 Plan $78/month. Vivamax also offers mobile apps for Android and iOS.
#4. Cignal Play
Cignal Play, one of the most popular video-on-demand platforms in Philippines, is also one of the best websites to watch Pinoy movies online. You can find considerable Filipino movies like Born Beautiful, Ang Kwento ni Mabuti, and more. And you can also access live TV channels, TV shows, and various series and movies.
After regisreing on Cignal Play, yuo can enjoy selected ive channels, series and movies for free. And if you want to watch more content, you should upgrade to Cignal Play Premium. By the way, Cignal Play also offers mobile apps for Android and iOS devices.
Also read: Top 6 Websites to Watch Chinese Movies Online
#5. FilmDoo
FilmDoo is a video-on-demand platform to watch movies online and it boasts thousands of films from all over the world, such as Korea, China, Philippines, Russia, Thailand, United States, France, Brazil, and others. It also covers a wide range of movie genres and languages. These features can help you filter your movies quickly.
Thus, FilmDoo is also a good option for enjoying Pinoy movies. You can browse hundreds of Filipino movies on this platform.
Also read: Best Chinese Anime & Where to Watch Chinese Anime Online
10 Filipino Movies of All Time
This part will recommend 10 wonderful Filipino movies for you. If you're looking for a Filipino movie to watch, just look through the below list.
Best 10 Filipino Movies 
Oro, Plata, Mata
Himala
Norte, the End of History
From What is Before
Cleaners
Hello, Love, Goodbye
One More Chance
Heaven's Waiting
Four Sisters and a Wedding
Dukot
Conclusion
With the 5 websites, I hope you can find your favorite Pinoy movies and watch them online. What's your favorite Filipino movie? Would you like to share other Filipino movie sites with us? Just leave your recommendations in the below comments area.