Do you have many PDF files to review but you don't have enough time to read them? In this case, the PDF voice readers come to help you. With these tools, you can listen to the content of the PDF when you are multi-tasking and working on something else. Read this post to find the best PDF voice reader for you!
If you want to listen to the content of PDF documents like an audiobook, then you can use these PDF voice readers. With these tools, you can add PDF documents directly and then plays them like an audiobook. You also have other speech control features like playing/pausing the speech, changing the position of speech, adjusting the pitch of speech, etc. Let's explore them in detail!
If you want to edit the audio in your videos with an easy-to-use video editor, you can tray MiniTool MovieMaker.
Natural Reader (Windows/Android/iOS)
As one of the most well-known services when we talk about PDF voice readers, Natural Reader is an online reader for web-browsers (also with apps for Android and iOS) that can convert text to audio and create audio files from the PDF files. It also works with PDF as well as Word, TXT, and Epub files.
It comes with a pronunciation editor that lets you tweak the pronunciation of individual words. This makes Natural Reader sound more human. Other than that, it can read PNG and JPG images to convert them into audio.
You may also like Image to Text – How to Extract Text from Image for Free
Adobe Acrobat Reader (Windows)
Adobe Acrobat Reader is also a popular PDF voice reader app that is available free of cost so you can download this software easily. It offers an option to read out lout everything for you. It supports various file formats like PDF, DOC, HTML, etc. which is one of the main advantages of this PDF voice reader.
Read Aloud (Windows)
Read Aloud is also a great PDF voice reader for windows. This software offers various amazing features of which the primary feature is the conversion process of text to voice format. Other than PDF format, it also supports several formats like Word, Epub, TXT, DOCX, etc. Moreover, this software can also handle webpages as well.
With a straightforward interface and highly customizable tools, you can easily control volume, speed, pitch rate, fonts, and color scheme. You can change the way a word pronounces, and it also contains an inbuilt dictionary and a clipboard manager, which helps to move text around and understand what they mean.
Also read: Top 5 Free Online Color Shade Generators to Create Color Shades
eReader Prestigio (Android)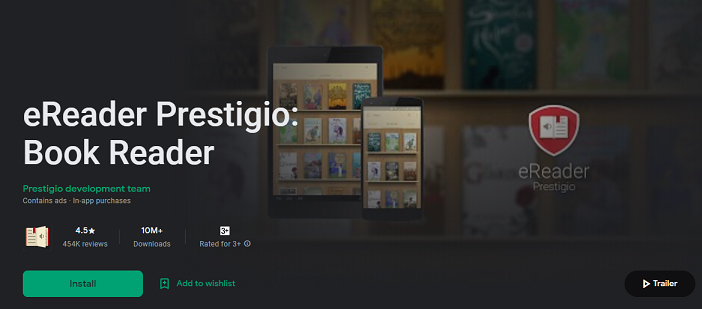 eReader Prestigio can be the best PDF voice reader for Android, which is also a multi-lingual and multi-format book reader app. It supports many formats such as PDF, EPUB, HTML, TXT, MOBI, and more.
With an intuitive interface in over 25 languages, it provides an eBooks library with over 50 thousand books to choose from. On this app, you can personalize your reading mode, like setting up the font, size, night mode, and so on; you can also sync books between your mobile phone and your cloud accounts such as Google Drive and One Drive.
Balabolka (Windows)
Balabolka is also an amazing free PDF file voice reader program that will help you listen to your PDF files while you are working on other things. It comes with eight voice options, and it also lets you copy and paste texts to read them out loud immediately. It is also capable of converting and saving PDF files into audio formats like MP3, MP4, OGG, and WMA.
Conclusion
In this post, we have listed some of the best PDF voice readers for you. The ability to have PDF files read aloud is extremely handy in many cases. Just choose one you like and have a try!