Technology has opened up the world of music creation to everyone. The online sequencer is just among them. All you need is a laptop, an internet connection, and your creativity to make amazing tracks. This post offers the 4 best online sequencers for you to choose from.
If you want to make music videos with your works, you can use this free video editor – MiniTool MovieMaker.
This post will introduce what the online sequencer is and some of the best online sequencers. Just explore them and find your favorite one!
What Is Online Sequencer?
Firstly, let's cover the base. The online sequencer is an application that allows artists or musicians to perform many music production tasks, like recording, playing, and editing music. Music sequencers perform these tasks by processing notes and other types of music data usually through MIDI.
Nowadays, creating music is easier than before, as there are many online sequencers available in your web browser. The online sequencer allows you to layout various music elements and rearranges them into your desired structure.  Let's keep on reading to find the best online sequencer for your consideration.
What Is the Best Online Sequencer?
PatternSketch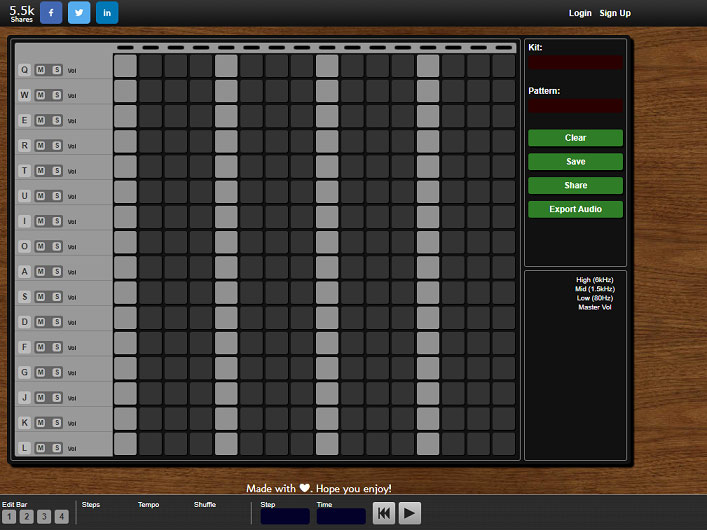 PatternSketch (http://patternsketch.com/) is one of the best online sequencers inspired by the Roland TR-808 and TR-909 machines. It is free to use. This program enables you to perform and recreate several of the legendary sounds on the Roland sequencers.
It's very intuitive to assemble the beats of your project and export the audio in your main sequencer. If you want to hit classic beats quickly, there are preset patterns and plenty of drum kits available. After you finished your masterpiece, it supports exporting your track in WAV, OGG, or MP3 format.
AudioTool
AudioTool (https://www.audiotool.com/) is also a great online sequencer music composers like to use. It is a website that specializes in music production and provides the musician with the sense of being in a real music studio. It has a simulated music production environment using virtual replicas of many popular instruments and studio devices. This is a great way to get started quickly if you have worked with traditional studio equipment.
Moreover, this online sequencer includes lots more features and effects including dynamic range compression, EQ, and distortion. It also provides a similar layout to many renowned digital audio workstations. So, if you are just getting into music production, add this online sequencer to your browser to learn the basics.
Online Sequencer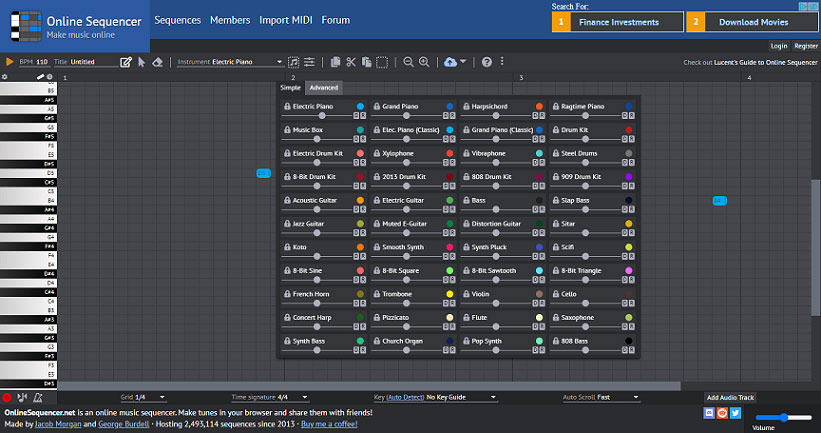 Online Sequencer (https://onlinesequencer.net/), just like the name suggests, is another amazing free sequencer right inside your browser. To make a melody, you just need to pick the instrument you want and use the pattern editor to sequence notes in the proper order and time. You can choose from 13 instruments and place them on your sequencer.
After you complete your creation, it lets you export your work as a MIDI file. Then import that MIDI file into your DAW to develop your song idea.
Acid Machine
Acid Machine (https://errozero.co.uk/acid-machine/) is an excellent tool for artists who love the acid bassline. It has a sequencer and pattern editor to activate song mode. This edition does not cost anything, but there is a more recent model with additional features, which goes for 4£ GBP.
If you are searching for a sequencer to create acid house music, this sequencer is the perfect option for you. It is a good drum machine toolkit for the best acid bassline. When finished, you can export your creation in WAV format.
Conclusion
Now, you have the pick of the 4 best online sequencers that will run in your web browser. Which one is your favorite? Just choose one to start your music creation!