Where to watch old classic cartoon TV shows online? This post from MiniTool rounds up 8 places to enjoy old cartoon shows and movies.
Sometimes, you might want to watch classic cartoons in your childhood. Where to find and watch these old cartoon shows and movies? Try the following websites.
Try MiniTool MovieMaker to make a GIF from your favorite cartoon shows.
#1. Boomerang
Website: https://www.boomerang.com/
When it comes to cartoon streaming sites, Boomerang is a must-try. It has 5,000+ full episodes of all your favorite cartoons and movies. You can watch dozens of old cartoons on this site, such as Tom and Jerry, The Jetsons, Looney Tunes, and more. 
You can also download the Boomerang app on your Android and iOS devices to enjoy unlimited cartoons.
However, Boomerang is only available in the United States.
#2. Cartoon Network  
Website: https://www.cartoonnetwork.com
Cartoon Network is an all-in-one place to watch kids' TV shows and play free games. You can click the cartoon characters on the top to find the cartoon shows. You can watch Tom and Jerry, We Bare Bears, and more cartoons on this platform.
#3. WB Kids
Website: https://www.wbkidsgo.com/
WB Kids is also one of the best online sites to watch cartoons. You can enjoy many old cartoon network shows on this site for free.
You can watch Scooby-Doo, Looney Tunes, Tom and Jerry, and The Flintstones on this platform.
#4. DisneyNow
Website: https://disneynow.com/
DisneyNow is another place where you can watch old cartoon shows. You can watch many popular cartoons on this platform like Mickey Mouse, DockTales, Marvel Superhero Adventures, and more. You can also find the recent Disney series on DisneyNow.
Some cartoons on Disney are free to watch but others need you to log on with your cable TV credentials.
You can also download DisneyNow app from Google Play Store or Apple App Store to your phone.
Also read: Top 6 Websites to Watch Chinese Movies Online
#5. Internet Archive
Website: https://archive.org/details/animationandcartoons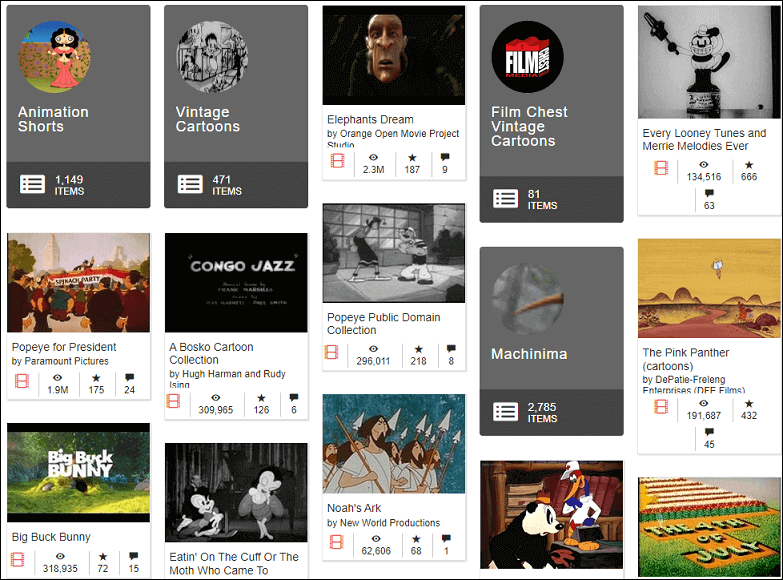 Internet Archive is an American digital library and it offers free public access to collections of digitized materials like movies, videos, music, and more. It is also a good place to find some old classic cartoons and kid's videos.
#6. YouTube 
YouTube is the world's largest video sharing site. It never lets you down when you want to find something to watch. You can watch old classic cartoon shows online for free on YouTube, such as Looney Tunes, Bugs Bunny, Donald Duck, Mickey Mouse, Woody Woodpecker, and Superman.
#7. Amazon Prime Video
You can also watch old classic cartoons on Amazon Prime Video like Popeye, SpongeBob SquarePants, Sesame Street, Tom and Jerry, and Dora the Explorer.
To watch cartoons on Amazon Prime Video, you need an Amazon Prime account and a subscription. For more information, check this post Is Amazon Prime Video Free & How Much Is Amazon Prime Video.
#8. Hulu
Hulu is one of the best streaming services to watch movies and shows. It's also a good place to watch some classic and old cartoon shows and movies like Animaniacs, The Powerpuff Girls, and more.
Moreover, Hulu has a Kids column where you can find movies, originals, and TV series for kids.
Best Old & Classic Cartoons You Shouldn't Miss
You can find and watch old classic cartoon shows on these platforms. Here're some of the best classic cartoons you shouldn't miss.
Duck Tales
What's Opera, Doc?
Animaniacs
Tom and Jerry
Looney Tunes
Popeye The Sailor
SpongeBob SquarePants
The Powerpuff Girls
The Simpsons 
South Park 
Conclusion
Try the above platforms to enjoy your favorite old cartoon shows. What's your favorite cartoon? You can share it with us in the below comments area.