This news gives a brief introduction on what's new in MiniTool MovieMaker 6.0. On the one hand, users can create customized videos with certain aspect ratios to adapt to different playback devices and various social platforms! On the other hand, users can make their vlogs more attractive using the new effects!
In short, MiniTool MovieMaker v6.0 is upgraded from MiniTool MovieMaker v5.4.0 and brings these updates:
Support to select video aspect ratio as 16:9 (widescreen), 9:16 (portrait), 4:3 (standard), or 1:1 (Instagram).
Newly added online resources for Text, Music, and Elements.
Optimized the registration process.
Optimized the user interface of the initial popup and preview window.
Optimized the exported video formats.
Tips:
Aspect ratio is the ratio of its width to its height.
Set Video Aspect Ratio in MiniTool MovieMaker 6.0
Nowadays, people like to browse videos on various social media platforms (Instagram, TikTok, YouTube, Facebook, Twitter, etc.) and various physical devices (phones, tablets, notebooks, etc.). Yet, there is a problem. Different platforms and hardware support different video aspect ratios. Thus, if you want your videos to go viral, first of all, you need to create them in aspect ratios that are compatible with those platforms and devices.
The newly released MiniTool MovieMaker version 6.0 enables its users to make videos in common aspect ratios. Let's see how to achieve that!
In general, there are two ways to decide the aspect ratio of a video in MiniTool MovieMaker v6.0. just download it and have a try!
MiniTool MovieMakerClick to Download100%Clean & Safe
#1 Select Aspect Ratio Before Creating a Video
To begin with, you can pick up a proper aspect ratio for your video right before starting to make it since you already know where you will share this video and on which device it will be played most.
 Step 1. Download, install, and launch MiniTool MovieMaker version 6.0 on your PC.
Step 2. Right at the upper left corner in the pop-up project library window, choose your desired aspect and click New Project to start creating your video.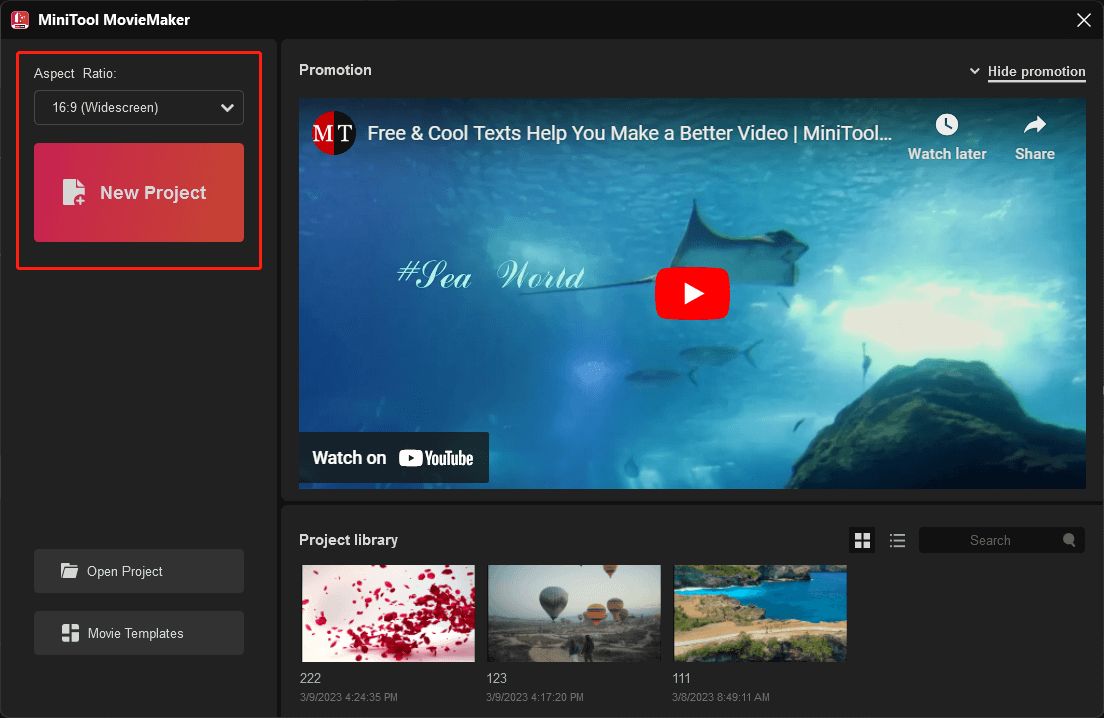 #2 Change Video Aspect Ratio While Editing
Secondly, you can change the aspect ratio of your video during the editing process.
Step 1. Download, install, and open MiniTool MovieMaker v6.0 on your PC.
Step 2. Directly close the project library window and enter the main interface of MiniTool MovieMaker.
Step 3. Click Import Media Files under the default Media tab to upload your source materials to this program.
Step 4. Drag and drop the uploaded media files to the below timeline.
Step 5. Then, you can see the default aspect ratio of your video is 16:9. If that's what you want, just leave it alone. If not, you can unfold the aspect ratio drop-down menu and select your target number.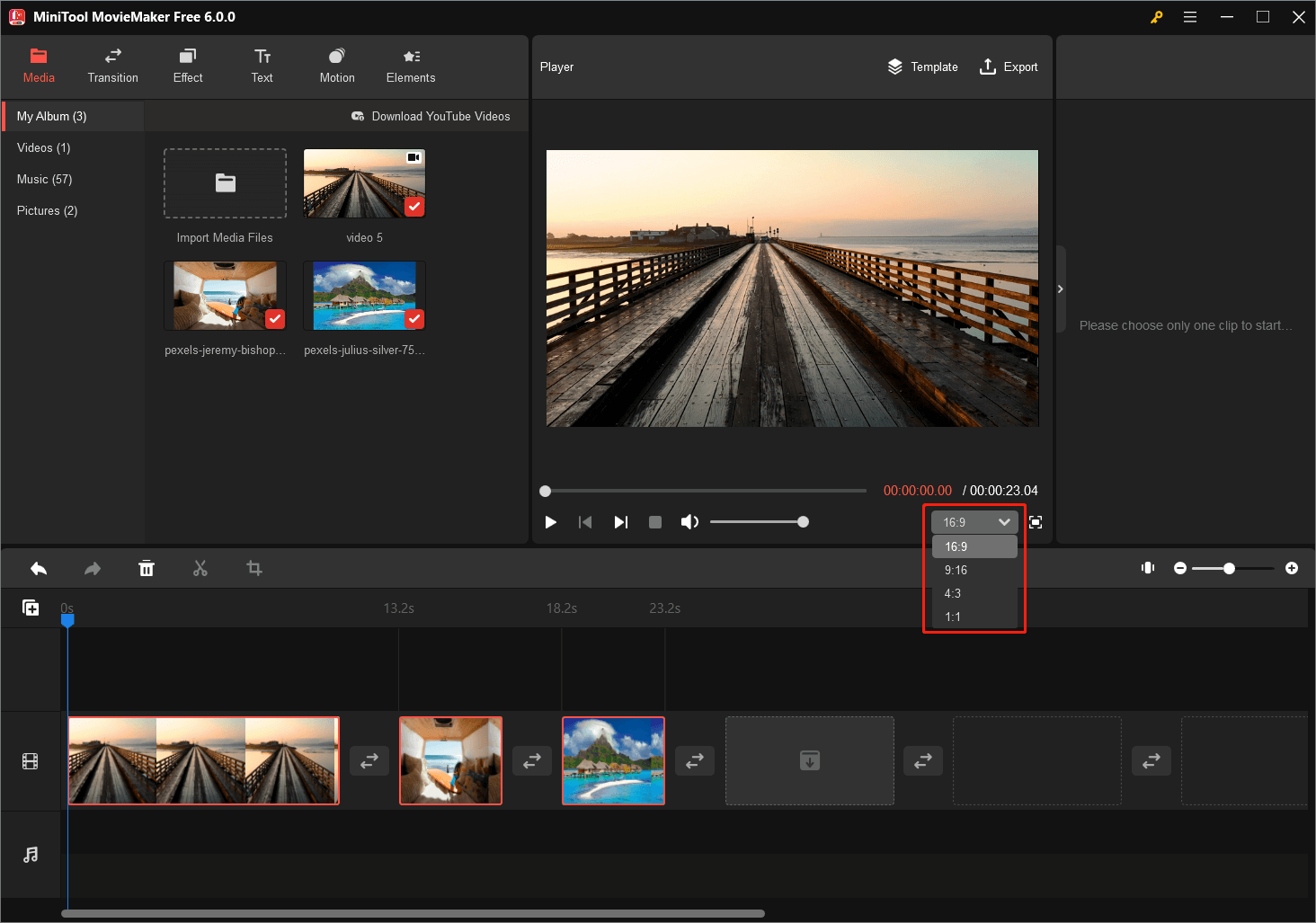 MiniTool MovieMaker 6.0 New Texts
To be exact, the 3 new text templates added in MiniTool MovieMaker version 6.0 belong to the Caption subtype. Next, let's see how to make use of the newly added captions in your videos.
Still, after downloading MiniTool MovieMaker v6.0, install it on your computer.
Launch the software and select a video aspect ratio to start.
Import your media files to this application and add them to the timeline.
Go to the Text
Click the download icon (down arrow) on your desired text mode to download it from the online server to your local machine. If you want to get all the new texts, just right-click on one of them and select Download All.
Click on the video clip or photo on the timeline to select it.
Click the + icon on the target text to add it to the selected clip on the timeline.
Then, you can specify the text effect on its content, position, font, size, color, etc.
Do other edits to your video.
Click the Export option to save your video.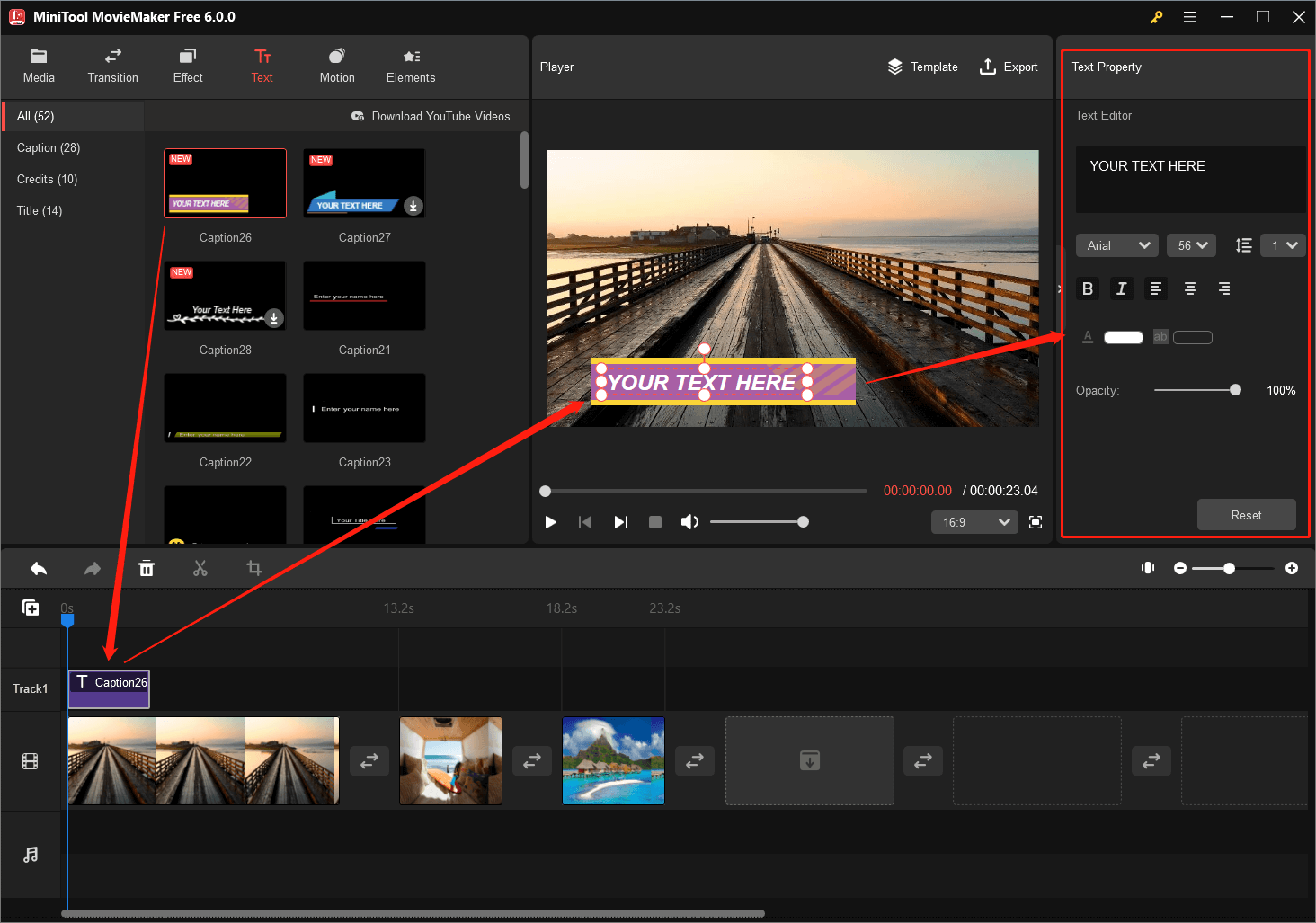 MiniTool MovieMaker 6.0 New Music
This time, 5 songs are added to MiniTool MovieMaker version 6.0. They are copyright-free.
Careless
Cold
Failure
Never Give Up
Rumors
It's time to see how to use these beautiful songs in your future videos.
Get, install, and open MiniTool MovieMaker v6.0.
Pick up an aspect ratio to start.
Upload your media files to the app's media library.
Add those media files to the corresponding tracks within the timeline.
Move to the Music subtab under the Media
Download your favorite song and put it on the audio track.
Specify the fade-in/out effect duration for the song and change its volume.
Do other settings to your video.
Export your video.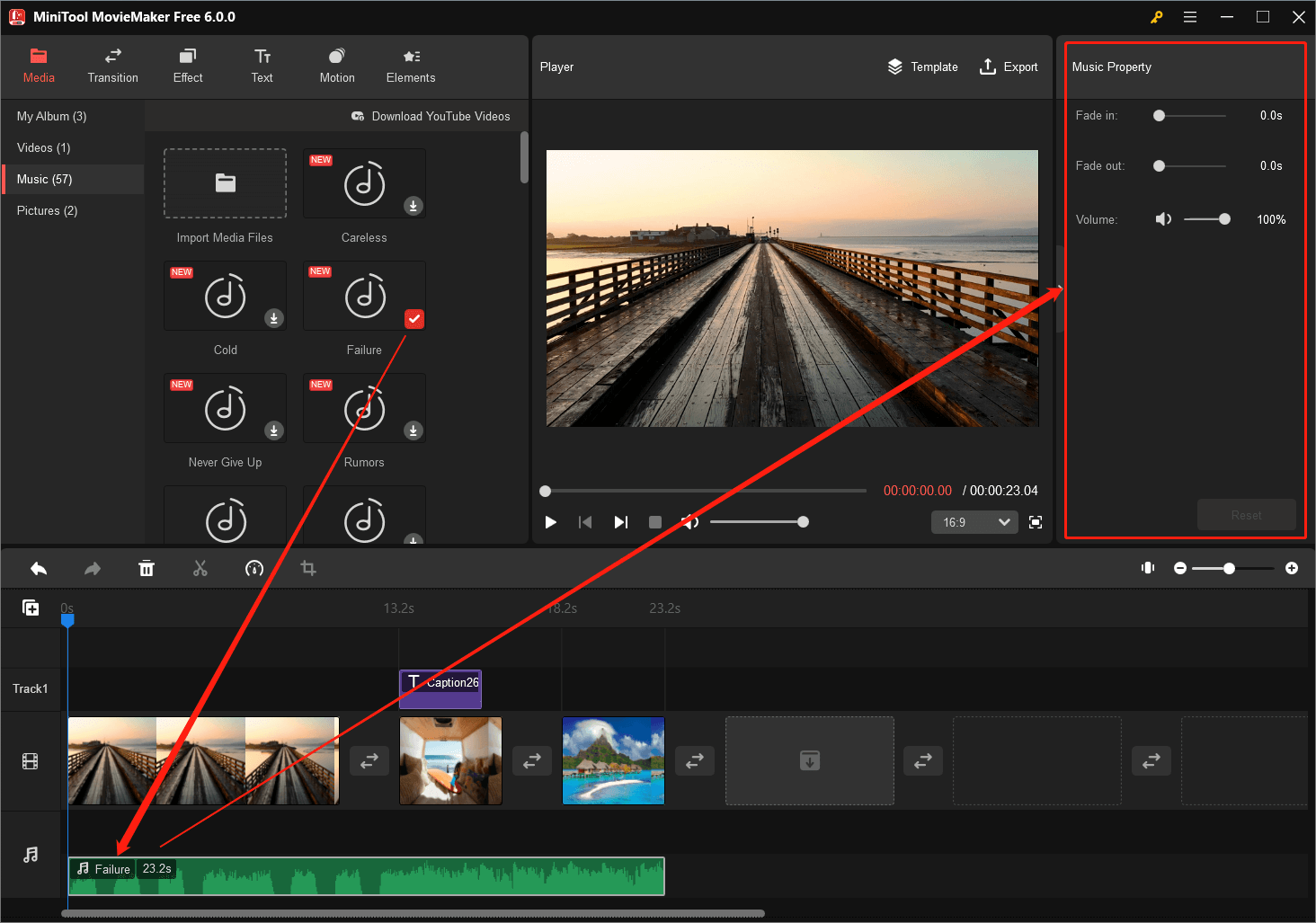 MiniTool MovieMaker 6.0 New Cartoons
Besides, MiniTool MovieMaker version 6.0 also gathers 11 new animated stickers for its users. They are all about birthdays and weddings. With those cartoon elements, it is sure that you can make your birthday or wedding videos more interesting.  
MiniTool MovieMakerClick to Download100%Clean & Safe
Download, install, and start MiniTool MovieMaker v6.0 on your device.
Choose an aspect ratio to begin or just keep the default aspect ratio.
Upload your wedding or birthday video clips and photos to the program's Media
Drag and drop those clips and photos into the timeline/storyboard.
Switch to the Elements
Download your favorite cartoon sticker online.
Add the sticker to the specific clip that matches the sticker.
Refine the sticker by its size and position. You can also flip or rotate it.
Complete your other settings.
Export the edited video and share it with others.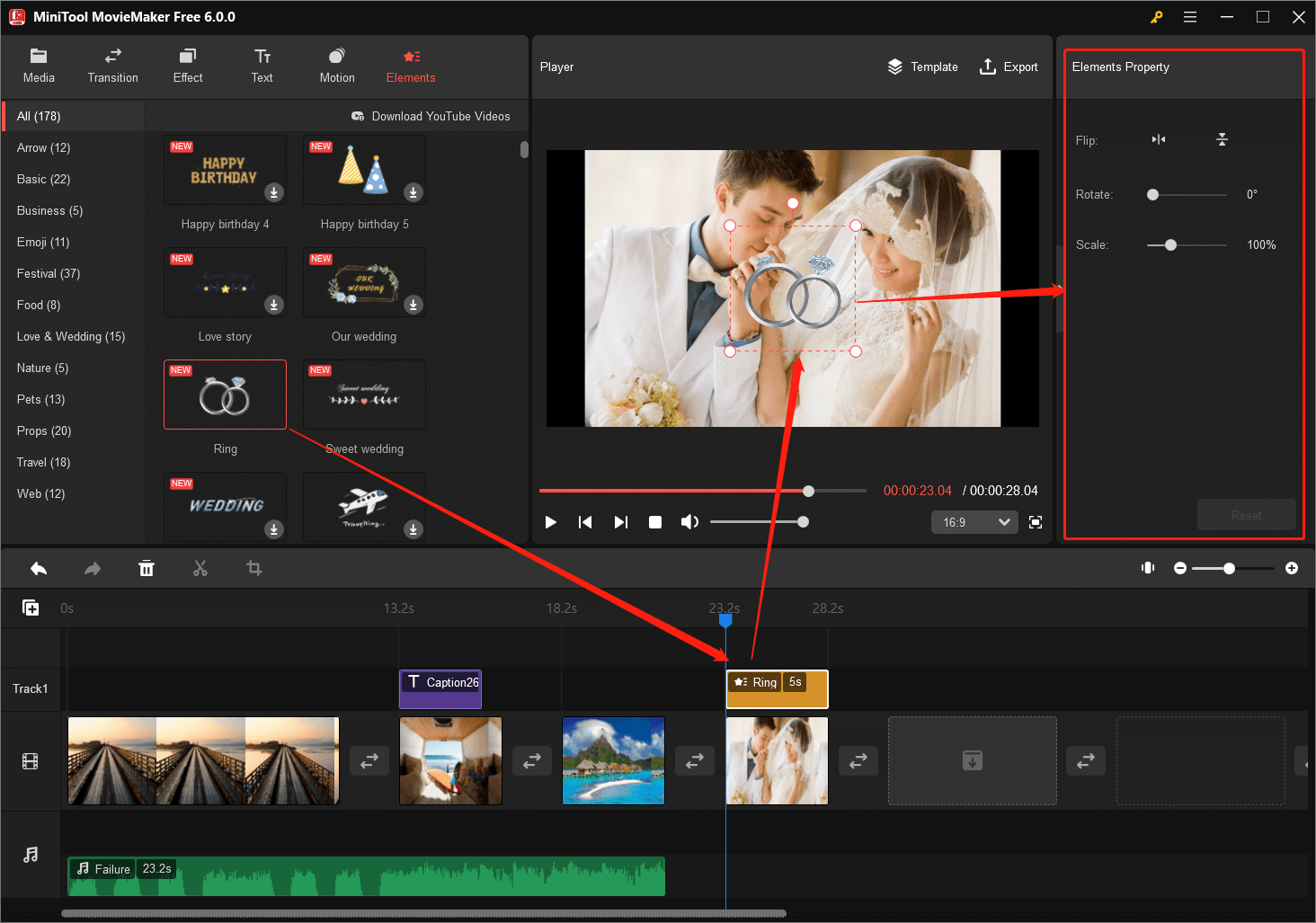 To Wrap Things Up
MiniTool MovieMaker continues bringing surprise to its users and there is no exception for its 6.0 version, which successfully satisfies users' need to share their videos on different social platforms. Also, more beautiful and useful video effects are added.
Videos/Audios Management Tools Recommended
These applications are completely compatible with Windows 11/10/8.1/8/7.
MiniTool uTube Downloader
Free get YouTube videos, audio, and subtitles without ads or bundles. It can operate multiple tasks simultaneously at a high speed and supports multiple file formats.
MiniTool uTube DownloaderClick to Download100%Clean & Safe
MiniTool Video Converter
Quickly convert videos and audio from one file format to another to apply to more devices. It supports 1000+ popular output formats and batch conversion. Besides, it can also record PC screens without any watermark.