You want to combine multiple video clips into one and post on TikTok. How to make a TikTok with multiple videos? This post offers you 2 ways to combine TikTok videos and shows how to combine drafts on TikTok.
How to Make a TikTok with Multiple Videos
Here are two ways to make a TikTok with multiple videos. One is using TikTok's built-in feature, the other is using a third-party video combiner like MiniTool MovieMaker.
Combine videos on TikTok
TikTok allows you to combine two or more video clips into one. Before that, read this post to learn about requirements for TikTok videos: How Long Are TikTok Videos?
Here's how to combine videos on TikTok.
Step 1. Open the TikTok app on your phone.
Step 2. Tap on the + icon at the bottom center of the screen.
Step 3. Click Upload next to the red Record button and select the video clips from camera roll that you want to combine. Tap on Next to go on.
Step 4. Click Default to start editing your videos. Drag the start or end of the video to adjust its video length, and long press to rearrange clips.
Step 5. If you're happy with the result, click the Next button in the top right corner of the screen to edit the video. You are able to add text and stickers, apply filters, and more. After that, click Next.
Step 6. Now, you need to add captions and hashtags for your video and adjust the privacy settings. Tap on Post to upload this video.
Combine TikTok Videos with Third-party App
If you want to edit these video clips before combining them, here are two video editors for you: InShot and MiniTool MovieMaker. With them, you can split, trim, merge, reverse videos, and so on.
InShot
InShot is a free video combiner app for Android and iOS. It's feature-rich and easy to use.
Step 1. Open the InShot app and tap on Video to select the desired video clips. Click the checkmark to import these videos.
Step 2. Edit each clip by trimming, splitting, changing speed, rotating, flipping, and deleting. Then rearrange these clips and add the text and stickers if you want.
Step 3. Click Save and export the video.
MiniTool MovieMaker
MiniTool MovieMaker is a video combiner for Windows. It can combine multiple large videos into one without losing quality. With all the needed editing features, MiniTool MovieMaker surely meets your needs.
Take the steps below to merge TikTok videos on Windows.
Step 1. Download, install and open MiniTool MovieMaker.
Step 2. Import the needed video clips. Choose the first clip, press the Shift key and then select the last clip to choose all the imported videos. Drag and drop them to the timeline.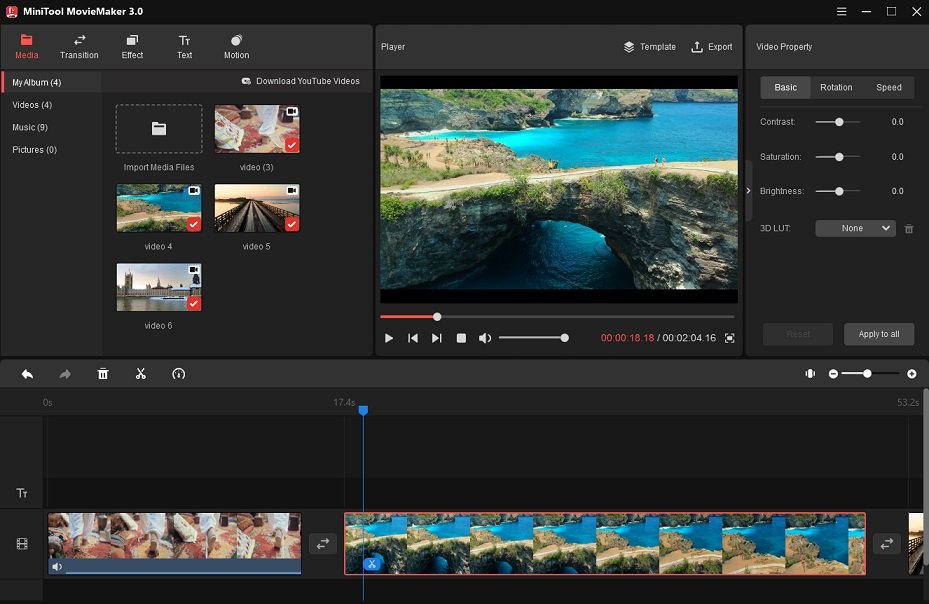 Step 3. Now, you can move the playhead to where you want to cut and click the scissor icon on the playhead. To trim the clip, just move the start or end point of this clip to the right or left. Click Export.
Step 4. In the Export window, change the export settings and hit the Export button to combine TikTok videos.
How to Combine Drafts on TikTok
If you want to combine draft videos on TikTok, you need to post these videos on TikTok and turn on Save to device. Then use InShot to combine the TikTok videos and upload them to TikTok.
Conclusion
This post listed 2 ways to make a TikTok with multiple videos. Hope this post is useful for you!