A Live Photo is a moving image with audio captured by Apple devices. If you take many Live Photos and want to make good edits to them, you need a Live Photo editor app. With so many options available, which one is the best Live Photo editor online? This post from MiniTool will share several Live Photo editors with you.
The following content will cover the introduction of these Live Photo editors, including their features. Keep on reading to find the one that suits you most.
Apple Photos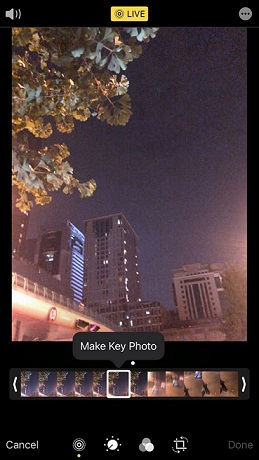 Apple Live Photo editor app, the native Photos allow you to make edits to your Live Photos. It comes pre-loaded on your Apple iPhone or iPad. With it, you can apply filters to your Live Photos, turn a Live Photo into a still frame, change the key photo of the Live Photo, convert Live Photos to video (iOS 13 or higher), and trim the length of Live Photos.
It also has other editing features like adjusting the brightness, contrast, exposure, noise reduction, vibrance, and more. You can also crop, rotate or flip the Live Photos and change the vertical or horizontal perspective.
If you have blurry photos on your iPhone, read this post to fix it: 5 Best Apps to Fix Blurry Pictures for iPhone.
LivePix
LivePix is a neat Live Photo editor that allows you to select the best frame from your Live Photos using frame view. With Livepix, you will like the auto-play feature for Live Photos instead of the default press and hold. Conveniently, you can view your Live Photos in a slideshow rather than swiping past each one.
With LivePix, you can also select a portion, control the speed, set the play direction (normal, reverse, normal then reverse), apply filters, and remove sound in Live Photo. Plus, you can convert your lively Live Photo to video or GIF to share them straight to Facebook or Twitter. You can trim the Live Photo and save it to video or GIF.
Also read: Live Photo to Boomerang - How to Make a Live Photo a Boomerang
intoLive - Live Wallpapers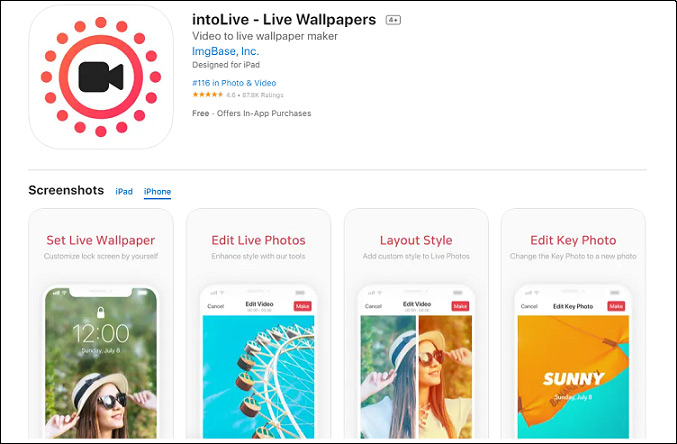 intoLive is the best choice for turning Live Photos into live wallpaper for your home and lock screen. You can also turn images, videos, GIFs, and bursts into Live Photos.
As a Live Photo editor app, it allows editing of existing Live Photos. You add effects like dot, pixel, and blur to Live Photos. The text, fingerprints, and stickers can also be added to Live Photos. The free tools are limited. If you want to take advantage of everything this app offers, you'll need to pay for the premium version.
Want to know how to make a live wallpaper? Read this post Solved - How to Make a Live Wallpaper on Computer and Phone.
Live Studio
Live Studio is the best choice for Live Photos converting. It can help you convert Live Photos into short videos, GIFs, and still images. Once you have your Live Photos saved as videos or pictures, it's easy to export your work and share it with friends. Plus, Live Studio is quick and easy to use as a relatively lightweight app.
Live Studio is good for Live Photo conversions but has limited tools to edit Live Photo clips. For instance, when converting Live Photos, you can't crop or trim (you can do this on the Apple Photos app). Also, this app will cost $1.99 to download.
Conclusion
That is all for the introduction of the Live Photo editor app. You can try one of them to make changes to your Live Photos now. If you need to edit your video footage, MiniTool MovieMaker can help you.