Instagram allows users to interact on the post with the tag feature. If you get tagged randomly and you don't want to be tagged, you can remove the tag. How to untag yourself on Instagram Story? In this post, we will talk about the solutions.
You can create a short video on your PC to share on Instagram with the amazing movie maker – MiniTool MovieMaker.
Instagram's tag feature allows users to tag or mention people on their posts. It is an effective way to connect with others who share the same interests or participate in the same activities.
Sometimes people may tag you in an unwanted post or where you aren't involved. In these cases, you might want to untag yourself from the post. If you do not know how to untag yourself on Instagram without them knowing, keep on reading.
How to Untag Yourself on Instagram?
Instagram allows you to remove a tag from another person's post. To remove the tag of yourself on Instagram post, follow these simple steps
Step1. Launch Instagram on your Android or iPhone device. Make sure to log in to your account if you aren't already logged in.
Step 2. Click on the profile picture in the bottom right corner to access your Instagram profile. Tap on the tag user icon to access the images tagged to your profile.
If someone tags you, you will receive notifications. You can also head to Notifications to access the post that you've been tagged.
Step 3. Go to the post you want to untag yourself from. Choose the tagged post, click on the image and find your tag or tap the three dots at the top right corner (if there are many tags on the photo) and select Tag Options.
Step 4. In tag options, choose the Remove Me from Post option (on iPhone) or Remove Tag option (on Android) and confirm.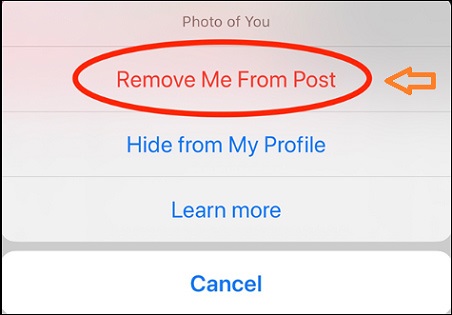 And that's it! You have been successfully removed from the post you wanted to untag yourself from. Now when you go to your tagged posts from your profile page, you'll see that the post is no longer there.
If you untag yourself on other users' posts, they won't get any notification.
You may also like: How to Mute Someone on Instagram? Best Solutions Offered!
How to Adjust Instagram Tag Settings?
To save you from removing tags, you can adjust your tagging permissions in your Instagram settings. You can choose two settings for tagging on Instagram: Add Automatically and Add Manually.
Add Automatically is set by default. This allows people to tag you in photos and lets the photos appear automatically on your profile. The Add Manually option will let you receive a notification when you've been tagged and allows you to approve or disapprove it before it appears on your profile.
Also read: How to Hide Tagged Photos and Videos on Instagram from Profile
You can also customize tags settings to control tags from everyone, people you follow, or no one. The following is how:
Step 1. Open the Settings page as we mentioned above and choose Privacy.
Step 2. Tap on Tags to change tags settings.
Step 3. Under Allow Tags From, choose No One to stop everyone from tagging you, or People You Follow, or Everyone.
Conclusion
This is all on the topic of how to untag yourself on Instagram. I hope this post is helpful to you.