Remix allows you to take an existing Reel, then record a video or voiceover as a response - much like the Duet feature on TikTok. It's a great way to collaborate with creators and grow your reach on Instagram Reels. How to remix on Instagram? We are sharing everything you want to know in this post!
Instagram is a popular video-sharing social media, if you want to create videos for your Instagram posts on PC, you can try the amazing video editor MiniTool MovieMaker.
What Is the Instagram Remix Feature?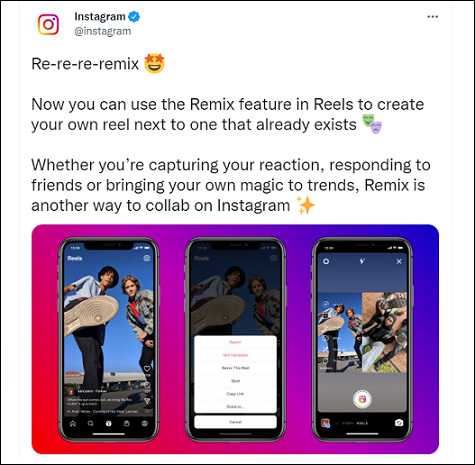 Remix is Instagram Reels' video editing feature that allows users to film reactionary Reels that will appear next to the original Reel. You can remix any Instagram Reel as long as the original creator has enabled Remix access.
In fact, it's much like TikTok's Duet feature, which lets users film split-screen reaction videos. It is a great feature for comedic reactions, dance collaborations, or challenge participation.
How to Remix on Instagram?
The steps on how to make remix Reel on Instagram is very easy. You can follow the following guide on how to create remix Reels on Instagram:
Step 1. Open the Instagram application and choose a Reel you want to remix.
You can remix any Reel that has the feature enabled, or your own Reels.
Step 2. Tap the three-dot menu to the right of the video and choose Remix This Reel.
The original video will display on the left of your screen, while your camera screen will be on the right. You have the option to upload a video from your camera roll or record it live by pressing the recording button.
Step 3. Edit the clip using the tools on the left of the screen.
You can adjust the speed and volume, add effects, text, and voiceovers after you have completed the recording. There is also a timer and alignment tool available.
To increase the volume, tap the slider icon at the top of the screen, and to add a voiceover, tap the microphone icon.
Step 4. Once you are done with editing, publish your remixed Reels.
You can choose the cover photo, caption, tags, and whether you want to post the Reel on your Feed or the Reel tab before posting.
You may also like How to Edit Instagram Video after Uploading It - 3 Tips.
How to Enable or Disable Remixing?
If you enable remix, your content will open up to millions of potential collaborations. It's an incredible way to increase your Reels reach and go viral. You can enable or disable remixing all your Reels on your profile or an individual Reel. Let's take a look at how to enable remix reels on Instagram:
Step 1. Open your profile page and tap on the menu button located in the top-right corner.
Step 2. Head to your Instagram settings and select Privacy. Then tap Reels.
Step 3. Toggle off the Enable Remixing option. This will turn off the remix feature for your profile and all the Reels on your Instagram.
You can also enable or disable an individual Reel. Here is how:
Step 1. Open any of your Instagram Reels videos that you want available for remixing.
Step 2. Tap on the three-dot menu at the bottom-right corner and select Enable Remixing to turn it on or Disable Remixing to turn it off.
If someone has remixed your content, you will receive a notification.
Conclusion
To conclude, this post introduced how to remix on Instagram and how to enable or disable remixing. Just choose your desired Reel and start remixing!