FMovies is a free movie streaming website that offers visitors abundant movie resources. Wondering how to watch movies offline? To solve this, this post shows you how to download movies from FMovies in two ways (Try MiniTool MovieMaker to cut the downloaded movies).
Is FMovies Safe?
FMovies, the best free movie site, allows you to watch movies in HD quality without registration. Is FMovies safe? The answer is no. FMovies is not a safe website. Once you click movies or modules on FMovies, it will redirect you to a website that may steal your information. To avoid this, you can use AdBlock to block ads on FMovies.
Besides, there are lots of fake FMovies websites that are not safe to use on the web.
Although FMovies is not safe to use, still it's the first choice for some people who want to watch movies for free.
How to download movies from FMovies? FMovies no longer provides the download option for users, the great option to download FMovies movies is using FMovies downloaders or recording movies from FMovies.
Related article: Top 4 Ways to Watch Movies with Friends Online
Method 1. Download Movies from FMovies with Chrome Extensions
To download movies from FMovies, here are two FMovies video downloaders for you.
Video DownloadHelper
Video DownloadHelper is a browser plugin that allows you to download movies from FMovies and other websites. This FMovies downloader is available for Chrome and Firefox.
Here's how:
Step 1. Go to Chrome web store and enter "video downloadhelper" in the search bar.
Step 2. Choose Video DownloadHelper and click the Add to Chrome button.
Step 3. Visit the FMovies website, find the movie you want, and play it.
Step 4. Click the Video DownloadHelper extension icon and click the three dots.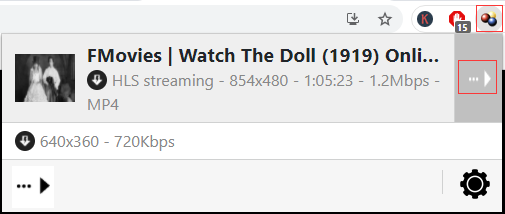 Step 5. From the drop-down menu, select Download to download the wanted movie from FMovies.
Also read: The Top 4 Ways to Download Embedded Videos
HLS Downloader
This extension is capable of downloading movies for free movie sites including FMovies and more and saves the downloaded movies in TS format.
Follow the steps to save movies from FMovies.
Step 1. Get the HLS Downloader from GitHub.
Step 2. Play the movie you want to download on FMovies.
Step 3. Click the extension icon and select the desired resolution. Then click the download icon to save the movie.
Method 2. Record Movies from FMovies with MiniTool Video Converter
Another useful method to download FMovies movies is to record movies. MiniTool Video Converter is strongly recommended here. It's a powerful tool for video conversion, video recording, and YouTube video downloading.
How to record movies on FMovies with MiniTool Video Converter? Here's a quick guide.
Step 1. Download and install MiniTool Video Converter.
Step 2. Open MiniTool Video Converter and go to Screen Record.
Step 3. Tap on Click to record screen to enable the screen recorder tool.
Step 4. Open the FMovies website and find the movie you need to record.
Step 5. Go back to MiniTool Screen Recorder, enable the system audio, select the video area, and hit the Record button.
Step 6. Then start playing the movie. When the movie is finished, stop recording by pressing the F6 key.
Conclusion
To download movies from FMovies, you can try FMovies downloaders or MiniTool Video Converter. If you have better suggestions, please leave a reply and let us know!