Emby vs Plex, which one is better for you? As we know, both of them are dedicated media servers. However, they also have some differences. So, which should you pick between Emby vs Plex? This post presents the comparison of these two. Keep on reading to find the answer.
Emby and Plex are great media servers that let users access the videos, music, or other media files, and stream content to multiple devices. If you are thinking about and wondering which one to pick between Plex vs Emby, keep on reading.
If you want to make your own short movies with a free video editor, MiniTool MovieMaker is the top recommendation here.
What Are Emby and Plex?
Emby and Plex are media servers that allow you to stream various types of content like video, audio, and photos from one place. Plex has been around for over 10 years and is arguably one of the biggest media centers around. Emby, once known as "Media Browser", is an open-source alternative to Plex. They are great tools for centralizing collections and online video stream services.
Emby vs Plex: Pricing
We start this comparison by comparing their price since it might be the deciding factor when choosing the best media center for you. The two media servers offer a free plan and a premium subscription plan.
Plex premium service also called Plex Pass (monthly fee of $4.99, price-saving yearly option of $39.99 or lifetime license for $119.99), gives you access to additional features like the ability to sync your media for offline viewing and parental controls, and access to some exclusive apps.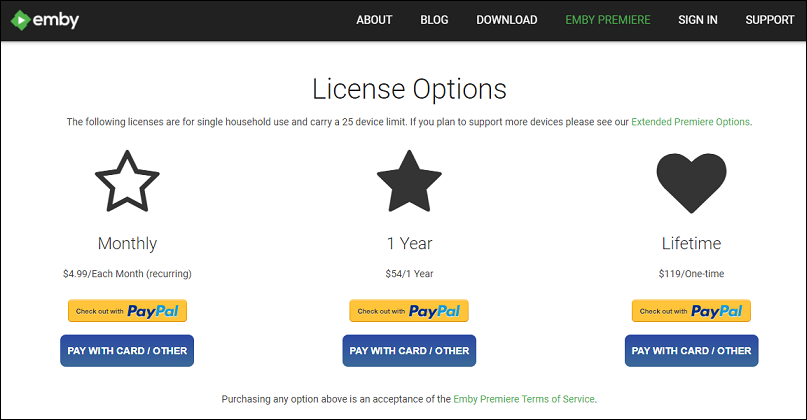 Emby offers three pricing tiers. The monthly subscription is $4.99 per month, while the annual subscription is $54 per year. You can also pay a one-time fee of $119 for lifetime access to all Emby Premiere features, including Emby DVR, cloud sync, and cinema mode.
Emby vs Plex: Features
The features also should be taken into consideration when we compare Emby media server vs Plex media server. Both Emby and Plex offer live TV and DVR functionality.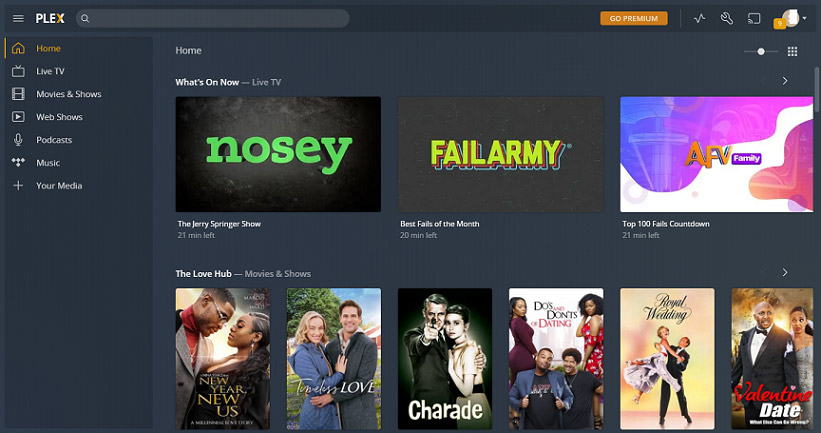 As for media streaming, Plex allows users to local stream content to various devices with no need to subscribe Plex Pass. While Emby users have to update to premiere to get full access to other platforms like Android, Fire TV, Xbox One, etc. Free members have more streaming limits with Emby, which is one of the biggest advantages of Plex over Emby.
Emby and Plex support third-party add-ons or plugins to extend functionality. Plex has more advantages as Emby is a much newer program, there are fewer add-ons to choose from. Luckily, both servers have many of the famous plugins that most users would want, such as TuneIn Radio, Trakt, and ITV Player.
One of Emby's standout exclusive features is Cinema Mode, which comes with a paid subscription. It gives you trailers and custom intros before films and a true cinema-like experience and sense that you're at the theater in your home.
Plex, on the other hand, offers more add-ons, like the popular Unsupported App Store.  You can access unofficial extra channels with even more content. It's also worth mentioning Plex's news feature. It uses machine learning to recommend stories that you will be interested in. There is no equivalent feature on Emby.
You may also like Top 4 Ways to Watch Movies with Friends Online | Ultimate Guide
Emby vs Plex: Device Compatibility
Both Emby and Plex support all of the major desktop operating systems, mobile operating systems, as well as most streaming boxes. By contrast, there are some devices and services which Plex supports but Emby does not, including Sonos and Android Auto.
Conclusion
As we can see, in the comparison between Emby vs Plex, there is no clear winner. Both platforms excel in different ways. If you need wider compatibility between different devices, Plex is a better choice. If the open-source feature is your concern, Emby is the better option.