Music can affect our emotions even it is sung in a language that we don't understand. In this post, I've collected the 7 best websites to enjoy and download Japanese music/J-Pop. (Try MiniTool MovieMaker to make a music video!)
#1. YouTube
Website: https://www.youtube.com/
YouTube is a must-visit website for J-Pop fans, especially for Johnny's fans. Many J-Pop artists and groups have official YouTube channels and release their music videos on YouTube. On YouTube, you can also find anime original soundtracks and anime music videos.
You can listen to Japanese music on YouTube for free. However, if you want to Japanese music for offline playback, you need to get a YouTube Premium.
Also read: How to Download Music from YouTube for Free
This guide is for personal fair use only. Do not download any copyrighted content from the web.
#2. Spotify
Website: https://www.spotify.com/
Spotify hosts millions of songs and podcasts. You can discover music from around the world. There are many music genres available on the Spotify app such as Pop, Rock, EDM, Country, Folk, etc. Besides J-Pop, you can find K-Pop, C-Pop, Latin Pop, and more.
To download your favorite J-Pop music, subscribe to Spotify Premium and you can download 10,000 songs on your device.
Related article: How to Show Song Lyrics on Spotify
#3. JP-Rock
Website: http://jp-rock.blogspot.com/
JP-Rock is a website that allows you to download Japanese music with no sign-up required. Most Japanese music is of high quality and some tracks are available in 320 kbps.
JP-Rock has a YouTube channel. Go to its official YouTube channel and you can watch music videos online.
#4. Last.fm
Website: https://www.last.fm/
Last.fm is a music website where you can play Japanese music, find the latest music news, and browse weekly music charts and real-time music charts.
Go to the Last.fm website and search for the Japanese artist or the Japanese song you like. Then click the Playback button to watch the music video. If you want to download the song, click the download icon and select a source to get it.

#5. J-pop Music Download
Website: https://jpop.xyz/
J-pop Music Download is another place to download J-Pop music and others like K-Pop, C-Pop, TV-Music, PV. You can save music albums in Hi-Res, lossless, or MP3 audio quality. Under some singles and albums, you can also find the official music videos and play them during the download process.
#6. Chosic
Website: https://www.chosic.com/
Chosic is a website for royalty-free Japanese music downloads. All music tracks on Chosic are free to use for commercial or non-commercial purposes and you can download them directly from the website.
This website also provides you with a set of free music tools such as Spotify listening stats, Similar songs finder, Find song by partial lyrics, and Song finder.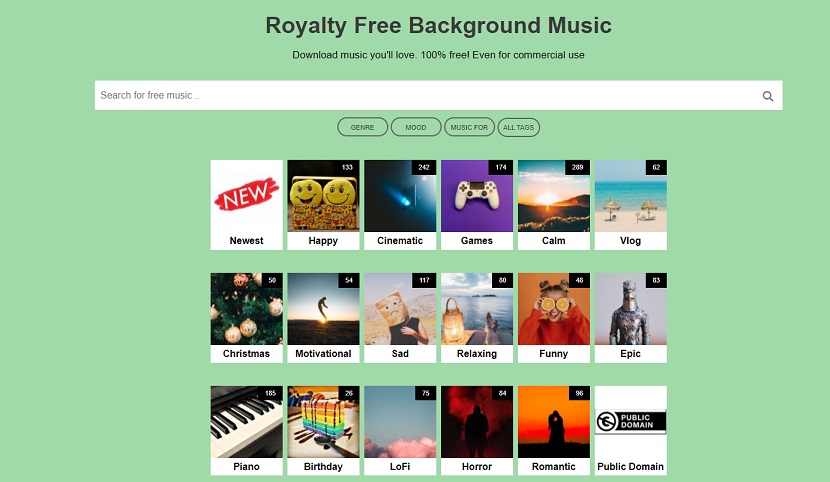 #7. Fesliyan studios
Website: https://www.fesliyanstudios.com/
This is a royalty-free music website with a large library of free background music and sound effects. Music tracks are organized into four categories: Mood, Genre, Use Case, Instrument.
To download royalty-free Japanese music, go to Royalty Free Music By Genre > World and click Japanese. Then download the song you like.
Conclusion
Do you know any other Japanese music download websites? Share them in the comments section!