Have you ever heard of DivX before? Although it is one of the most recognizable video file types, several media players still cannot open DivX files. Luckily, here we have compiled the list of the 4 best DivX players compatible with Windows/macOS/Android. Need a DivX editor? Try MiniTool MovieMaker.
What Is DivX?
DivX is the abbreviation of Digital Video Express, a brand of video codec products designed by DivX, LLC.
DivX has three kinds of codecs: the original MPEG-4 Part 2 DivX codec, the H.264 / MPEG-4 AVC DivX Plus HD codec, as well as the high-efficiency video encoding DivX HEVC ultra-high-definition codec.
The file extension of the DivX video is ".divx". However, despite using the ".divx" extension, this format is still the extension of the AVI file format.
DivX usually carries with MP3 or AC3 audio tracks, and it highly supports the best video resolution, even up to 4K UHD. Therefore, you can get an amazing visual and sound experience.
This format is perfectly suitable for online movie and video downloading.
Related article: Top 9 Best TV Series of All Time – Review & Download
4 Best DivX Players
How to play DivX files? Here are some reliable DivX players you can try, no matter what device you're using.
1. DivX Player
As the best Divx player for Mac, DivX Player can easily play any video and audio files with high-quality, includes DivX, MP4, AVI, MKV, and more. If you want to add DivX files from the online cloud, Google Drive and Dropbox are supported.
Apart from DivX Player, this freeware also includes two other components, one is DivX Converter (convert videos to a variety of popular formats), and the other is DivX Media Server (cast high-quality videos to your favorite devices).
2. VLC Media Player
Available on popular platforms like Windows, macOS, Linux, Android, iOS, etc., VLC Media Player is a well-known video player that can flawlessly play DivX films. Due to its simple interface, VLC makes it easy to play DivX files. Just drag the file you'd like to enjoy onto the program, and then click the playback button.
This free DivX player has the most complete feature-set over the video, subtitle synchronization, video and audio filters. In addition, it also allows you to take screenshots or record video clips when watching videos.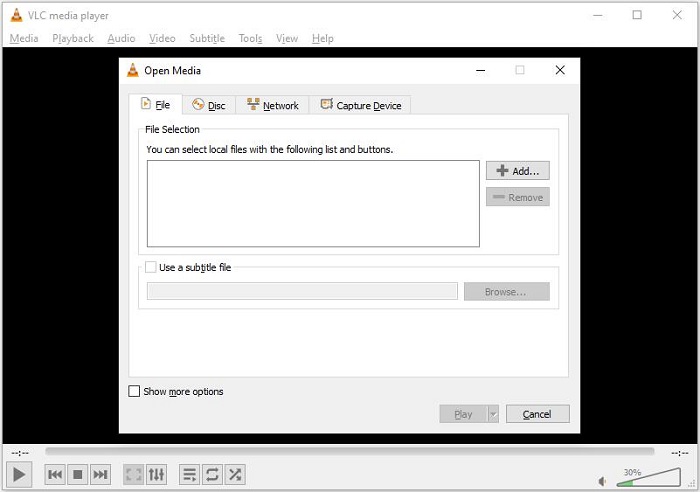 3. DivX Web Player
DivX Plus Web Player, formerly known as DivX Web Player and DivX Browser Plug-In, is an excellent choice for Divx/Divx Plus HD online video playback. It is a web browser plug-in for playing embedded videos on web pages.
It supports playing DivX, AVI, MKV, MP4, and MOV video formats on Google Chrome, Internet Explorer, Mozilla Firefox, and Safari. It also supports multiple audio tracks and multiplex UTF-8 subtitles and can save video files locally after completing the full-length buffer.
Also read: 5 Best HEVC Players – How to Open HEVC Video Files
4. DivX Mobile
Also released by DivX, LLC., DivX Mobile is a renowned DivX player for Android devices, which is capable of playing DivX files in high quality. And the best feature of DivX Mobile is that it enables users to store their videos on cloud storage platforms such as Google Drive.
Unfortunately, the app isn't available from the Google Play Store since April 13, 2018. You can continue to use the app without interruption, as long as it has already been installed on your device. Otherwise, you have to download it from third-party apk sites.
Bottom Line
Among the above 4 practical DivX players, which one do you prefer? Of course, if you have any other better options to recommend, please let us know via [email protected] or share them in the comments section below.