This post suggested by
MiniTool Software Limited
answers a question that how do you delete a Twitter account you cannot access. It offers step-by-step instruction for you to get rid of useless Twitter account either of your own or of others who are incapacitated or deceased.
Why Need to Delete an Old Twitter Account?
Maybe you don't need it anymore for one of the following reasons.
You already have a new Twitter account.
There is some information in that old account that you want to remove.
The account is permently blocked by Twitter.
The original owner of the account has passed away.
…
How to Delete a Twitter Account I Can't Access?
If you still have access to the target account, it is a piece of cake to delete it. Yet, if you don't the login password to the account, it may take some work to completely delete it. Firstly, you can recover the Twitter account via the registered email or phone number, then get rid of the account.
If you can't access the sign-up email or phone number, you have to fill out a special forms to complete your task. No more nonsense, let's see how to delete a Twitter account you cannot access below!
1. Visit https://twitter.com/account/begin_password_reset.
2. Try to remember any of your email address, phone number, or username related to Twitter and use one of them to reach your Twitter account.
3. If you fail in step 2, you need to choose an account recovery method to regain your Twitter account, either a mail or a phone number.
4. It will display part of your recovery email or phone number. Check out whether you can still access the email or phone number. If yes, choose to send a recovery code to the email or phone number. Input the recovery code into the provided field to reset your Twitter account password and regain access to the account.
5. If you can't access the recovery email or phone number anymore, just click the "Don't have access to these?" option.
6. Then, it will offer a form guiding you to recover your Twitter account password. Or, directly go to https://help.twitter.com/en/forms/account-access/deactivate-or-close-account/no-access-to-email-number.
7. In the form, for question "How can we help you with your account" , select "I'd like to deactivate or close my account".
8. For question " How can we help you with your account", choose "I want to deactivate my Twitter account, but I cannot access the email address or phone number associated with the account" or "I need help deactivating an account owned by a person who is incapacitated, or deceased".
9. Next, select "This is a personal account".
10. Type your Twitter username.
11. Key in an email address you can access now.
12. Then, describe the problem you are having. If you select the latter option in step 8. More details you need to provide.
13. Click the Submit If additional information is needed, Twitter will request it via email. Once you are able to prove to Twitter that you are the owner or authorized to deactivate the account, Twitter will offer you any additional steps to complete the task.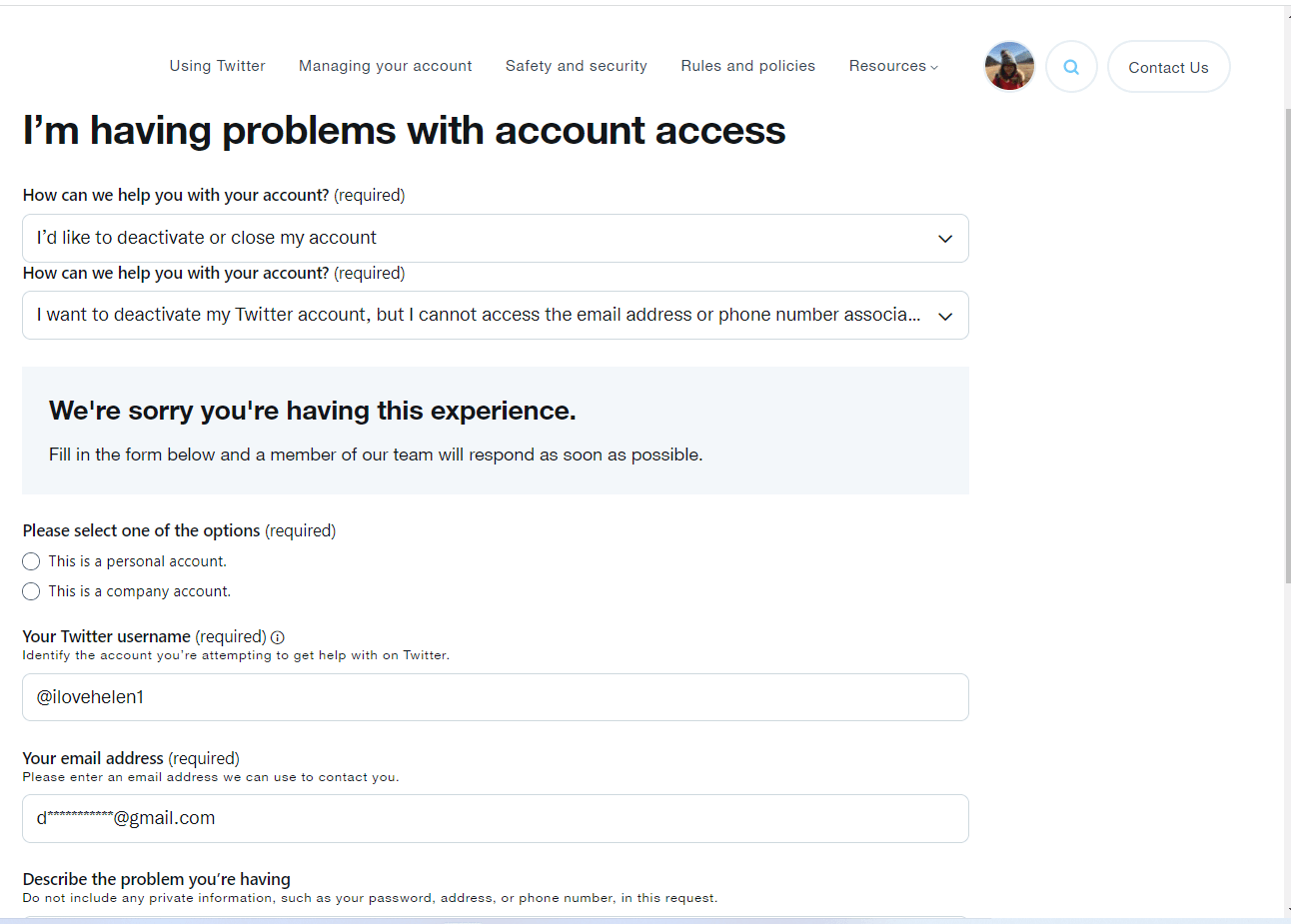 14. Open your Twitter app and sign into the recovered account. Or, you can sign in on Twitter webpage.
15. Navigate to More > Settings and privacy > Your account > Deactive your account.
16. A warning message will appear showing that if you try to sign back in within 30 days of deactivation, your accont will be reactivated. If not, your account will be permanently deleted.
17. Click Deactivate.
18. Confirm your passward and choose Deactivate.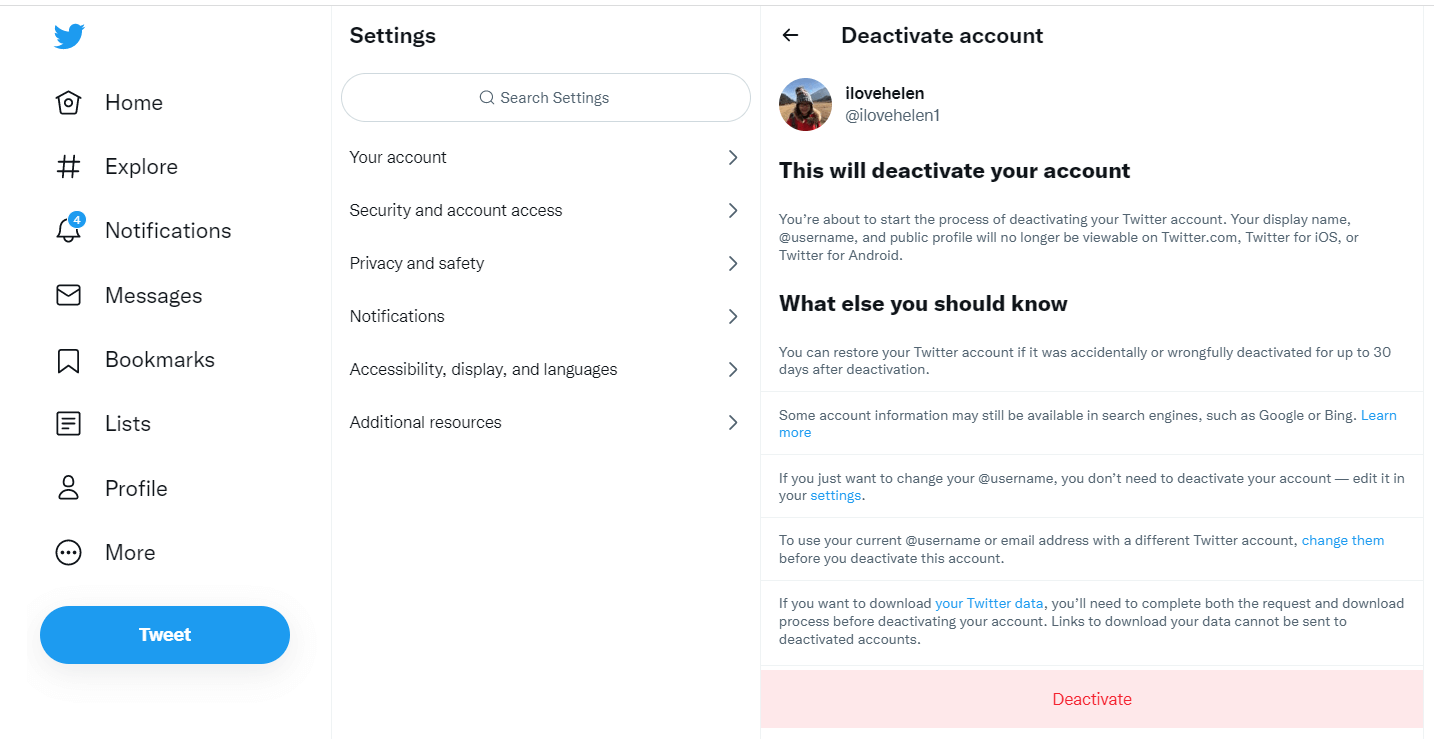 That is all about how to delete Twitter account you cannot access. If you have any idea to share, please leave a comment below.
Videos/Audio/Photos Management Tools Recommended
These applications are completely compatible with Windows 11/10/8.1/8/7.
MiniTool MovieMaker
An easy-to-use video editing software without watermarks and limits. The embedded templates enable you to quickly make personal slideshows and share them with your friends!
MiniTool MovieMakerClick to Download100%Clean & Safe
MiniTool Video Converter
Quickly convert videos and audio from one file format to another to apply to more devices. It supports 1000+ popular output formats and batch conversion. Besides, it can also record PC screens without any watermark and download YouTube videos.
MiniTool Video ConverterClick to Download100%Clean & Safe
Also read: