A Chrome image downloader is an excellent extension for downloading images from websites. If you are tired of saving images one by one with right-clicking, you should try the following Chrome image downloaders that can save images in bulk from Chrome with ease.
To batch download images from a website, here are 2 quickest solutions: using a bulk image downloader software or using a Chrome image downloader. If you tend to use the Chrome extension to download images, here's a list of the 5 best free Chrome image downloaders (Try MiniTool MovieMaker to make a video with images). Let's have a look!
Top 5 Best Free Chrome Image Downloaders
Imageye – Image downloader
Image Downloader
ImageAssistant Batch Image Downloader
Fatkun Batch Download Image
Download All Images
#1. Imageye - Image downloader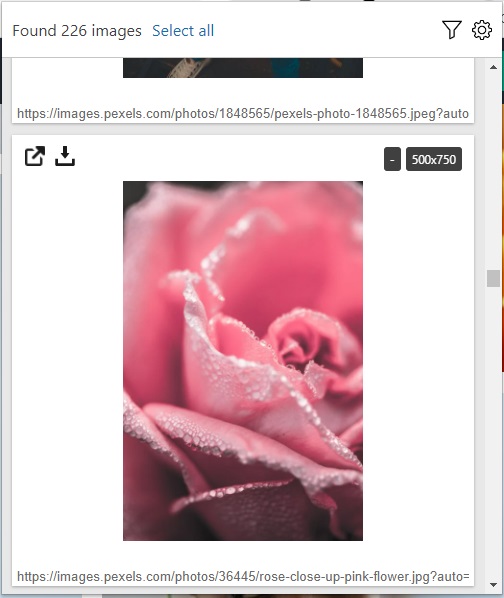 Imageye is the best image downloader for Chrome. It has a simple and intuitive interface which makes it easier to use. When you click on Imageye, it will detect all the images on a web page. Then you can filter these images by URL, type, or filter them based on pixel width and height.
What's more, click on the settings icon and you are able to configure the Preferences settings: Download in separate folders based on URL, do not show many files warning, and search in all frames, including adv boxes and social containers.
To download images from websites, this chrome image download gives you 2 options. You can select the desired images and click the Download X images button to save the image. Or tap on Select all to download all the images if needed.
If you want to remove background from an image, read this post: 4 Tips on How to Make Image Transparent.
#2. Image downloader
This is a free and open-source Chrome image downloader trusted by 1 million users. With Image downloader, you can bulk download various image files like JPG, PNG, BMP, SVG, and WebP from a web page. Like Imageye, this one also supports filtering images by width, height, or URL. Besides, it allows you to customize columns, display width, border width, and border color.
Before downloading images, you'd better set up a default download directory for saving images.
#3. ImageAssistant Batch Image Downloader

ImageAssistant Batch Image Downloader is another image downloader for Chrome. It can find all the images on the current web page and enables you to batch download them off the internet. The most common image file types including JPEG, PNG, and SVG can be extracted from a web page.
Another advantage of this Chrome image downloader is that it can generate QR code for an image. Therefore, you can scan the QR code and download the image to your phone. Plus, this powerful tool gives you the option to edit images online.
#4. Fatkun Batch Download Image
Fatkun Batch Download Image is a Chrome image downloader for Twitter, Facebook, Instagram, and other image hosting websites. You can filter images by resolution or link.
Then just one click and all the selected images will be downloaded to your computer.
#5. Download All Images
As its name implies, this Chrome image downloader can download all images in the active tab. It's simple to use, with just one click, hundreds of images can be saved from a web page as a .zip file.
Conclusion
All the Chrome image downloaders are free to use. So pick one and download your favorite images in just one click!