When you want to insert additional scenes into the video, you usually need to manually browse the entire video multiple times to determine the entry point. This not only brings you great work difficulty but also consumes a lot of your time. However, automatic scene detection can help you reduce these tedious tasks.
Let's dive into the details of how to perform automatic scene detection in the video.
If you want to edit your video, you can try MiniTool MovieMaker.
What Is Scene Detection?
Scene detection, also known as scene boundary detection or video scene segmentation, is an algorithm that automatically performs tasks on a large scale.
Scene detection is used to detect the transition between shots in the video, thereby splitting the video into different periods. One of its major features is to let the video editor automatically perform batch and fast splitting of videos instead of manually editing. This means that automatic scene detection can shorten this process from a few hours to a few minutes.
Why Do You Need to Use Scene Detection?
As a streaming media operator, you can extract metadata from videos to get better ads engagement, that is, create ads with less interference. As a software developer, you can enhance your application services through automatic scene detection. As a material planner, you can use automatic scene detection to handle multi-scene material that needs to be split.
All in all, automatic scene detection can reduce your work burden and save your work time.
How to Perform Automatic Scene Detection in the Video?
Shutter Encoder is a free scene detection software for Windows and macOS operating systems for the purpose of editing videos conveniently and efficiently. Its operation interface is simple and fully functional. It is not only a good video converter software but also can handle images and audio.
Shutter Encoder has a panel with a large number of settings to fully control the encoding. This panel has a powerful FFmpeg function, such as repeated frame detection, frame rate interpolation and analysis tools.
It allows you to precisely select the part of the video that needs to be trimmed. You can complete the video trimming work losslessly at a very fast speed.
In addition, it also has a powerful chromaticity tab that allows you to adjust colors, apply LUTs, and convert color spaces directly in the application. This feature supports original image formats such as PDF, PSD, PNG, JPG, NEF and so on.
How to perform automatic scene detection in the video with Shutter Encoder:
Step 1: Download and install Shutter Encoder.
Step 2: Open it and click Browse to select the video file you want to import and check.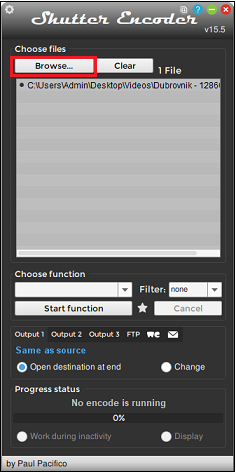 Step 3: Find the Choose function, click and select Cut detection from it.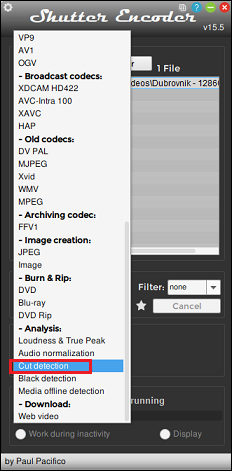 Step 4: Click the Start function button. The time of this video analysis process depends on the length of the video you import. After completion, it will display all detected transition animations with corresponding time nodes.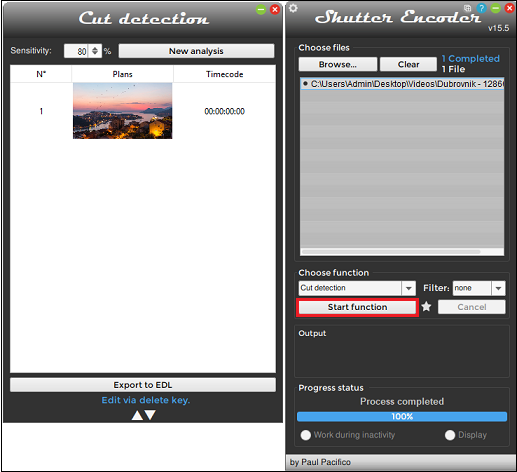 Conclusion
No matter what job you are engaged in, as long as you need a video analysis tool that can detect clips or scene changes in a video, you can easily add automatic scene detection to your workflow.
To be honest, if you master the knowledge of automatic scene detection, you will save lots of time in finding video insertion points.