Shazam is popular music and audio-identifying application that helps you recognize the song. If you want to try something new, this post recommends the top 6 apps like Shazam to refresh your music experience.
Shazam is a well-known music identifying application. While it is not the only one that offers this functionality since there are many other apps like Shazam that will give you a different experience. Let's take look at them to find your favorite one.
If you want to make short videos with music, you can try MiniTool MovieMaker - the free and simple music video maker.
SoundHound (Android and iOS)
SoundHound is one of the best apps like Shazam when it comes to music identification. It identifies the song instantly and provides you with the lyrics to the full song that is playing in your surroundings.
A great feature that makes it stand out is it supports singing and humming recognition. You can sing and hum into the microphone of your device and this app will recognize the song that may have been haunting in your mind for days.
Amazingly, it has a voice assistant called Hound that reacts to voice commands. It can help you navigate the app, activate the orange button, and play back songs hands-free. You just need to say: "Hey SoundHound, what's this song?" and this app will recognize the song for you.
If you are looking for a song finder, you can check this post Who Sings This Song – Here're Top 9 Song Finders.
MusicID (Android and iOS)
MusicID is also among the great apps like Shazam for Android and iOS. It allows you to discover music from your surroundings and see album of your favorite artists. You can also add notes and locations with the song so you can remember why and where you identified that amazing song.
Once the song is recognized, it will display the album art and the suggestions similar to the song as well as the artist. You can also know the lyric snippets, song previews, and links to places from where the song can be purchased.
Also read: 5 Tips on How to Find A Music Video without Knowing the Name
Genius (Android and iOS)
Genius is one of the most popular apps like Shazam for identifying the song. Once you identify the song, you can either choose to share it via other apps or play it on your phone using Apple Music, Spotify, and more.
More than just music recognition, it is also one of the biggest collections of song lyrics and crowdsourced musical knowledge. If you want to improve your musical knowledge with the hottest music and new releases, this app is an optional choice for you.
Musera (Android)
Musera is one of the best free apps like Shazam for Android. It features automatic song recognition, top songs display, and a vast collection of songs from different genres. In addition to recognizing unknown tracks, it also gives much information including the track title, album, album cover, singer, and more.
It also provides a music social network where you can create a unique playlist or access other's playlists based on the genres. In addition, this app also lets you enjoy song previews or watch music videos from music streaming platforms like Deezer and YouTube.
Recommend: how-to-make-a-playlist
Soly (Android)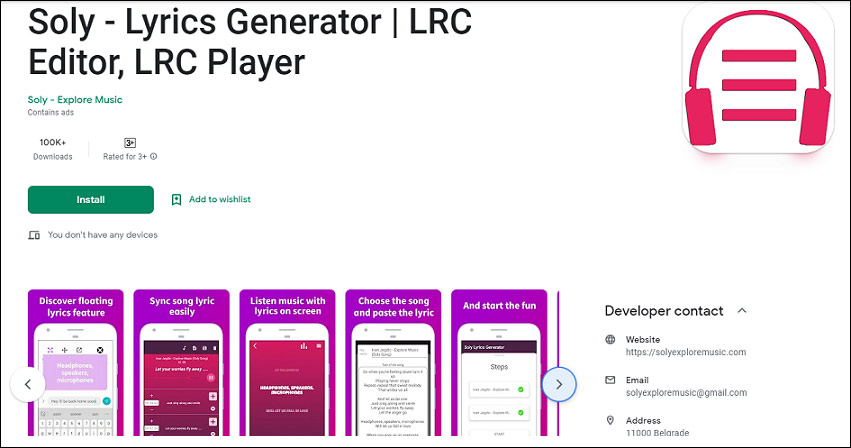 Soly is also among the best music finder apps like Shazam that allows you to find songs and lyrics in just a few seconds. Much like Shazam, it enables you to recognize a song from a short sample and access the lyrics or play a full song on your favorite streaming services.
Beatfind Music Recognition (Android)
Last but not least, Beatfind Music Recognition is also one of the best apps like Shazam that help you discover music around you. It is simple to use and lets you find top tracks and the hottest artists. Apart from music identification, it also boasts many other functions like exploring albums and reading biographies about the artists.
Conclusion
To sum up, we've learned the top 6 apps like Shazam that help to recognize unknown music. Just pick your favorite one to enjoy a different music experience!