When it comes to streaming devices, both Apple TV and Roku are excellent digital media players. If you want to learn more about video and audio editing, you can try MiniTool MovieMaker. Apple TV vs Roku. What do Apple TV and Roku have in common? What makes them different? Which one is better? This post will answer you.
What Is Apple TV?
From Wikipedia, Apple TV is a digital media player and also an entertainment device that is available to receive digital data for visual and audio content like videos, music, movies, video games and so on, and can play these contents on a connected television set.
Main features of Apple TV:
Video streaming: Users can stream videos from various sources in the TVOS App Store like YouTube, Vimeo, Netflix, etc.
Music and podcasts streaming: With music and podcasts apps, users can access the purchased music and podcasts libraries in iTunes.
Apps and Games: Users can download apps and games in the TVOS App Store with the 4th Apple TV.
You may also like: Top 10 YouTube Video Reversers to Play Video Backward
What Is Roku?
From Wikipedia, Roku is a series of digital media players with most online content options. It's a popular streaming media player with a simple interface. Roku TV, the first smart TV of Roku, is powerful and simple to use.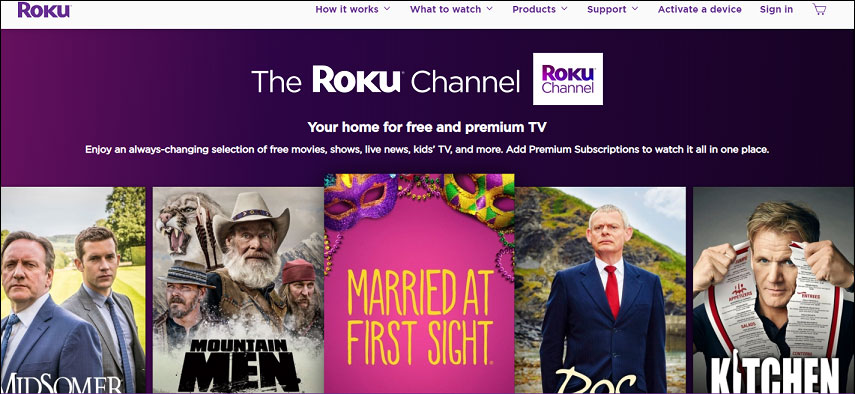 Main features of Roku:
The Roku channel: It is the best choice of free movies, TV shows, classic TV series, kids and family entertainment, and more.
The channel store: It is available to add other channels to your Roku, the channel store offers various choices.
The free Roku app: The Roku app is available on Android and iOS, allowing you to stream videos both at home and outside.
You may also like: 16 Best Family Videos to Watch + How to Make Family Video
What Do Apple TV and Roku Have in Common?
Apple TV and Roku are both easy for users to find something to watch and can stream videos up to 4K to an HD-capable TV through the HDMI port. They both provide many all-functioned application programs that are capable of searching for and playing audio and visual content. Apple TV and Roku both offer voice search and are accessible for users to cast content from smartphone to the TV by an app. They both offer 1080p HD high-quality videos.
Apple TV VS Roku
Apple TV and Roku are both fashionable and powerful digital media players. What makes them different? When it refers to Apple TV vs Roku, which factors should be considered?
Supported Content: Apple TV has an innate ability to play local content from iTunes, allowing people to buy or rent movies, music, and TV shows from iTunes. It is accessible to many online streaming services like YouTube, Hulu Plus, and provides 25+ entertainment channels. Roku offers more online content with 750+ entertainment channels. The major streaming services include Amazon, Netflix, Hulu Plus, etc. With some efforts, it's possible to watch the paid local content in Roku.
Connectivity: Apple TV supports HDMI, WiFi, and Bluetooth. Roku supports HDMI, WiFi, USB disc, etc.
Mobile Device Compatibility: Apple TV supports iOS. Roku works on Android and iOS.
Price: The 4th Apple TV with 32 GB is $149. Apple TV 4K with 32 GB is $134.25, 64 GB $149.25. About Roku, the price ranges from $30 to $400.
Mirroring: With Airplay mirroring, it is easy for users to mirror and display the content from their iOS devices and Mac. But mirroring isn't a built-in feature of Roku.
Gaming: Users are available to play games from any iOS devices on the TV via Airplay, but Apple TV isn't good at providing gaming apps. However, Roku offers a variety of gaming apps.
Bottom Line
After viewing the post Apple TV vs Roku, what's your answer if people ask you that Apple TV and Roku, which one is better. You can share your answers to the below user comments.