At present, people are very fond of taking pictures. Amazon Photos and Google Photos are both excellent photo sharing and storage service to help people manage photos. Amazon Photos vs Google Photos, which one do you like better? This post will compare them to let you find the suitable one.
Google Photos is popular among users, mainly because it comes as a default option on Android. Amazon Photos is an alternative to Google Photos when users long to find another cloud storage service for pictures. At this time, a thought-provoking question happens: Google Photos vs Amazon Photos, which one is better?
And if you try to create a photo slideshow or make a movie from these pictures, MiniTool MovieMaker can help you.
If you don't know which one you should choose, you can check out this post to learn the differences between Amazon Photos and Google Photos and then make a decision. This post will contrast them from the following 5 aspects: platforms, cost, storage, photo sharing, and editing tools.
Amazon Photos vs Google Photos - Platforms
Google Photos, one of the most fashionable photo viewers and photo organizers, is compatible with Android, iOS, and the web, but unfortunately, it doesn't offer a desktop software.
However, Amazon Photos does render users a desktop app, which may be the reason for its rising popularity. What's more, it's also available on Android, iOS, and other platforms, such as Fire TV and Tablet devices. And Google Photos cannot work on Amazon devices.
Amazon Photos vs Google Photos - Cost
Google Photos is free and accessible anywhere as long as an internet connection exists. It provides users with free and unlimited storage for photos.
On the contrary, Amazon Photos is a paid service and only available in some countries, including the US, Canada, Germany, France, Italy, Spain, or Japan, and Britain. Another problem is that users are not allowed to subscribe to Amazon photos directly.
And if you want to make a subscription, you can subscribe to Amazon Drive or Amazon Prime. The subscription fee is different in different countries. For example, in the US, Amazon Drive costs $59.99 per year for unlimited storage and a free 3-month trial.
As for Amazon Prime, it costs $12.99 per month, but student members only need to pay $6.49 per month.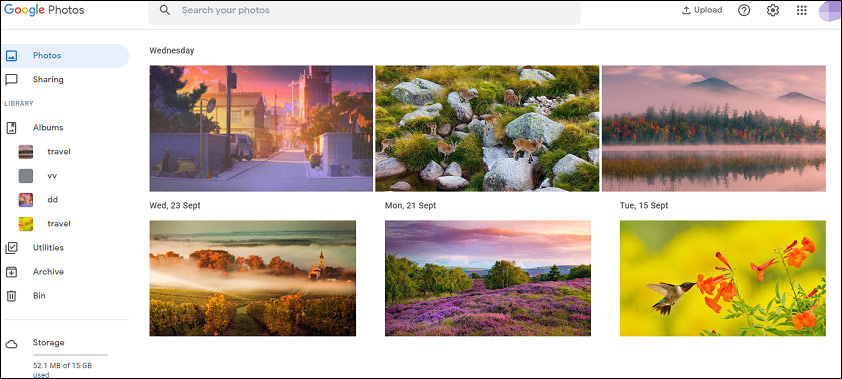 Amazon Photos vs Google Photos - Storage
Google photos can offer 15 GB of free storage on condition that your photos are no more than 16 megapixels. And it also permits users to upload unlimited videos that don't exceed 1080p resolution. 
If you subscribe to Amazon Photos via Prime, you can get unlimited storage of full-resolution pictures and 5 GB video storage. And it also offers other 2 options: 100GB of storage for $11.99/year, and 1TB of storage for $59.99/year.
Also read: How to Increase Resolution of Image + 5 Online Photo Enhancers
Amazon Photos vs Google Photos - Photo Sharing
Both Google Photos and Amazon Photos enables users to share pictures easily. But what makes them different?
With Amazon, users are permitted to share 25 photos at a time across a link, the email, Facebook, and Twitter. Besides, users can also share videos and photo albums.
Google photos lets users share pictures, videos, albums, and movies via a conversation, email dress, and a link.
Amazon Photos vs Google Photos - Editing Tools
The 2 services give users similar editing features. They both allow users to add filters, crop photos, and rotate images. Google Photos also lets users change time and date stamps and add text to photo. Amazon Photos can adjust brightness and color.
Bottom Line
After reviewing the differences of Google Photos vs Amazon Photos, what's your answer to Amazon Photos vs Google Photos – which one is better? You can share your opinions in the below comments area.