Can Adobe Connect be used for free? How to create an Adobe Connect account? This essay from MiniTool MovieMaker will provide real-life interactions including learning and training, webinars, and meetings by Adobe Connect login.
Adobe Connect can be used for free to create state-of-the-art digital training, webinars and collaboration experiences. It offers engagement-rich Training and Learning sessions, and highly customized, branded and participation-oriented Webinars. There are also personalized and high-quality Meetings that are trusted by their clients.
What's new in Adobe Connect?
The latest version, Adobe Connect 12.1, was released on Aug 31, 2022. The clients can now enhance audio/video recording as well as use the diagnostic test page. The following section highlights the new features in this latest version of Adobe Connect.
Enhanced audio/video recordings
The enhanced audio/video recordings support Closed Captions including the caption display, font size and text/background color combination.
There is a new account-wide option added to anonymize all recordings by default. This option will only work for newly created rooms and not for existing rooms. In addition, hosts will still be able to override this option for their rooms.
Hosts can now use a new setting to prevent viewers from downloading recordings. This setting can be set separately for each record.
Diagnostic test page
The Adobe Connect diagnostic test page has been adjusted to permit users to test connectivity to Standard and Enhanced Audio/Video enabled rooms.
From the diagnostic test page, you can check the user's browser and operating system. And you can test the accessibility and data connection to the Adobe Connect server.
Positive tests will suggest that users will be able to join rooms with enhanced audio/video enabled or disabled.
How to log into an Adobe Connect account?
If you are a new user, you can create a new Adobe Connect account login in the official website. Or you can choose to share an account with any of the following three accounts: Apple, Facebook, and Google.
If you have an Adobe Connect guest login account, you can enter your Email address on the horizontal line and click the Continue button. Then you will successfully sign in the Adobe Connect.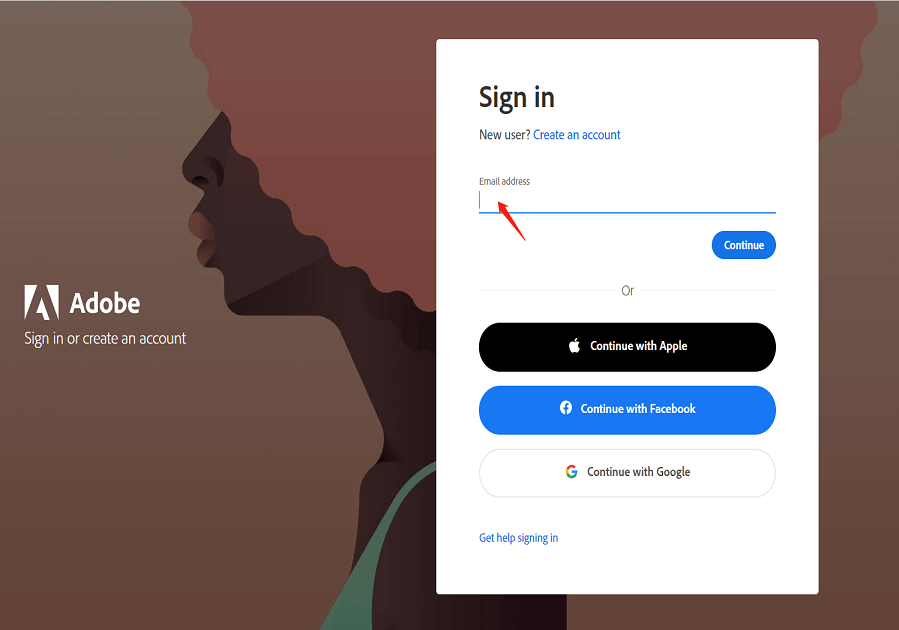 Adobe Connect 12 brings an optimized and re-imagined custom Adobe Connect login and join experience. If the room is equipped with the Enhanced Audio/Video Experience option, users can enter the room in the browser. To learn Adobe Connect login as guest for learning and training, webinars, and meetings, please read the content below.
Adobe Connect login for learning&training
By default, Adobe Connect is designed to put the power in the hands of the instructor. To allow participants to use Adobe Connect login, the instructor can keep the class moving forward to browse content at their pace. For instance, the teacher can take full control of what students can or cannot do in class.
In the meantime, the instructor can control who enters the session and check the participant engagement through audio, video, chat, drawing and annotation.
Join from anywhere
Adobe Connect covers a wider web area through streamlined access to the new HTML browser.
Join whenever
If any participant has missed your real-time session, they can watch them whenever they want on demand with the new recording feature.
Adobe Connect login for webinars
If you're looking for webinar solutions to expand your audience engagement and achieve a captivating experience, it can be a good choice with Adobe Connect.
To capture participants' cognitive attention, interactivity plays a role in leaving a lasting impression, which lets them keep working together and influencing each other.
You can add custom banners, logos, and colors for Adobe Connect login and administrative pages. Also, you can create a one-of-a-kind webinar experience for your brand.
Adobe Connect login for meetings
With Adobe Connect meeting login, you can talk about work online with your colleagues. It is just as effective as your in-person meetings. In other words, it can help you connect with participants beyond live meetings.  
How do I find out my Adobe Connect username and password?
If you forget your Adobe ID, you can go to the Adobe Connect sign-in page. Try to sign in with your primary email address or one of your alternate email addresses to get it back.
If you cannot find out your password, you can also try to enter your email address. When there is the error message "The password provided does not appear to be valid", you can try another one of your email addresses to help you confirm the right one.
Bottom Line
Now, you've learned the Adobe Connect login to manage your virtual sessions for learning and training, webinars, and meetings. Pick one and give it a try!