Jujutsu Kaisen is the best anime series of all time. And the movie Jujutsu Kaisen 0 has become the 10th highest-grossing anime film in Japan. If you don't where to watch Jujutsu Kaisen, you should take a look at this post. (To create a clip or GIF from Jujutsu Kaisen, try MiniTool MovieMaker.)
Where to Watch Jujutsu Kaisen
You can watch Jujutsu Kaisen season 1 on the following streaming platforms: Crunchyroll, Funimation, HBO Max, Netflix, and iQiyi.
Crunchyroll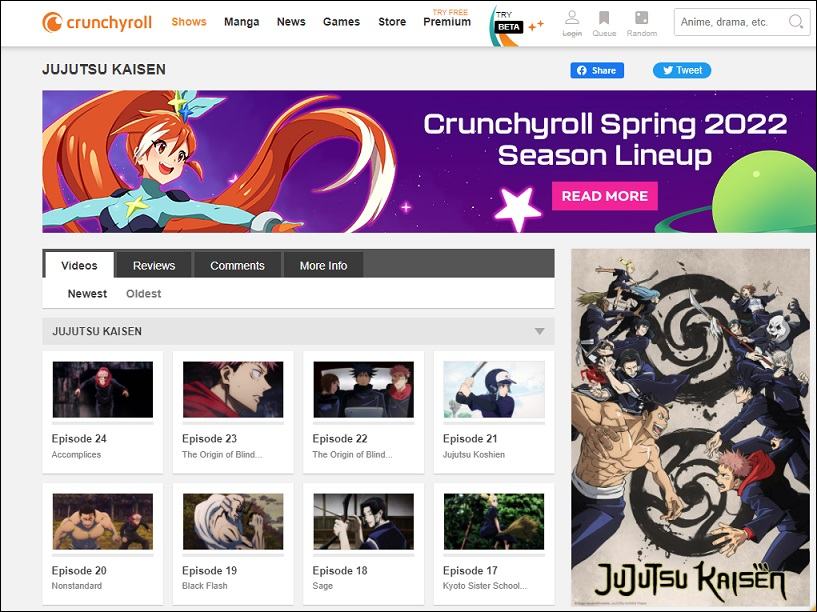 The first season of Jujutsu Kaisen is available on Crunchyroll. It was dubbed into many languages such as English, Spanish, French, and German. You can watch Jujutsu Kaisen online on Crunchyroll with English subtitles.
There are many popular anime shows on Crunchyroll like Attack on Titan, Haikyu!!, Demon Slayer: Kimetsu no Yaiba, etc.
Funimation
Funimation is another place to watch Jujutsu Kaisen with the dubbed or subbed version in English, Spanish, French, German, and Portuguese. This anime is available in the United States, United Kingdom, Canada, Australia, New Zealand, Ireland, Mexico, Brazil, and more.
Also read: Top 8 Places to Watch Dubbed Anime Online Free
HBO Max
All 24 episodes of Jujutsu Kaisen are available for streaming on HBO Max with English subtitles. However, HBO Max is only available in certain countries and regions.
The subscription plan starts at $9.99.
Netflix
Is Jujutsu Kaisen available on Netflix? Yes, you can watch Jujutsu Kaisen season 1 on Netflix. But this anime is only available in Japan, India, Hong Kong, Thailand, the Philippines, Malaysia, and Singapore.
Do you watch Jujutsu Kaisen on Netflix together with your friends? This post might be helpful: How to Watch Netflix Together? Top 3 Methods
iQiyi
Jujutsu Kaisen also can be streamed on iQiyi in Southeast Asia. iQiyi offers you subtitles in English, Thai, Malay, Indonesian, and Vietnamese. You can watch the first two episodes of the Jujutsu Kaisen anime series for free on iQiyi.
Where Can I Watch Jujutsu Kaisen 0 Movie
Jujutsu Kaisen 0 movie was released in the US, UK, Canada, New Zealand, Australia, and other countries and regions. Currently, Jujutsu Kaisen 0 movie is not available for streaming, so you can only watch the film in theaters.
When Is Jujutsu Kaisen Season 2
Jujutsu Kaisen season 2 is officially confirmed, but there is no specific release date. It will be released sometime in 2023.
Try MiniTool MovieMaker to make an animated video!
10 Best Anime Like Jujutsu Kaisen
Here are 10 anime series like Jujutsu Kaisen.
Black Clover
Demon Slayer: Kimetsu no Yaiba
Noragami
Parasyte
Naruto
Hunter x Hunter
Attack on Titan
Tokyo Ghoul
Bleach
My Hero Academia
You can watch the above anime series like Jujutsu Kaisen on Crunchyroll, Funimation, Hulu, Netflix, Amazon Premiere Video, etc.
Conclusion
Now, you know where to watch Jujutsu Kaisen. The subscription prices for streaming platforms are different. You can compare these streaming services and make a decision.
If you have any news on Jujutsu Kaisen season 2 release date or you want to share your favorite anime with us, please post your comments in the comments box!